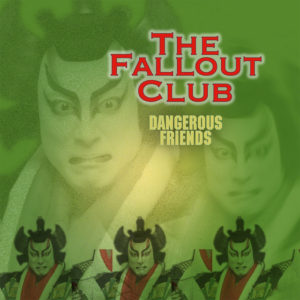 THE FALL OUT CLUB may have only released three singles in their brief existence, but have become one of those bands that have fallen into cult legend over the years.
Featuring singer Trevor Herion, drummer Paul Simon, bassist Matthew Seligman and a young synthesizer upstart named Thomas Dolby, the intensity of their best song 'Dream Soliders' from 1981 captured the anxiety and tribulations of young manhood in a manner not dissimilar to Northern English acts of the period such as THE WILD SWANS, HAMBI & THE DANCE, BOX OF TOYS, BLACK and FIAT LUX.
And now, Paul Simon has reissued six songs that originally appeared on THE FALLOUT CLUB's three singles as 'Dangerous Friends', a mini-album bolstered by a number of remixes featuring the addition of his brother one-time ULTRAVOX member Robin Simon on guitar and vocalist Gina Watson.
Swathed in synths and attached to a precise militaristic beat, 'Dream Soliders' was produced by Thomas Dolby and saw Herion give a mournful majestic vocal which reflected a battle with depression that haunted him throughout his short life.
Meanwhile solely composed by Dolby, the B-side 'Pedestrian Walkway' utilised pulsing sequencers married to a stark electro-funk backdrop and some afflicted vocalisation from Herion.
But THE FALLOUT CLUB began in 1980 with just Herion and Simon on the debut single 'The Falling Years'. It was a drum machine propelled cocoon of sound with vocals recalling Russell Mael of SPARKS. It was something that 'Desert Song', the slightly overwrought B-side of 'Wonderlust' also had lingering within it.
Their third single 'Wonderlust', co-written with Thomas Dolby, saw a big leap in sound quality thanks to Dolby's production skills and came with a dramatic Spaghetti Western flavour, lushly sculpted using electronics.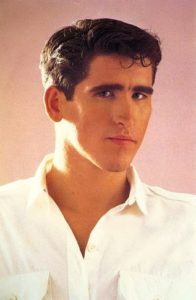 Although THE FALLOUT CLUB disbanded, Dolby found success as an artist in his own right in 1982 and Trevor Herion secured a solo deal with Interdisc, a subsidiary of Island Records.
With CULTURE CLUB producer Steve Levine on board, the melodic promise shown in THE FALLOUT CLUB looked like it might be fully realised, but the album 'Beauty Life' released in 1983 was unable to gain traction due to a lack of hit singles, despite the rich quality of the Chanson influenced 'Kiss Of No Return' and the Ferry-esque 'Love Chains'.
Eventually overcome with severe depression, Herion sadly took his own life in October 1988.
So in a fitting tribute, the new versions of 'Dream Soldiers' and 'Pedestrian Walkway' with extra guitar and female vocals add more eerie textures to the space freed up by the cleaned up mixes.
While 'Dangerous Friends' still sounds comparatively rough by 21st Century standards, the important thing is that these songs are readily available again to hear, especially the wondrous lost classic that is 'Dream Soldiers'.
---
Dedicated to the memory of John Trevor Herion 1959 – 1988
'Dangerous Friends'
is released by Stratotester Records and available digitally via the usual online outlets
http://www.ajantamusic.com/Albums.aspx
https://www.discogs.com/artist/685999-The-Fallout-Club
https://open.spotify.com/album/1fsFxtYGgGUMcjJVIiKiYH
---
Text by Chi Ming Lai
29th August 2017