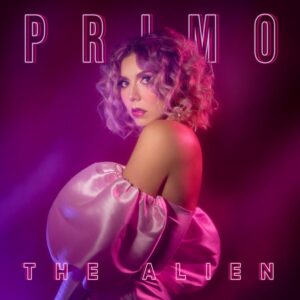 There was a time when an album showed two very different sides of an artist; David Bowie did it with 'Low' as did NEU! with '75' and to an extent, JOY DIVISION's 'Closer' was similar in concept.
Vivacious extra-terrestrial PRIMO THE ALIEN releases a Siamese twinned double EP collection comprising of the synth flavoured 'Heart On The Run' which is seen as "Side A" available on all the usual streaming platforms, while the self-explanatory 'Rock Professor' is "Side B" which is exclusive to purchasers of the album-like vinyl edition. It's an interesting strategy which has engagement opportunities with different levels of fans.
Blessed with a dynamic versatile voice, Laura Lee Bishop who is PRIMO THE ALIEN presents variations on her popwave aesthetic. Releasing her first album 'To The Max!' in 2017, PRIMO THE ALIEN achieved a wider recognition thanks to collaborations with noted synthwave exponents such as TIMECOP1983, BETAMAXX, SUNGLASSES KID and ICARUS.
Opening "Side A", the emotive 'Do It Again' is soulful and sophisticated with the sort of exotic percussion rolls that were ubiquitous on Trans-Atlantic hits from Steve Winwood and Peter Gabriel that were the staple of MTV's first 10 years. Providing commentary on the recent narcissistic insurrection that made America grate, 'Bad Things' is a definite highlight as a fabulously sprightly electronic disco tune that is up there with Dana Jean Phoenix and "feels good" while partying like it's 1987!
With a solid rhythmic base and layers of synths, 'Thunder' captures a calm before the storm as our heroine marvellously lets rip for the song's climax with some mighty lungsmith gynmnastics. With the air cleared, the 'Heart On The Run' title song is an optimistic fist pumping statement that is a classy AOR set-piece without the guitars but plenty of stabbing keys.
Of course, Laura Lee Bishop likes to rock too, and material of that bent comes with the appropriately titled 'Rock Professor' on "Side B", complete with guitars by Bennett Jackson and additional backing vocals from Jessica Martin! But listeners will have to get physical to hear that!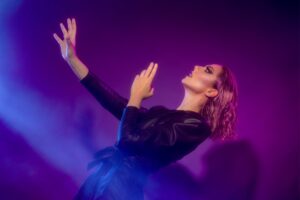 For those of a more synthier disposition with a penchant for 'Bad Animals' era HEART, ANIMOTION or BERLIN, the 'Heart On the Run' EP is an enjoyable cohesive work with superlative vocal performances to reinforce why Billboard have listed PRIMO THE ALIEN as one of 2021's Hot 100 independent artists to watch.
Watch out for her crossover potential as she enters the wider pop world; PRIMO THE ALIEN has landed…
---
'Heart On The Run' is available on the usual online platforms
The physical double EP edition of 'Heart On The Run' twinned with 'Rock Professor' is available exclusively from https://primothealien.bandcamp.com/album/heart-on-the-run-rock-professor
https://www.facebook.com/PrimoTheAlien
https://twitter.com/primothealien
https://www.instagram.com/primoalien/
https://open.spotify.com/album/6fwIJvVibtefMDtPI8tPzo
---
Text by Chi Ming Lai
Photos by Jackson Montgomery Schwartz
7th June 2021