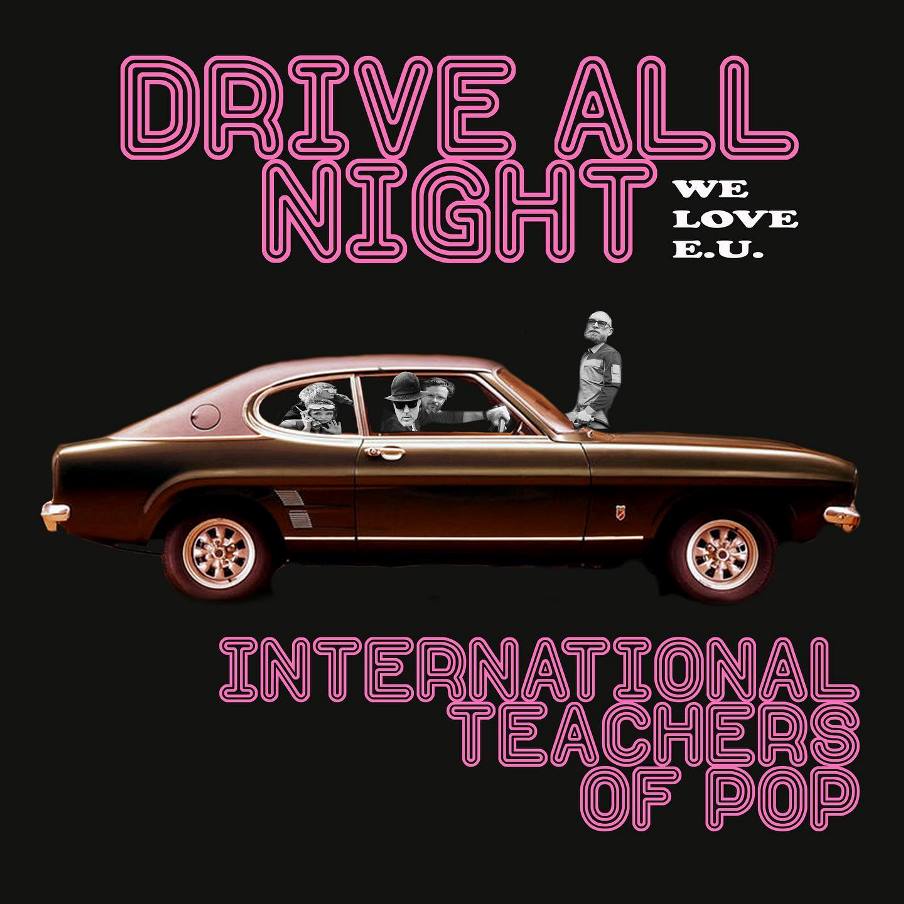 With esteemed fans such as Phil Oakey and Richard Hawley among their ranks, INTERNATIONAL TEACHERS OF POP will use their summer holidays to embark on an extensive British club tour.
It is likely they will 'Drive All Night', so it is appropriate that their brand new single captures the anticipation of this forthcoming adventure before the quartet of Adrian Flanagan, Dean Honer, Leonore Wheatley and Katie Mason take a sabbatical from continuing the fine tradition of Northern English synth, many acts from which went on to be part of The Electronic Legacy of 1981.
Introducing scratchy funk guitar and deviant dancehall rhythms into the squelchy mix, Leonore Wheatley said "'Drive All Night (We Love E.U.)' tries to encapsulate the glamour of going on tour and how you spend the days. Alot of the time you're asleep, using up phone data you don't have, needing a pee, walking aimlessly around a town you don't know and buying souvenirs to add to that magnet collection you've tried to keep going" although amusingly, Adrian Flanagan added "For me, it's like going back to NAM or somewhere – where simply getting home quickly is always determined by the strength of another person's bladder!!'"
Sending up the era of Thatcherism as fellow Sheffield combo HEAVEN 17 did back in 1981, the video sees Flanagan, Wheatley, Mason and new live drummer Dimitri take to vintage brick sized mobile phones in an empty converted factory apartment, all while indulging in variations of skanking, vogueing and robot dancing. Meanwhile Honer remains in his studio to prepare the remix which is included in the download bundle.
"With the new promo photos and video for the single, we were giving a nod to HEAVEN 17's 'Penthouse & Pavement' album – and all them bloody awful modern day Yuppies…" confirmed Flanagan, "But it's all come true though hasn't it? Everywhere you look now on the trains – in bars and restaurants, it's people with these portable offices strapped to their noses and ears – 20something males checking their crypto currency graphs – or talking to 8 mini squares on Zoom to people who look like the bleedin' Manson Family, all of whom have these IKEA bookcases behind them to convince you that they aren't all serial killers but are in fact – highly qualified academics!!"
The B-side to 'Drive All Night (We Love E.U.)' is the delightful live favourite 'Miss Lollipop' which will appeal to anyone who has appreciated the danceable synthy togetherness of INTERNATIONAL TEACHERS OF POP as showcased on their self-titled debut album and its 2020 follow-up 'Pop Gossip' with songs like 'The Age Of The Train', 'After Dark' and 'The Ballad Of Remedy Wilson', 'The Tower', 'Femenenergy' and 'Don't Diss the Disco'.
---
With thanks to Adrian Flanagan
'Drive All Night (We Love E.U.)' is released by Desolate Spools as a download EP available exclusively via Bandcamp at https://eccentronicresearchcouncil.bandcamp.com/album/drive-all-night-ep
INTERNATIONAL TEACHERS OF POP's 2022 UK live dates include:
Liverpool Arts Club (19th August), Leeds Headrow House (20th August), Sheffield Leadmill (21st August), Nottingham Rescue Rooms (24th August), Hebden Bridge Trades (25th August), Glasgow Broadcast (26th August), Manchester YES (28th August), Birmingham Hare & Hounds (31st August), London Moth Club (2nd September)
https://www.facebook.com/internationalteachersofpop/
https://twitter.com/teachersofpop
https://www.instagram.com/international_teachersofpop/
---
Text by Chi Ming Lai
8th June 2021