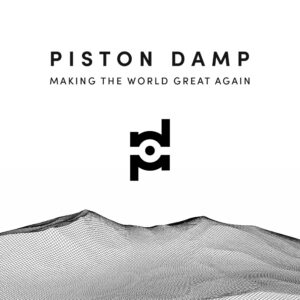 PISTON DAMP are the new electronic pop duo based in Norway compromising of Jonas Groth and Truls Sønsterud.
Classically trained, Sønsterud became known for remixing under the alias of TRÖLL. Meanwhile Groth has been making music mostly with his old brother Stephan and his band APOPTYGMA BERZERK but with PISTON DAMP, he emerges from that shadow to front his own music. Having performed lead vocals on 'Nearest', an ethereal electronic ballad both in concert and on the most recent APOPTYGMA BERZERK EP 'Nein Danke!', it is a task he is more than ready for.
PISTON DAMP formed in 2000, but has remained as a hobby project until now. The duo's first single 'Something In Me' perhaps unsurprisingly was reminiscent of the more immediate side of APOPTYGMA BERZERK. Catchy, melodic and rhythmic with an emotively spirited vocal, when Jonas Groth hits falsetto, it provides a most glorious lift.
Entitled 'Making The World Great Again', the album begins with the spy drama collage 'ШУМ' but a more formally start come with the rousing four-to-the-floor synthpop of 'Hearts On Fire' which recalls Swedish combo THE MOBILE HOMES and their 'Feeling Better' but with a heavier rhythmic stance.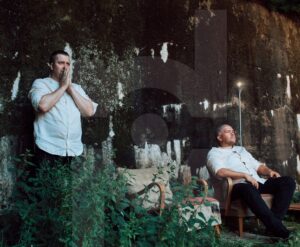 As the second PISTON DAMP single, the anthemic 'Runaway' was given the remix treatment from MESH and DIE KRUPPS; here it punches its way into the psyche with a hypnotic bassline that just stops short of a squelch, while 'Depth Of Your Eyes' takes a diversion into an orchestrated 6/8 in the manner of DEPECHE MODE's 'One Caress'.
An instrumental interlude 'Factor Out' features commentary on spiritual connection which is more than fitting when it segues into the two minute 'Never Thought It Would End'…
With its hymn-like topline over a gentle sequenced passage, 'Never Thought It Would End' comes over like U2's 'I Still Have Found What I'm Looking For' arranged in the style of DEPECHE MODE's 'Waiting For The Night'. Continuing with the spirit of Basildon, while the 'Making The World Great Again' title song dons its hat off to 'Black Celebration', it almost immediately locks into something much pacier and anthemic with a fabulous array of synth sounds and a rousing optimistic chorus of voices that announce "we won't make the same mistakes as them!".
'Don't' is the closest PISTON DAMP get to EBM with a thrusting triplet as chiming melodies and soaring vocals glide over a cinematic setting that sets it apart from the Bundeswehr crowd, particularly with an angelic vocal return from COMPUTORGIRL who released an EP back in 2002 that was co-produced by Jonas and Stephan Groth.
'Loose Ends' offers what A-HA might have sounded like had they adopted the more baroque industrial pop elements of APOPTYGMA BERZERK, which is not as crazy as it sounds because APOP remixed 'Lifelines' for a promo release in 2002.
Primarily instrumental with sporadic percussion, 'Sacred Secret' makes use of layered choir refrains while a lonely piano adds poignancy, but shaped by sombre strings, 'Testimony' could be a Nordic PET SHOP BOYS with its octave disco bass although the guitar line from DM's 'Precious' finds a way to morph it into a homage to CAMOUFLAGE…
'Another Pain' acts as the closer and sees a spacey arpeggio allows Jonas Groth to express some heartfelt frustration and when his multi-tracked vocal ab-libs join in, it starts to sounds like THE BEATLES, especially with the trumpet line…
For anyone who loves the sort of tuneful melancholic European synth that emerged after ALPHAVILLE, A-HA and CAMOUFLAGE as well as the more immediate aspects of APOPTYGMA BERZERK, the self-produced 'Making The World Great Again' is an ideal collection to return everyone to a mindset that while reflective, is hopeful that everything is going to be alright.
---
'Making The World Great Again' is released by Sub Culture Records, available from https://subculturerecords.bandcamp.com/album/making-the-world-great-again
https://www.facebook.com/pistondampcom
https://www.instagram.com/pistondamp/
https://open.spotify.com/album/54YyjAXhjYXjcmboEgvkO7
---
Text by Chi Ming Lai
Photo by Kine Jensen
10th June 2021