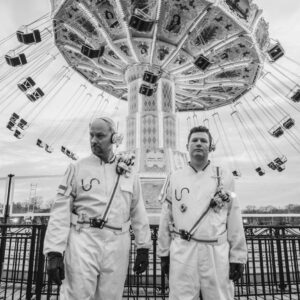 As many take their first steps into the outside world, with the prospect of interacting with others again, anxieties that have developed over the past 15 months will no doubt linger for a while…
But for Scottish Swedish duo UNIFY SEPARATE, formally known as US, it is time to 'Embrace The Fear'.
Vocalist Andrew Montgomery said: "The basic idea for 'Embrace the Fear' actually dates to a little while before the pandemic, but I must have had my Mystic Meg hat on when I came up with the lyrics because it seems to resonate with what we have been through!"
While the theme is relatable to lockdown, 'Embrace The Fear' touches on the more general existential crises that afflict many as they navigate a life crossroads. "It's about that general feeling of seeming to be a bit trapped by life / circumstances and wanting to break out of that – something that we have all been feeling for the past year and a bit, for sure"  continued Montgomery, "Musically, Leo is channelling a bit of NEW ORDER and DAFT PUNK here, especially with the very driving live bass. It suits the intensity of the song, I think."
But despite the air of unease and the grittier disposition, as with most of UNIFY SEPARATE's output, there is light at the end of the tunnel; "If it can provide a bit of hope and inspiration for people as we tread warily back into the normal world, then that's humbling, and so much the better".
Acting as the perfect symbolism for 'Embrace The Fear' is a fairground… after all, where else entertains and terrifies people in equal measures! "We really got lucky with the video!" remembered the one-time front man of indie band GENEVA, "The cinematographer, Tobias Andersson, is a great friend of ours and has collaborated on the video for 'Dying on the Vine'. His fiancée works at the famous Gröna Lund funfair in Stockholm, and it just seemed like too good an opportunity not to ask politely, especially seeing as the park was not yet open and only actually opened up on June 1st."
With the 140 year old theme park acting as the backdrop, the scene was set: "At the time of filming, it still had that eerie dystopian future emptiness that really suits the sentiments behind the track. Our mate Rasmus Lindgren was the perfect guy for the lead role, and we're really happy with how it turned out."
And as Lindgren embraces finds freedom in thrills and dance despite his nervousness, Andrew Montgomery and Leo Josefsson clear up after him while donned in their protective overalls. A soaring song that at times touches on MUSE's 'Uprising' (or 'White Wedding' by Billy Idol depending on your age!) and makes the most out of Montgomery's emotive falsetto, 'Embrace The Fear' offers cautious optimism within a wholly fitting audio visual statement.
---
ELECTRICITYCLUB.CO.UK gives its warmest thanks to UNIFY SEPARATE
'Embrace The Fear' is released as a digital single, available direct from https://unifyseparate.bandcamp.com/
https://www.facebook.com/usmusicspace
http://www.instagram.com/unify_separate
https://open.spotify.com/artist/0h9f9Dz3aVBP41aEF3GDON
---
Text by Chi Ming Lai
Photo by Hilding Bjersby
5th June 2021