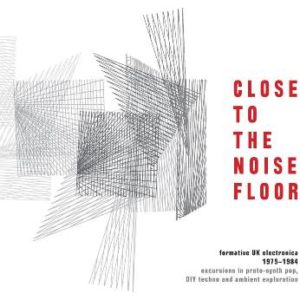 Two years in the making, 'Close To The Noise Floor' is a Cherry Red Records compilation which binds together many of the formative roots of UK electronic music.
It mixes up recognised artists such as THE HUMAN LEAGUE, BLANCMANGE, BEF, OMD and THROBBING GRISTLE side-by-side with those that for a variety of reasons, managed to remain in the shadows of obscurity. This compilation makes a worthy companion piece to the 'Mute Audio Documents' set which was released back in 2007 and showcases that it wasn't just Daniel Miller's Mute label that was championing experimental synthetic music.
The four disc set lovingly curates an era of musical experimentation of artists initially "enthralled by the mysterious electronics of PINK FLOYD, HAWKWIND and German Kosmiche artists" and then went on to evolve into a scene, which would provide the stepping stone for the chart-conquering likes of DEPECHE MODE and GARY NUMAN.
In this 60 song collection, there are a few definite gems hidden here; 'Tight As A Drum' by THOMAS LEER is a sparkling piece of electronic music, with KRAFTWERK-ish percussion and a semi-improvised synth solo winding its way throughout.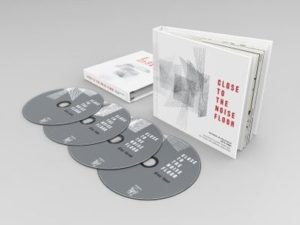 'Holiday Camp' by BLANCMANGE which made its re-appearance on the reissued 'Irene and Mavis' EP still remains an almost OMD-ish charming lo-fi slice of electronica.
'I Am Your Shadow' by the distinctly un-rock'n'roll sounding COLIN POTTER is an out-there electronic reimagining of Dick Dale's 'Miserlou' combined with added lyrics from a stalker's perspective, whilst 'D'Ya Think I'm Sexy?' (yes, that one!) by BRITISH STANDARD UNIT is transformed from its Rod Stewart sleazy / cheesy original into a hilariously dark and twisted piece with deadpan lyrics and menacing electronics.
'Drugrace' by THE PASSAGE has some wonderful almost TANGERINE DREAM style synth melodies and '(Leaving Me) Now' by WORLDBACKWARDS is like a long-lost GARY NUMAN track with female vocals and added sampled dialogue.
Disc three of the set changes direction in that it mainly showcases instrumental or more soundscape-oriented electronic pieces. It is here that sees instrumental synthesists MARK SHREEVE ('Embryo') and PAUL NAGLE ('Yns Scaith') gaining some long overdue recognition – whilst JEAN-MICHEL JARRE, KLAUS SCHULZE and TANGERINE DREAM dominated this genre, it is easy to forget that there was a thriving underground scene in the UK too.
Although as you would expect from a collection of music of this type, a lot of it is (putting it kindly) "challenging", or if listened to as a teen "back in the day" would have a probably prompted a parental response of "turn that bloody racket down!".
'Sedation Strokes' by MALCOLM BROWN on disc one neatly falls into this particular category with a cyclical bassline overlaid with what sounds like a mix of an elephant being abused and a screaming woman thrown in for good measure.
Unsurprisingly, 'All Day' by THROBBING GRISTLE falls into this category too and alongside tracks such as 'In The Army' by BLAH BLAH BLAH, these are pieces that are unlikely ever to appear on your typical 'Now That's What I Call Synthpop' compilations any day soon!
However, songs which have since been recognised as classics of the genre also feature ('Being Boiled' by THE HUMAN LEAGUE being the most obvious), but thankfully the choices are not always predictable, hence 'Almost' by OMD, rather than the ubiquitous 'Messages' and an alternative mix of 'A New Kind of Man' by JOHN FOXX features instead of 'Underpass' or 'No-One Driving'.
The main feeling you are left with after listening to 'Close To The Noise Floor' is how the punk DIY ethic of four track portastudio production and affordable synths, with a probable lack of A&R involvement, became the ultimate glass ceiling for these acts being able to break through to a wider audience and any form of commercial success. 'Back to the Beginning' by SPÖÖN FAZER would be a typical case in a point, a potential hit with a killer chorus given a bigger budget and some quality control in the lyrical department… "You want babies with curly hair, well come on, dance if you dare"(!).
The 'Close To The Noise Floor'
package itself also contains over 9,000 words of artist sleeve notes, archive photographs and extracts from Sounds journalist Dave Henderson's 'Wild Planet' overview of the underground / industrial electronic music scene. Although you may find yourself listening to some of these tracks only once, there is plenty here to give you an appreciation of a wildly experimental and creative era, the likes of which we are unlikely to see again…
---
'Close To The Noise Floor'
is released by Cherry Red on 29th April 2016
Details of the full tracklisting and how to pre-order at:
http://www.cherryred.co.uk/product/close-to-the-noise-floor-formative-uk-electronica-1975-1984/
https://www.facebook.com/closetothenoisefloor/
---
Text by Paul Boddy
23rd April 2016