New York City-based darklings R. MISSING are fronted by Sharon Shy, a vocalist with an elegant Jane Birkin-like presence while the studious Toppy Frost does the music.
Shy has been quoted as saying "While most people seem to bond over things they both like, I think it was a very long shared list of dislikes that kept our initial conversations going".
Previously going under the moniker of THE ROPES with gloomy indie fare such as 'Love Is A Chain Store', R. MISSING are much more electronic if no less enigmatic, exploring more shadowy forms akin to other North American acts such as CHROMATICS, TR/ST and NATION OF LANGUAGE.
Their debut six track mini-album 'Unsummering' came out in 2017 on the French label Talitres with the doom disco of 'Kelly Was a Philistine' being particularly intriguing, although the pair's post-punk tendencies were still very much looming the brooding title track. The 2020 singles 'Suzywhereabout' and 'Placeholder For The Night' signalled airier developments in their increasingly synthier sound.
But on signing to Sugarcane Recordings who have been a North American home to artists such as SIN COS TAN, GUSGUS, PROCESSORY, GAZELLE TWIN, FRAGILE SELF and THE KVB, the wonderful new single 'Crimeless' is R. MISSING's most electronic pop noir statement yet, like CHROMATICS carefully reconfigured for the dancefloor with Sharon Shy presenting a whispery singing style that could easily be mistaken for Ruth Radelet.
Accompanied by a video made by Nadia Hironaka and Matthew Suib, it is a variation on their 2019 installation 'Vanitas MMXVlll'. Using still life like half-eaten fruit, broken glass, snapped candles, wilting flowers and skulls falling upwards in slo-mo, its original concept was "to reflect our current cultural moment, where formerly stable institutions that once embodied shared values are undermined while pride and avarice have been elevated to virtues".
As if to reinforce R. MISSING's fully focussed electronic direction, Icelandic label mates GUSGUS provide two tight dance remixes for 'Crimeless' although THE KVB contribute something with more of a psychedelic shoegaze demeanour that also acts a reflection of Shy and Frost's roots. It could all get very interesting…
---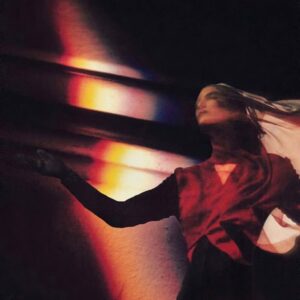 'Crimeless' is released by Sugarcane Recordings as a single bundle with remixes by GUGGUS and THE KVB, it is available now as a download direct from https://sugars.bandcamp.com/album/crimeless
https://www.facebook.com/rmissingmusic
https://twitter.com/rmissingmusic
https://www.instagram.com/r.missing/
---
Text by Chi Ming Lai
11th May 2021