Brooklyn based singer / songwriter Julie Kathryn is I AM SNOW ANGEL and with the onset of motherhood, she has been in a more meditative and reflective mode of muse.
The instrumental 'Elegy' EP was released in March and showcased a more ambient side but the new EP 'Falling Down To The Earth' is a collection of songs of sorts and could be seen as a sequel to the 'Mothership' album of 2019.
Written, produced and performed by I AM SNOW ANGEL, 'Falling Down To The Earth' sees her return to this planet with a new clarity and presence.
All recorded in the Adirondack mountains during the pandemic, the opening title song has an electro-spiritual quality akin to Moby, centred around the repeated phrase "Falling Down to the Earth' again with you, falling out of the sky black and blue".
Adding a subtle metronomic beat, 'Find My Love' sees Julie Kathryn utilise a range of vocal treatments including vocoder for some futuristic Americana that hypnotises the listener.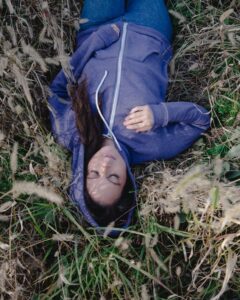 With the EP containing not songs as such, but more sketches with vocals, 'I See Your Face (In The Strangest Places)' is the most conventional offering structurally and lyrically but it still sounds otherworldly with a marvellous understated quality. Led by piano, the instrumental 'Joseph' ends the EP on a plaintive note.
After the darker tinged to 'Mothership', the material gathered on 'Falling Down To The Earth' is a return to the dreamier and yes, earthier I AM SNOW ANGEL sound that captures her signature spirituality.
Another EP is due before a full length album entitled 'Lost World' which will be more traditional in format. Until then, it's time to fall back down to earth.
---
'Falling Down To The Earth' is available as a download from 7th May 2021 via the usual digital outlets including https://iamsnowangel.bandcamp.com/
https://www.facebook.com/iamsnowangel
https://twitter.com/I_Am_SnowAngel
https://www.instagram.com/i_am_snowangel/
---
Text by Chi Ming Lai
9th May 2021