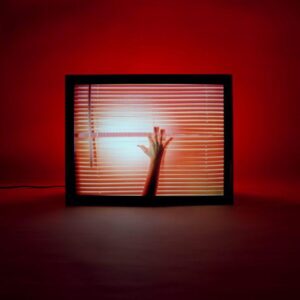 After the release of CHVRCHES' third album 'Love Is Dead', some of their followers were showing signs of dissatisfaction with their sound now seemingly aiming at the heart of America.
Using the ubiquitous Greg Kurstin to produce after sessions with EURYTHMICS' David A Stewart were abandoned, songs such as 'Get Out' and 'Graffiti' expanded on their Taylor Swift gone electro template but 'My Enemy', the stoner indie duet with Matt Berninger of THE NATIONAL confused listeners. Three years later, it's the haunting synth ballad 'Really Gone' that remains the standout and that was a track that CHVRCHES self-produced.
Meanwhile, the trio were showing signs of disillusionment with the synth, with Lauren Mayberry doing interviews with Kerrang magazine and the band being referred to as "alt-pop". Having acquired a live drummer, were CHVRCHES about to go down the slope that DEPECHE MODE slid down in recent years?
Self-produced and recorded remotely with band members scattered across two continents, 'Screen Violence' is certainly grittier than any of its predecessors in line with the album's title, reflecting on how modern lives are lived on social media. Dealing with the spectre of crippling depression and anxiety, the goth indie of 'How Not To Drown' with Robert Smith is a highlight, the shrill vocalisation of Mayberry strangely complimenting the sombre demeanour of THE CURE mainman.
Taking a leaf out of 'How Not To Drown', dominated by Iain Cook's guitar and Martin Doherty's bass, 'Final Girl' heads into personal disintegration with an intense number that could be as far from 'The Mother We Share' as it is possible. West Coast political commentary is offered on 'California' but the album's closer 'Better If You Don't' although electric is practically an acoustic hipster ballad.
Elsewhere, 'Asking for a Friend' and 'He Said She Said' are business as usual, both coming over like a fearful Carly Rae Jepsen while the expletive laden 'Good Girls' could have easily come from the second album 'Every Open Eye' save the guitar solo. 'Lullabies' offers some shinier pop but at the opposite end of the spectrum, 'Nightmares' presents something heavier in the vein of John Carpenter who provided a remix of 'Good Girls' and 'Violent Delights' utilises frantic dance beats as an impressionistic backdrop.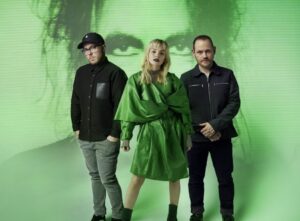 Those who like the idea of CHRVCHES becoming more alternative (but paradoxically more conventional and contemporary) will appreciate 'Screen Violence' but while there are synthpop moments, enthusiasts of the Moog and her sisters may choose to bow out after cherry picking for their playlists.
As Mayberry herself sings by way of a parting shot for the very last line on 'Screen Violence', "I won't follow you again…"
---
'Screen Violence' is released by Virgin Records in vinyl LP, CD and digital formats
https://www.facebook.com/CHVRCHES
https://www.instagram.com/chvrches/
---
Text by Chi Ming Lai
Photo by Kevin J Thompson
27th August 2021