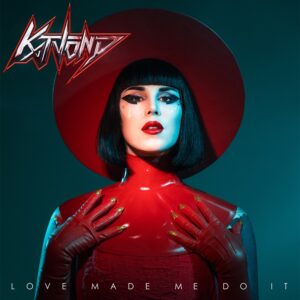 TV, beauty and tattoo celebrity Kat Von D puts her alternative universe to music on her debut album 'Love Made Me Do It'.
Having already made guest appearances with IAMX, Kat Von D had classical piano training in her youth while she has strengthened her abilities under the guidance of vocal coach Ken Tamplin. Although the record began life as a collaboration with Grammy nominated songwriter Linda Perry, it is primarily produced by Kat Von D with her band of multi-instrumentalist Gregg Foreman, keyboardist Sammi Jo Doll and drummer Dave Parley while Dan Haigh of GUNSHIP did the album's final mixing.
Opening with a two piece suite, the 'Vanish' intro offers a sinister dramatic synthy theme not that removed from GUNSHIP with its big electronic keys. Meanwhile, the main act offers a brooding spacious piano and strings ballad co-written with Linda Perry; it all acts as a solemn setting for "a crown of thorns that shows no mercy" before a rumbling climax kicks in.
A strident IAMX demeanour dominates the darkness of 'Enough', which offers strong vocals and a hook from THE CURE's 'Lullaby' and when a sparkling instrumental kicks in, the tension only increases during a gloriously mighty second half; the work of noted songwriter Chris Brenner, it faces the spectre of unhealthy relationships.
The energetic synth rock punch of 'Exorcism' written by Nick Long and Tommy English develops on that tension with its topics of love, loss and moving on; it is so accomplished that this could be a mainstream pop hit by P!NK were it not wholly dressed in black…
Featuring a duet with Peter Murphy, the magnificent 'Protected' is a synthwave ballad that sees Kat Von D's contralto blending well with the striking BAUHAUS front man as his vocal treatments add an extra weary otherworldly presence to the wonderful collage of sequences behind them. 'Fear You' perhaps suffers being next to 'Protected' and all that came before it, but smokey vocals and a contrast of shade and light maintains interest with an impactful rhythmic barrage.
Working with Eurovision winning composer Stefan Örn, 'I Am Nothing' utilises a great contralto CHROMATICS meets countrified gothwave vibe. This glamourous but unsettling air, while very 'Twin Peaks', is also very Kat Von D. The lady herself describes it as music for the "Anti-Prom that never happened but all alternative teens have dreamed about since the 80s" and "A sad bop for goths' broken hearts that will end up in their older sister's pop playlist", but the swirling solo is the perfect tie to the exquisite suit.
The throbbing discothèque gothique of 'Lost At Sea' is rather good and powers up for the chorus to add drama before a string quartet provide a solemn drifting close. The Middle Eastern flavoured 'Interlude' is much more than the title suggests, recalling the more recent sound design favoured by Gary Numan. Complete with devilish whispers, it acts as a perfect bridge to the final quarter of the album.
Another of the Linda Perry co-writes, 'Pretending' imagines an energetic driving Brat Pack movie montage song made by Allison Reynolds, the Ally Sheedy character in 'The Breakfast Club' and yes, she's dancing in the Shermer High School library to her own creation too! Meanwhile, 'Easier Sung Than Said' provides more arpeggio laden synth rock that will provoke singalongs and fist pumps.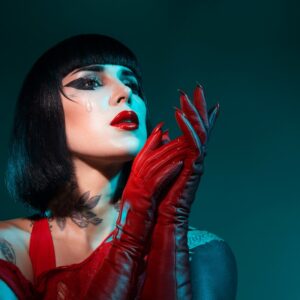 Closing the collection, 'The Calling' is a pulsing widescreen epic with wailing banshee backing vocals, aided by Danny Lohner of NINE INCH NAILS fame. It also recalls GUNSHIP, as do a number of tracks on 'Love Made Me Do It', before dropping to just our heroine and a lone drone for the conclusion.
An impressive debut album, 'Love Made Me Do It' successfully puts Kat Von D's striking persona to music in a blend of synths, goth, rock and pop for a collection of songs that cover loss and vulnerability which many will be able to relate to.
---
'Love Made Me Do It' is released by Kartel Music Group on 27th August 2021 in red or gold vinyl LP, red cassette, CD digipack and digital formats
https://www.facebook.com/katvond
https://twitter.com/thekatvond
https://www.instagram.com/thekatvond/
---
Text by Chi Ming Lai
Photos by Sequoia Emmanuelle
26th August 2021