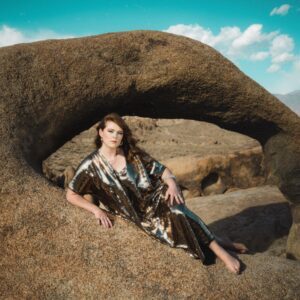 'Supersymmetry' is the fifth PARALLELS album, written, produced and mixed by front-woman Holly Dodson.
With regards outside help, she keeps it in the Dodson family with Nick on drums and Rich on guitar / bass, while RADIO WOLF aka Oliver Blair who collaborated with her on the soundtrack for the Sci-Fi feature film 'Proximity' also makes an appearance. 'Supersymmetry' is the first PARALLELS album recorded since the Toronto songstress' relocation to Los Angeles. Although recorded during lockdown, the album is something of a synthpop daydream, "Conjuring classic pop sentiments of neon nights, fading into color on Polaroid film".
Originally released in February 2021 as a standalone single, 'Hidden Sun' opened the 'Supersymmetry' account with an airy ballad featuring a fabulous swooping ribbon controlled synth solo. But adopting a strident bass triplet, 'Stardust' states its intentions, sparkling as the album's first track. Meanwhile, there's a vibrancy to 'The Magic Hour' which celebrates new love and new hope, the synth backdrop complemented by Oliver Blair's six string like a song for modern day John Hughes film.
Utilising a hypnotic blippy cascade before bursting into percussive new wave pop, 'Handle With Care' allows plenty of room for the strong angelic voice of Holly Dodson to soar. Adding some rockier grit, 'Fantastique' recalls sweet dreams of days gone by while 'Sophia' offers a retro-futuristic AOR waltz. The uptempo synthbop of 'Happier' reflects Holly Dodson's positivity and along similar lines, 'True Desire' could be a sunny electro take on KATRINA & THE WAVES and THE PRETENDERS.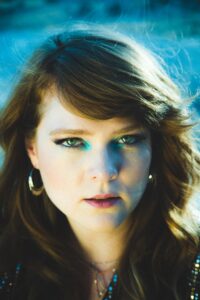 'Alchemy' presents a filmic rock ballad that could be 'About Last Night' complete with big drums and guitars as well as those classic keyboard signatures used in Brat Pack films starring Demi Moore.
But closing 'Supersymmetry' is a homely piano take recorded live in Toronto of 'Edge Of The Universe', the PARALLELS collaboration with FUTURECOP! to complete the circle.
'Supersymmetry' is a musical journey swathed in Holly Dodson's strength of optimism. Having found love and looking forward to the future despite the lingering uncertainty of the times, its ten songs capture her airy escapist universe. If you are already a PARALLELS fan, you will not be disappointed.
---
'Supersymmetry' is released as a CD, bone coloured vinyl LP and download available from
https://parallels.bandcamp.com/album/supersymmetry
http://www.iloveparallels.com/
https://www.facebook.com/Parallels
https://twitter.com/iloveparallels
https://www.instagram.com/iloveparallels/
https://open.spotify.com/album/5WFXqU0gxsPha0qxD1eVJq
Sign up to PARALLELS Patreon at https://www.patreon.com/iloveparallels
---
Text by Chi Ming Lai
Photos by Brad A Kinnan
27th August 2021