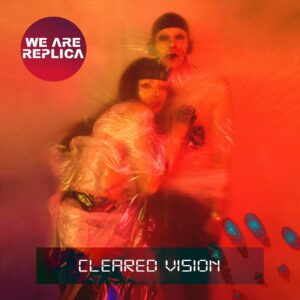 It was something of a sign for 2020 when WE ARE REPLICA's first attempt at a full length album was lost when a feral cat got into their studio over the New Year holidays and urinated all over their computer!
But the London-based Franco German dark synth duo of Nadège Préaudat and Martin Kinz soldiered on and now have 'Cleared Vision'.
"We always liked heavy music as much as electronic music and therefore often use synths like electric guitars" said Kinz while Préaudat affirmed "That helps to capture emotions in its rawest state".
So it is something of a pleasant surprise amongst all the intensity from life in isolation during a difficult 2020, WE ARE REPLICA have introduced an enchanting avant pop element to their sound. With a muted down aggression towards the mindset that the album's title suggests, is this possibly some optimism finding its way in through the back door?
'Only The Best' brings in some piercing noise but there is a refinement to provide some accessible punky synth. 'Miami' though unexpectedly offers a comparatively sunny disposition with Kinz almost perky like a German Eno, although Préaudat offsets all that but even she sounds less intense compared to WE ARE REPLICA's previous work.
'Sanitize Me' is kind of business as usual though and will connect with anyone affected by the lockdown. It may be a bit too close to home, but it is an honest statement and Préaudat is still strangely sexy despite the doom and gloom. Some relief comes from a delightful closing section of cascading keys.
Previous singles 'Parallele Universen' and 'Angel' feature lyrics in German and French respectively as a homage to Neue Deutsche Welle and French New Wave. But the language is no barrier, acting more like additional instrumental elements.
'Parallele Universen' nods towards Robert Görl and sees Kinz in previously unheard territory actually singing. Meanwhile despite the sinister discomfort of 'Angel', Préaudat is wonderfully alluring with her deep Gallic tongue. Like Siamese Twins thanks to their common concept, they are separated by the brooding 'Opus 5' which is more abstract like a schizophrenic gothic art piece.
Kinz and Préaudat have a deadpan exchange on the creepy and monotone 'For Whom The Dove Cried' for the most foreboding and experimental track on 'Cleared Vision', before the mantric drone-laden 'Isolated Star' screeches with sharp synth lines and a steadfast rhythmic lattice over a concluding eight minutes.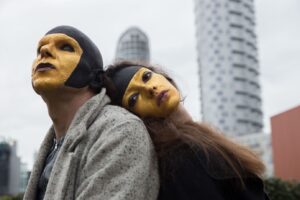 Heavy music for heavy times, 'Cleared Vision' is like life, up and down and up before descending into a mental breakdown after a pop focussed start.
This album won't be for everyone but in its enigmatic expression and artful sound sculpture, it reflects our strange dark times. There is light at the end of the tunnel, but whether that light is an escape the other side or a truck heading towards you is another story!
---
'Cleared Vision' is available as a download album direct from https://wearereplica.bandcamp.com/album/cleared-vision
https://wearereplica.blogspot.com/
https://www.facebook.com/wearereplica/
https://www.instagram.com/we_are_replica/
https://soundcloud.com/wearereplica/
---
Text by Chi Ming Lai
Photos by Pauline Mongarny
4rd January 2021