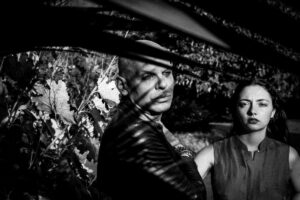 A pair of unforgiving electronic post punk twins, London-based Franco German dark synth duo WE ARE REPLICA are resilient and determined if nothing else.
Comprising of Nadège Préaudat and Martin Kinz, after mixing their debut long player, a feral cat got into their studio over the New Year holidays and urinated all over their computer.
Luckily, they had not lost any of their recorded material and after the replacement of the motherboard and sorting some software compatability issues, they were able to get back on track and mix their album again.
With a captivating live presentation that can come over like one heavy aural barrage, WE ARE REPLICA will not be an immediate proposition to some, but others will find their experimental Pan-European approach and sado-masochistic presence strangely appealing. The unbelievably photogenic Préaudat acts as the alluring bohemian seductress with the deep Gallic utterances in contrast to Kinz's more mysterious but powerful supernatural persona.
Having released three singles 'Africa', 'Angel' and 'Parallele Universen' in almost as many weeks, WE ARE REPLICA kindly spoke about their own artistic brand of erotic deviance…
There is an intensity to WE ARE REPLICA, where does this come from?
Nadège: We are translating the intensity of the world into music and we like the energy of punk and that helps to capture emotions in its rawest state.
Martin: We always liked heavy music as much as electronic music and therefore often use synths like electric guitars.
Nadège: We really like using layers of sound effects in our music…
Martin: …and that makes it a very dense sound.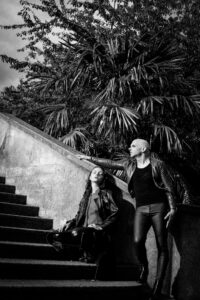 How did WE ARE REPLICA come into being as a distinct artistic entity?
Martin: We met outside of my studio in Cable Street which was then a vibrant place at night. There was a gathering with drinks and we were introduced. After hanging out for a while, we decided to start a band, so we checked out each other's art and music the same night.
Do you have any common musical interests with bands you like?
Nadège: Yes sure, we like the same kind of sound but we like to be surprised how different influences come together in one. I personally never had the intention to sound like someone I heard. I am also not into covers for example. I am more instinctive about what I create.
Martin: On the contrary, I take more direct inspiration from what I heard in the past. That ranges from PINK FLOYD via ULTRAVOX to NINE INCH NAILS but that's just three names among many.
But then how do you use your differences in the creative process?
Nadège: We fight!
Martin: Yes. The arena is open and we are the gladiators! Haha… to be honest, our ways are not so different and it all just comes together in the process.
So what would be your creative dynamic?
Nadège: We both agree on a beat and then take turns adding the other instruments which is in agreement with the other one normally.
Martin: That's why we never have one writer for a song. Whoever comes up with the first chords doesn't matter as the sound really is the main thing and shapes the composition.
How do your other artistic interests influence WE ARE REPLICA?
Nadège: What I like in art and music is the atmosphere and feeling. Therefore I always try to replicate that in my life using music, art as well as fashion to express myself.
Martin: I think what Nadège says about art, fashion and music is true because they're all part of the same sub culture. I generally find bands with a strong image more interesting than those that don't care about that. And in our case there is a lot more to come in that respect. No boundaries!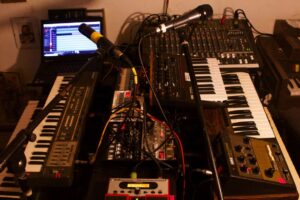 Your stage set-up facing each other while sideways on to the audience is interesting, how did this emerge?
Martin: Our studio is very long and narrow and we had some friends over for our first test gig.
Nadège: … and the only way that they could see both of us was us facing each other. But it also has the same impact as being in a circle which is good for creativity, communication and connection.
Martin: That's right, but we also like to dress up on stage and hiding two thirds of us behind synthesizers doesn't help that purpose. But then, even the synths are much better to see for the audience which would definitely matter to me if I was in the crowd.
What synths and keyboards are you each using and what do you like about their functionality?
Martin: For our live rig, we use a Korg Micro-Preset which is our main bass. Then there's a Korg Monologue and a Korg Volca FM (which is like a DX7) for the leads and a Casiotone MT-100 that we use as an organ. Now we've added three Volcas to be sequenced via MIDI, the models are Kick, Sample and Bass at the moment.
Nadège: So we added a laptop to control all of that. This new set-up gives us the possibility to even loop certain sections and extend songs, change the filters and have a chance to improvise and be more in tune with the night's vibe. Electro avant garde will be a strong new direction for us. Now our set up will give us the opportunity to alternate between our songs and jams.
We can even play little sequences from the Volcas between songs while we change settings on the rest. We now have very little backing tracks left, so in general this set up helps us to play most of it live and not use many backing tracks, even less than before. We are now working on a smaller set-up for gigs abroad so we only need to add MIDI keyboards locally.
Martin: Yes, travel light! In the studio we also use a Yamaha SK10 string synth, a Yamaha DX21, a broken Roland D-10 for very disturbing textures, an old Lowrey organ and a Korg DW but we clearly can't put all of that on stage.
Nadège: … but maybe one day!
But how much of the recording actually ends up being "in the box" for practical reasons?
Nadège: In the studio it's mostly drums, like 808 and 909 plug-ins. And we record our own samples by hitting objects to use as drums, noises etc and sample them.
Martin: We also sampled analogue drum sounds from the Casiotone and the Lowrey organ and edit them "in the box". But 99% of our synths used in recordings are hardware.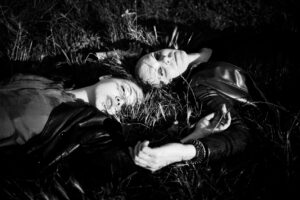 From the 'Emergency EP, '1. 2. Free' plays with the repeat function and the steeped octave dial on the Korg Micro-Preset, was that in blippy homage to OMD's 'Messages' and OUR DAUGHTER'S WEDDING's 'Lawnchairs'?
Nadège: By chance, we recorded one night on psychedelics and it just happened. It's a really good technique.
Martin: I was aware of OMD doing that and I even told Nadège that night but how it came about I can't remember. Funny enough, we even played this together.
WE ARE REPLICA abbreviated is WAR, do you feel you are fighting sometimes?
Nadège: Yes and we are in a war like time. It's good to not forget that.
As Europeans living in London, how do you feel about how the city has changed while you have been here, for better or for worse?
Nadège: I feel thankful for where I am. The only thing I can change though is my direct environment. We couldn't vote in the referendum or in general elections. But… changes are everywhere in the world and there's more to come.
Martin: London's changed a bit. But not as badly as the rest of England. We feel welcome here to be honest. Of course rents go up, people get poorer etc. but there's a stronger sense of community than in many other cities.
On the new singles 'Angel' and 'Parallele Universen', they respectively feature lyrics in French and German, what inspired you to use your voices in your native tongues?
Martin: They represent where we come from and are a homage to French New Wave and Neue Deutsche Welle. Also we want to introduce more of that in our music in the future. But it's nothing new as also 'Non' on our first EP is in French.
Nadège: I always found that voice is just another instrument. Listen to a song in a different language you don't understand. It becomes an instrument. I would like to share this experience in my UK project.
Martin: British people are not that used to this. Growing up in Germany, I listened to English, French, Italian and Spanish songs that were in the charts, and I couldn't understand most of it.
The previous single 'Africa' was interesting as it is has emerged as possibly one of your most accessible songs yet?
Martin: It actually sounded like two different songs at the start, I even sung the verses on the demos but Nadège's vocals and the production magically glued it all together.
'Create' was a stand-out song from your earlier live set, how did this track come together?
Nadège: It's about freedom of expression.
Martin: Nadège's chorus adds this freedom to my personal journey in the verses. A great tune! Fun to play live.
You chose the song 'B Baby' from their your second EP 'Emergency' to make a video for, why did you decide on that one?
Martin: We asked Lefteris and Martine who filmed it which one they wanted and they chose that.
The video featured an interesting desolate backdrop, how was the filming and production?
Nadège: Thanks to a friend of ours, we could use an old factory before it was converted. We had a very short time slot to do it, before the builders came.
Martin: And the shots on Thames beach were on the hottest day of the year. I was melting in vinyl trousers!
Are there any more videos or visual presentations planned for the new material?
Nadège: Yes. We've got three film makers interested in doing them.
Martin: We need to get stuff sorted with them first and get it going. Finding the right time is always a bit hard. We're planning videos for all three new singles.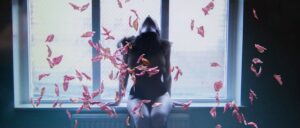 Nadège, during the lockdown, you actually did a remote modelling session, how was that?
Nadège: I had to move the computer around a lot so the photographer on the other end could get different angles and lighting. It's Pauline by the way, the same person that took the pictures for our current artworks.
Both of you have solo projects in parallel to WE ARE REPLICA, how are these developing?
Martin: MAHADURGA ENSEMBLE was my lockdown project that I posted as a work-in-progress on Soundcloud. I still have to properly release it. It gave me chance to try new things I never did before, sounds, playing techniques, new ways of sequencing etc… I will do more solo work in the future but the next one will again be completely different.
Nadège: My solo projects are using different platforms. Music is part of it as much as still and moving images. I always make sure I keep that going.
So what's next for WE ARE REPLICA?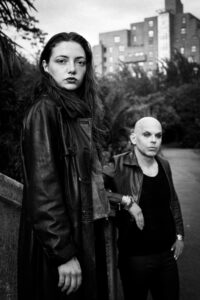 Martin: The three singles are part of an album that we're due to release, along with remixes and the videos we mentioned.
Nadège: Even if it's a bad time for that, we are looking forward to playing more gigs.
Martin: … especially abroad.
Nadège: We would also like to do more collaborations with artists and musicians as intended on our immersive e-Dada event which we cancelled just before lockdown.
Martin: Indeed. We try not to get sucked into album / tour routines too much but take things project by project.
---
ELECTRICITYCLUB.CO.UK gives its sincerest thanks to WE ARE REPLICA
The 'Parallel Angels' EP is available as a download direct from https://wearereplica.bandcamp.com/album/parallel-angels
https://wearereplica.blogspot.com/
https://www.facebook.com/wearereplica/
https://www.instagram.com/we_are_replica/
https://soundcloud.com/wearereplica/
---
Text and Interview by Chi Ming Lai
Photos by Lefteris Parasyris and Pauline Mongarny
31st July 2020