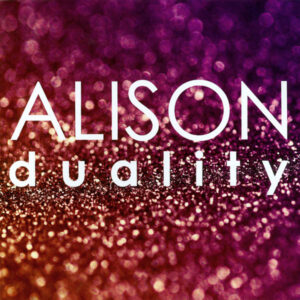 It's 2008 and YAZOO have reunited for a concert tour of the UK, Europe and North America.
While the duo of Alison Moyet and Vince Clarke only released two albums before disbanding in 1983, their style of electro-blues had become a blueprint for many in the art of soulful synthpop.
Around this time, acts as diverse as DJ producer REX THE DOG and girl groups like THE SATURDAYS and RED BLOODED WOMEN were mining the YAZOO back catalogue for samples. Meanwhile the resurgence in synthpop had seen the independent market saturated with girl/boy pairings clearly influenced by Moyet and Clarke.
One of the better but lesser known of these acts was the appropriately named ALISON from Gothenburg in Sweden. The union of Karin Bolin Derne and Magnus Johansson had been intended to be for only one show in the summer of 2005. Derne had somehow talked her way into getting a support slot with SISTA MANNEN PÅ JORDEN, the solo project of Svensk synth mästare Eddie Bengsston from PAGE, by cheekily making up a story that she fronted a YAZOO covers act!
Now needing her own Vince Clarke, she contacted Johansson who was a veteran of bands such as ANTON WEBER, UZIEL 33 and TOPGUN but significantly a member of 101, a DEPECHE MODE tribute band with members of S.P.O.C.K whose concept was to imagine what would have happened had Vince Clarke not left Messrs Gahan, Gore and Fletcher to their own devices.
After playing a successful show comprising of YAZOO songs including 'Too Pieces' and original material, ALISON became an entity as Derne and Johansson found the collaboration just too interesting to let go. The end result was an album 'Duality'
released in early 2010.
Opening with what was ALISON's second single in 2008, 'No No No' was a defiant Europop number celebrating empowerment with Derne happy with no longer having to play second best. Johansson provided a suitably synth brass laden backdrop.
Adding syndrums and pizzicato violins, the anthemic 'There Was A Time' lyrically referenced 'Just Can't Get Enough' while Derne gave a particularly spirited vocal performance.
A duet between Derne and Johansson, 'Disco Dolly' was a delightful homage to 'Sweet Thing' and 'Nodisco' in the first truly YAZOO aping moment of 'Duality'. But cutely "la-la-la", the raw deeper toned but heartily positive 'Okey' actually came over more like OMD, although it should be remembered that Vince Clarke's entry point into synths was Andy McCluskey and Paul Humphreys' 'Almost'.
The slightly distorted 'Dance Floor Killers' sounded like it was about to burst into 'Bring Your Love Down (Didn't I)', but these YAZOO stylisations could only have been produced by a fan like Johansson who studied and understood Clarke's sound design philosophy.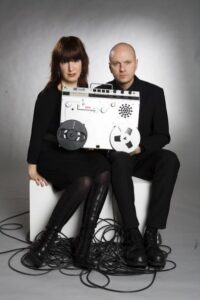 Again taking a leaf from OMD, 'Give It Up For The Broken Hearted (Mr McCarthy)' was wonderfully motorik electronic pop driven by a hypnotic synthetic engine room and while Berne wasn't Alison Moyet, she delivered her own strong style of Nordic soul!
Actually sampling the rhythm track of 'Ode To Boy', 'Where This Road Goes Down Tonight' was more moody, borrowing the swishing, plucking and pulsing of EURYTHMICS 'Here Comes The Rain Again' but slowing the pace down.
Closing 'Duality' was 'Love Fool', their feisty first single from 2007 which was basically a kind of percolating 'Upstairs At Eric's' medley; Johansson's programming in the sequence and rhythm department was superbly authentic while Derne gave it plenty of determined passion and grit.
The blatant YAZOO references polarised listeners by either charming or infuriating them, but over a decade on, what stands out about 'Duality' are its songs. And that, despite all the electro-blues accolades that were bestowed upon Alison Moyet and Vince Clarke, was what YAZOO were ultimately about.
There is still talk of a second ALISON long player but with Johansson having launched HILTIPOP and Derne working on solo material, that might be a while yet… but whatever happens, they left an enjoyable and fun album that captured the 'Duality' of YAZOO in the absence of the much-missed real thing.
---
'Duality'
is still available via Electric Fantastic Sound as a download album
https://www.facebook.com/alisonsweden
https://soundcloud.com/alisonsweden/sets/duality
---
Text by Chi Ming Lai
29th July 2020