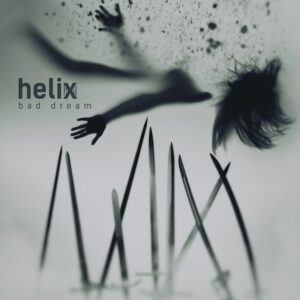 Shakespeare posed the question "If music be the food of love…" and over the course of popular music numerous couples have released work. From Ike & Tina Turner to Chris & Cosey through EURYTHMICS and more recently our own VILE ELECTRODES and WITCH OF THE VALE, all have shown what can be achieved if partners do more than spend their evenings watching 'Love Island' (let's not mention John and Yoko though…)
Another romantic pairing who have released music are Tom and Mari Shear under the name of HELIX. Their 2018 debut 'Twin' was one of the highlights of the year and they have now returned with a new EP, 'Bad Dream'.
Tom of course is well known from his band ASSEMBLAGE 23 who have been leading lights on the EBM / Industrial scene for some 20 plus years and he brings the muscular instrumentation and production from that project to HELIX but with a number of twists that will raise a few eyebrows.
All of this underpins the new Mrs Shear's frankly spectacular voice which has been heard across numerous collaborations from her new husband's SURVEILLANCE release to guest vocals with, to name a few, COMADUSTER and IVARDENSPHERE. More on those vocal skills in a moment…
Opening with the energetic 'Run', which picks up from where the 'Twin' album left off, this acts as an excellent appetiser for what's to come. A fine danceable pop infused number, this will no doubt go down a storm not only in a club setting but also in the set at the, currently, infrequent HELIX live outings. Mari easily harmonises with herself in the layered vocals on the chorus to wonderful effect.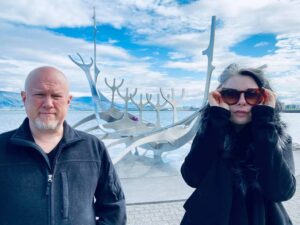 One of the great things about any side project is it gives the opportunity to try new things musically and this is evidently the approach taken on the next few tracks by Tom himself. 'Slip' opens with a laid-back percussion track underpinning effected samples leading into verse which sensibly allows the vocal to carry the thrust of the track.
As previously stated, I think Mari has one of the best female voices on the scene and this is proven on this track which allows her to be heard without swamping with unnecessary processing.
'Kill The Unknown' further allows Mr Shear the scope to do new things musically. This moves into almost 'indie' territory with live drums and, gasp, guitars courtesy of multi-instrumentalist Elias Black. These add an expected texture and bite to the track and shifts HELIX in another direction entirely.
Closer 'Bad Dream' is a brooding slice of electronica with an almost metal chorus which drops in and out of the arrangement that hinges around a frantic drum track. The accompanying remix included on the EP by MESH frontman Mark Hockings is actually my preferred version, again the 'dancier' mix will go down a storm in a club and the mix further highlights Mari's great vocal take.
Closing the tracklist out is a mix of 'Run' by ex-IRIS member Andrew Sega under his HALLOWED HEARTS moniker. This is an almost goth interpretation with chiming guitars and a straightforward 4/4 drum track. Again, this version underlines how well this song will go down in a club set.
In the second part of Shakespeare quote at the top of this article he asks that we "play on". On the strength of both the earlier album and this all too short EP, we can but hope that Mr and Mrs Shear do just that, there is much here to feed even the hungriest of souls.
---
'Bad Dream' is available as a digital EP from https://helix.bandcamp.com/album/bad-dream
https://www.facebook.com/HelixElectronic
https://open.spotify.com/album/6Qth7TB3nPqWlvPIxgrnne
---
Text by Ian Ferguson
5th November 2021