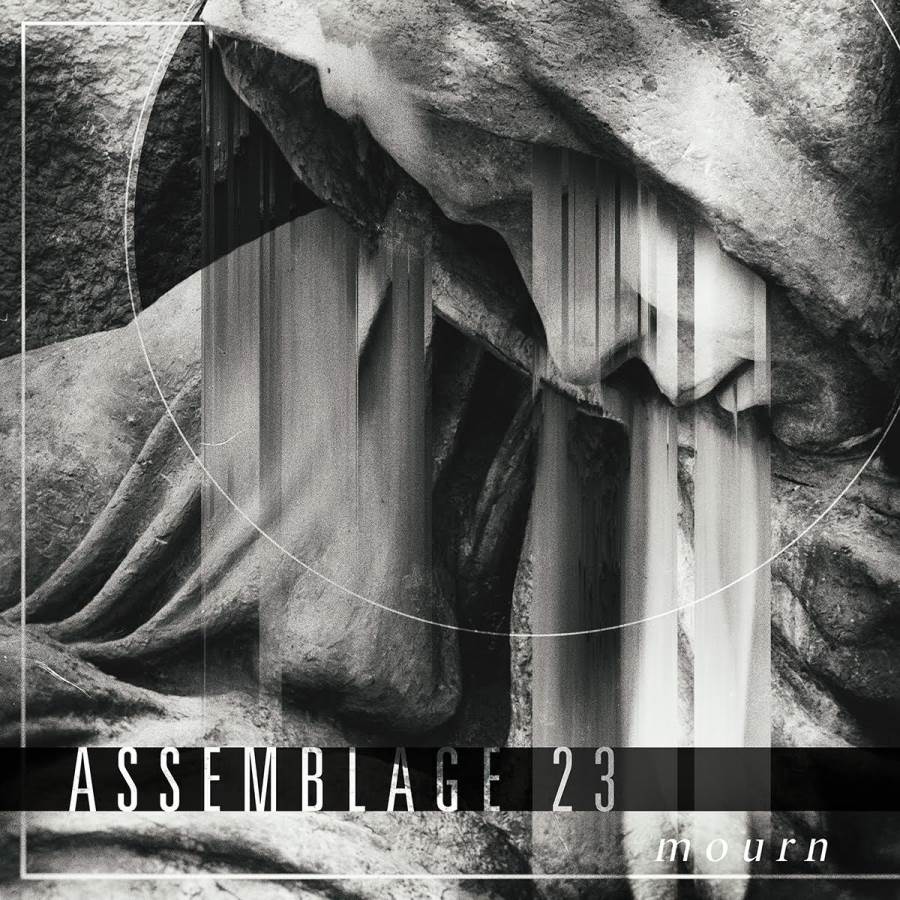 Consistency is a dangerous word to use when referring to music. Sadly for many in the current 'scene', the definition pertaining to porridge is the most appropriate, though I guess many of these bands ability to deliver stodgy fare over and over could also bring the other meaning into play.
One act that can't be accused of dishing out plates of grey sludge is ASSEMBLAGE 23. Ostensibly, in the studio at least, a vehicle for singer and instrumentalist Tom Shear, A23 have delivered some of the best electronic music released over the last 20 plus years and the latest album 'Mourn'
continues that trend.
Full disclosure… I am not only a fan of ASSEMBLAGE 23 but have also toured on a number of occasions with the band and count Tom and his band mates Paul Seegers and Michael Jenney as close friends, despite the number of restraining orders all parties have issued against one another. What this does mean is, I won't sugar coat any views I have of them, they wouldn't want that. It is however challenging not to sound 'gushy' when presented with material this strong.
The brooding intro to album opener 'Epiphany' sets the tone immediately. From the outset it's clear this is an A23 release. One thing I am glad to report is the production on the vocals is carried over from the last album 'Endure', so is upfront and free from any unnecessary effects. This means the listener can quickly catch the lyrical punch many of the tracks carry. Like many of the cuts on the album, 'Epiphany' has a double meaning both as a commentary on, when written, current global events and on a more personal level.
This punch continues through to the next song 'Factory' which is a withering critique of how governments are manufacturing whole generations of broken 'men' both at home and also those returning from conflicts abroad.
It asks why those self-same leaders are surprised by the actions of these damaged souls. If you follow Shear on social media, you will know he isn't shy when it comes to his politics and this is shown here and across the album.
'Bloom' is a dark piece of EBM that has its downbeat verses counterpointed by a hopeful, uplifting chorus. Following this is the most 'traditional' EBM/Industrial song on the album, 'Anxiety'. This an driving insistent bass and drums and easily chantable chorus this will no doubt become a live favourite as and when live shows can begin again.
Anyone familiar with the history of the ASSEMBLAGE 23 project will know the catalyst for Tom starting the band was hearing a DJ spin various electronic tracks at a DEPECHE MODE show back in the later part of the 80s. He has never hidden his love of DM and this is shown on 'Confession'. DM fans will find much here to love with its Wilder-esque arrangement and instrumentation but still retaining a very A23 sound. It is not hard however to imagine Gahan singing this lyric. Is it too early to start the campaign to get Shear to produce the next Depeche album…?
Next up is simply a blinding good pop song in 'Dissonance'. Dripping with melody and driven by a thumping bass line, this is destined to become a club favourite.
As previously stated, Shear has no issue in pinning his political colours to the mast and 'Welcome, Apocalypse' doesn't so much pin but nail gun them. A cataloguing of current events brought about by "narcissistic imbeciles" (I wonder who this could be…?), this is not just the centre piece of the album but the track that will I am sure become the biggest favourite amongst fans.
Good songwriting comes from the experiences of the artist and the final three tracks have a more more personal ring to them. 'Could've' takes on people who relish the problems of others to the detriment of friendship and without getting both sides of the story. We have all been there I am sure.
'Tragedy' wraps those questions that arise from the end of a relationship in yet another great pop song. Again there is melody aplenty: others should take note, this is how to write an engaging electronic song without it sounding like you are moaning that you aren't getting beans for tea.
Closer 'This House Is Empty' builds from a sparse intro to end on a strangely upbeat feel despite the main lyrical hook extorting the burning down of said domicile.
As part of the excellent special edition, there is a disc of remixes from the likes of ALPHA QUADRANT, :SITD and KLACK alongside 2 further tracks 'Crescendo' and 'Black Dog'. Don't mistake these as mere throwaways as they could easily sit alongside the 'main' 10 tracks. 'Black Dog' especially is a thumping piece of modern danceable electronica.
So what of the 2020 version of ASSEMBLAGE 23? It's not unusual for an act that has been around as long as Tom Shear to start taking it easy but on the evidence of this and the work he has done in offshoot SURVEILLANCE and the excellent HELIX with partner Mari Kattman, this is clearly not the case.
This is yet another progression from his previous release. It's appropriate that the album will be released on the September 11th, a day which America now looks back on with understandable sadness and loss. There is sadness and loss aplenty on 'Mourn' but also hope for the future.
We can all take comfort that hope is available to us all, no matter what the journey of late has been.
---
'Mourn'
is released by Metropolis Records on 11th September 2020 in CD, deluxe 2CD, double vinyl LP and download variants, available at https://assemblage23.bigcartel.com/ or direct from https://assemblage23.bandcamp.com/
https://www.facebook.com/pages/Official-Assemblage-23/138651156153800
https://twitter.com/Assemblage_23
---
Text by Ian Ferguson
12th August 2020