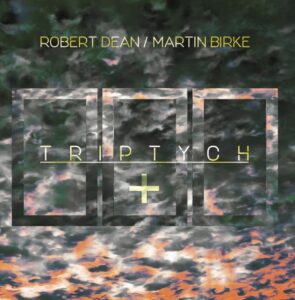 A triptych is defined as "a set of three associated artistic, literary, or musical works intended to be appreciated together".
Described as "An engaging mixture of dark atmospherics, pulsating electronics and imaginative textural guitar", 'Triptych+' is the expanded mini-album from Robert Dean and Martin Birke.
Initially released on Bandcamp in 2019, its four tracks explore the more soundscape-inclined directions of notable guitarists like Manuel Göttsching, Michael Brook and in particular Robert Fripp.
Robert Dean is best known as having been a member of JAPAN who played guitar on all their albums up to 'Gentlemen Take Polaroids' before moving on to work with Gary Numan and Sinead O'Connor. In a particularly rejuvenated return to music, this reissue of 'Triptych+' comes just a few months after the release of 'Dimensions', the debut long player from his more song-based project LIGHT OF DAY.
Meanwhile, Martin Birke is a former drummer turned electronic musician who as GENRE PEAK has worked with Dean's former bandmates Steve Jansen, Richard Barbieri and Mick Karn, as well as avant garde trumpeter Jon Hassell who collaborated with David Sylvian on 'Brilliant Trees' and 'Words With The Shaman'.
Dean is a noted exponent of E-bow, a hand-held battery powered device patented in 1978 that opened up the possibilities of the electric guitar. By vibrating a string to create infinite sustain and high harmonics similar to feedback, the E-bow challenged players into introducing new techniques and inventive ideas while using the traditional six string.
'Locust Storm' captures its title with a flock of E-bowed echo locks over deep drones before steadily morphing into an understated percussive presence reminiscent of FUTURE SOUND OF LONDON ambient offshoot AMORPHOUS ANDROGYNOUS.
Continuing the use of repeats, 'Amber Field' is superb with the captivating soundscape reminiscent Robert Fripp's work with Brian Eno on 2004's 'The Equatorial Stars' and its crisp minimalist structure also recalling 'Drawn From Life', Eno's earlier collaboration with J Peter Schwalm.
Based around an electronic sequence, 'Avigation' is gently rhythmic with Dean's virtuoso passages providing bite as Birke builds his patterns before a pulsing synth bass leads into a tense section which is all the more urgent in its realisation.
Over 11 minutes, 'Guidance Is Internal' is the addition to the original 'Triptych' that sees layers of infinite sustain over an icy plate of hypnotic shimmer that moves into an otherworldly drift suddenly woken by a synthetic noise mantra at its climax.
At around 31 minutes in length, 'Triptych+' is an intriguing set of aural sculptures and sound paintings. Fitting nicely into the catalogue of experimental instrumental adventures by former JAPAN members, it will find favour with listeners who enjoy an occasional trek into the world of imaginary spaces and environmental escapism.
---
'Triptych+' is released by Last Word Music on 14th August 2020 and available on CD from Burning Shed at https://burningshed.com/store/lastwordmusic/robert-dean-and-martin-birke_triptych-plus_cd or Bandcamp at https://robertdeanmartinbirke.bandcamp.com/releases where downloads are available as well
https://www.facebook.com/lastwordmusiclabel
---
Text by Chi Ming Lai
10th August 2020, 3rd September 2020