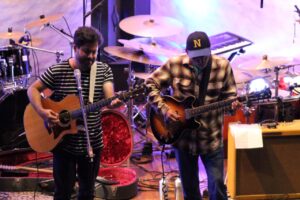 LIGHT OF DAY is the new musical vehicle of one-time JAPAN member Rob Dean in partnership with Costa Rican singer / songwriter Isaac Moraga.
With his skilled fretwork, Rob Dean featured prominently on JAPAN's first four albums 'Adolescent Sex', 'Obscure Alternatives', 'Quiet Life' and 'Gentlemen Take Polaroids' as well as the standalone Giorgio Moroder produced single 'Life In Tokyo'.
After stints working with Gary Numan, Sinéad O'Connor and ABC while moving between the US, the UK, and Australia, he eventually settled for a more idyllic life in Costa Rica, becoming a respected ornithologist and illustrator.
The debut LIGHT OF DAY album is the eclectic 'Dimensions' and marks Rob Dean's return to music after more than 20 years. The self-produced record was conceived over a two year period and features ambient guitar-based soundscapes, deep expansive song structures, melodic rock and perhaps not surprisingly, the rhythmic flavours of the Central American surroundings it was made in.
Having given one of the site's most popular interviews in its history reminiscing about his time in JAPAN, Rob Dean kindly chatted about LIGHT OF DAY and the making of 'Dimensions'…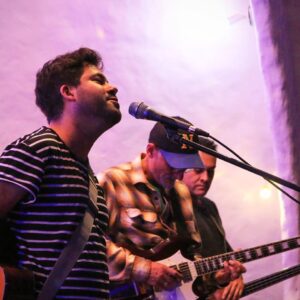 What was the catalyst for LIGHT OF DAY and how did its style emerge?
Originally Isaac came to me, (I knew him through a friend), and asked me to produce an album for him.
I agreed, without really knowing what I was letting myself in for and from the start, I approached it with a good deal of trepidation as it had been so long since I had done any work of any degree of intensity in a recording studio. But the idea nonetheless intrigued me enough to stick with it and after a couple of false starts, we entered the studio.
As preparation, Isaac played some vague themes on guitar for me one afternoon at my house. It wasn't very developed at all, little more than a series of musical themes but I liked his ideas and it made me more animated about the project. I also didn't want to have very much planned before starting the recordings. I always did work best with more or less a clean slate.
Anyway, once in the studio it soon became clear that it was going to be a project for the both of us and ideas came flooding out. Straight away concepts were formed and the old comfort I gained from being in the recording studio environment came flooding back. We wanted a series of tracks that evolved, some circular, others arriving at an entirely different end. We wouldn't concentrate on standard song structures either. Ultimately, we wanted it to be a positive journey for the listener.
How would you describe the creative dynamic with Isaac Moraga and how it compares with the other combos that you have been part of?
Working alongside Isaac is probably the easiest partnership I've ever had. Our ideas, although ostensibly coming from different places really had the same aims and whichever ideas we came up with, the other understood and went along with. It was quite uncanny, considering we really didn't know each other that well. The majority of my past experiences in the studio, with a few exceptions, were either working with strong-minded people who had their own agenda (which I was required to comply with, of course), or equally strong egos that lacked direction (yes, you know who you are!). I'm happy to say that this in comparison was a walk in the park.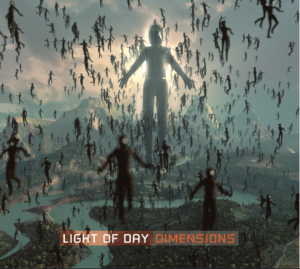 The album seems infused with the feel of bands like TOY MATINEE and JELLYFISH with an almost pop/prog approach to the arrangements. Were there any particular influences that you brought to the project? And how did these differ from Isaac's?
I'm not familiar with the first band you mention, but I loved the first JELLYFISH album. There are certainly pop elements and prog elements. Personally there's 50-odd years of influences swimming about in my brain and some inevitably surfaced at some point during these recordings.
THE BEATLES have been and always will be a strong influence for me as they are I know for Isaac too. Fripp and Eno soundscapes are a clear influence for me personally and the fact that TALK TALK are constantly on my home playlist, I would have to mention them too.
Over time I have 'educated' Isaac to a fair selection of stuff he wasn't too aware of before. His own influences range from THE CURE and BJÖRK to 90s punk bands, the Argentinian band SODA STEREO and their leader Gustavo Cerati and Frank Zappa, which is where we meet some more common ground. So either way, you have two adventurous souls, both with strong pop sensibilities.
'Dimensions' is recorded using a band with live drums and percussion on most tracks, how did you find the process in the studio? Was the production quite straightforward?
As I said before, we really started with not much more than the bare bones of an idea for each track. The album was recorded in two blocks, over 6 months apart. There was an 'organic' feel to the entire project. Keyboards for instance, although we knew they would be quite an integral part of the album were the last to be added without a clear idea as to what they would be.
Most of the electric guitar parts were made up on the spot. So it was pretty much the same with the drums and bass, but everything came together remarkably quickly. I would say bass parts took longest mostly because we both had a pretty clear idea what we wanted and sometimes that was harder to explain.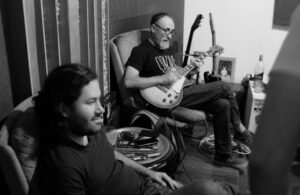 The track 'Find the Light' started with live drums and bass guitar but later we opted to eschew these for a drum loop and synth bass.
Conversely 'The Vastness' revolves around a recorded drum loop which fades in and out which Isaac felt really strongly about from the beginning and I understood his vision.
There is, as to be expected, a Latin feel to a number of the grooves. How does playing with that rhythmic feel differ to the Asian and African drumming of Steve Jansen?
The only track that we consciously saw as having a Latin feel was 'Still Time' which we knew we wanted to evolve from a simple Peruvian Charrango motif into a full blown rock epic. The basic rhythm is a cumbia, a very popular Costa Rican dance rhythm. We really just wanted to turn that tradition upside down and on its head!
The track 'Harlequin's Carnival' had been lying around since the 80s-something I'd recorded on 4-track with Roger Mason of MODELS and Numan fame (we were both in the short-lived ILLUSTRATED MAN). We decided to rework that, and the carnival aspect seemed to work with a somewhat Latin rhythm. It wasn't really a conscious effort to make it this way.
As for difference in drumming styles, you just adapt to what the drummer and / or percussionist has to offer, I think. I would say invariably you find they deliver something you hadn't really thought about. Whichever drummer I have worked with in the past or the present has brought something of themselves to the track and we were always open to try any of the musicians' ideas.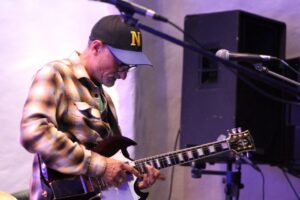 Was there improvisation, especially the interlude pieces? 
Apart from the aforementioned 'Harlequin's Carnival', everything was for the most part improvised from the germ of an original idea or two, arrangement-wise. We liked the idea of having fairly short instrumental 'breathing spaces' within the context of the album.
These would basically start with a simple guitar motif which we would improvise around. They would be pieces that really didn't require vocal embellishments but would be strong on atmosphere and in their own way would be just as integral a part of the whole.
How did you come to work with Ed Buller on the remix of 'Suddenly'?
I first met Ed when I was based in LA and he played keyboards for THE PSYCHEDELIC FURS. We became friends and later, in London we lived in the same Hackney neighbourhood and so we hung out socially a lot. I always liked his productions with SUEDE, so I asked him to mix for us. Originally we'd hoped he could mix several tracks but he was just too busy working with Hans Zimmer at the time. We're just glad we got him to do the one. Perhaps on later projects we can find the time for him to do more – I certainly hope so.
'Doll' appears to have elements of THE BLUE NILE despite its quite lively percussive backdrop?
Yes, it does, somehow. Purely coincidental. I think it comes from respect. Again, all made up on the spot. Of all the tracks, this came together the quickest. The bass again, took the longest. In hindsight I would love to have recorded live strings on it but it was beyond our budget. It was incredible how Marco, the keyboard player and Pachi, the drummer instinctively knew what to play on this track. Even the mix just fell into place….
Much of the guitar work is textural, using E-Bow and loops?
Yes on most of the tracks there is an element of atmospheric guitar somewhere or the occasional loop. This, I think is one of the key factors which holds the album together and it's also a strong part of me as a guitarist and arranger, I realise now. But, I think I should state that in no way do I see this as a 'guitar album'. Yes, there are plenty of guitars, (since both Isaac and I play), but mostly as you say it's textures rather than guitar solos and riffing. I want to make that clear!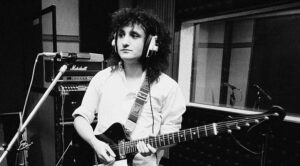 How have you found attempts to develop the trusty six string technologically over the years from guitar synths, the SynthAxe and the keytar? What had been your experience of these?
In the early JAPAN days, I tried using a SynthAxe on one or two tracks of the debut album 'Adolescent Sex'.
I also tried to work with the Roland G303 at a later point. In those days, the triggering was less than great and I was not that happy with the results of either. I used a remote keyboard with Gary Numan in the US too – but under duress and as minimally as possible, I managed to limit it to just one performance of 'Cars' on the Merv Griffin show – don't bother trying to find it, it's not available, honest!
Over time, the concept of a guitar triggering synth sounds never really appealed. Now, with the advancement of effects technology, I honestly don't see the need to use one. I think above all, it's important for the guitar to retain its own voice, however heavily treated, which can thankfully be more varied than ever now.
What happened to the cover of 'Tomorrow Never Knows' that had been previewed? Why did you choose this one out of all of THE BEATLES catalogue?
Originally we were happy enough with our version of the song to include it on the album but with time restrictions, we couldn't allow 13 tracks on the vinyl disc so we decided to take it off. It is available as a digital download at the moment, though. It's possible we may release it in some other format in the future.
As a lifetime fan of THE BEATLES, it always seems natural for me to revisit their catalogue. I saw this as one of theirs that is most open to reinterpretation and I could envision it working within our album's structure. I had a fair idea in my head what I wanted it to sound like. Above all, I have always maintained that with any recording of a cover version, you must do something else with it. I don't see the point of doing a cover that sounds like the original and I think ours is different enough to meet that criteria. At least I hope so!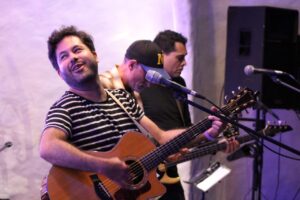 What are your own personal highlights from 'Dimensions'?
The most successful tracks for me are 'Dimensions, 'Doll', 'Harlequin's Carnival', 'Naive' and 'Escape' but I am genuinely proud of all of it. I figured after being away from 'the scene' for so long, I had something to prove. Hopefully the music bears this out.
'Dimensions' is being stocked by Burning Shed, the retail platform of Tim Bowness from NO-MAN, do you see him as a kindred spirit?
I don't know Tim personally, but I'm very happy that he and Burning Shed agreed to handle our album. Yes I suppose in a way, he could be regarded as a kindred spirit. To a certain extent I do see similarities between our approach and his various projects, musically. I just see it as an ideal platform for us.
Does your day job influence your music in any ways?
Well, there are no tropical bird song recordings on it if that's what you mean….! I don't think it does other than a heightened consciousness about our environment due to where we both live, the air we breathe and how we interpret that through our music. 'Dimensions', without getting deeply into it, is really about searching for answers and exploring possibilities. It's definitely a journey, above all else. The natural world does play its part in some way, I suppose.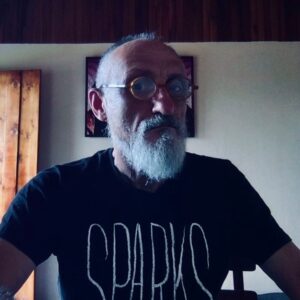 What are the long term plans for the project? Any live work, current situation depending?
It all depends how the album is received, certainly as far as the possibilities of live work are concerned. But right now, live work is a big question mark for all of us anyway, isn't it?
All going well, I would only consider it in some form if the demand warrants it. Someone suggested we video a live show and post it online – that's a reasonable option I suppose.
We did play one gig at an open air festival here in my home town last year which was an eye-opener in many ways. Like the album itself, it was something of an experiment. Other than that, we will consider more recording when the time seems right.
---
ELECTRICITYCLUB.CO.UK gives its sincerest thanks to Rob Dean
'Dimensions' is released by LOD Recordings / Last Word Music, available as a translucent amber vinyl LP from https://burningshed.com/light-of-day_dimensions_amber-vinyl
The album is also available as a CD from https://burningshed.com/light-of-day_dimensions_cd
'Tomorrow Never Knows' can be obtained as a standalone download from LIGHT OF DAY's Bandcamp at https://lightofdaycr.bandcamp.com/track/tomorrow-never-knows
https://www.facebook.com/groups/teamlightofday/
https://www.facebook.com/lastwordmusiclabel/
https://open.spotify.com/album/7xtFNlj9vApAmlMWuitAk7
---
Text by Chi Ming Lai
Interview by Chi Ming Lai and Ian Ferguson
3rd June 2020