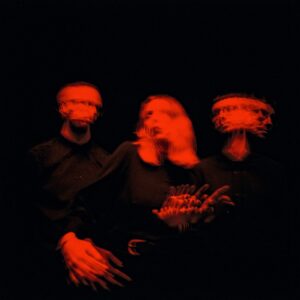 The political tensions in the former Soviet republic of Belarus have created a climate where artistic expression exudes a more prominent dystopian austere than in many other places.
Leading this are Minsk post-punk trio MOLCHAT DOMA but following not far behind are DLINA VOLNY; comprising of singer Masha Zinevitch, guitarist Vad Mikutski and Ales Shishlo on keyboards, unlike their bilingual debut 'Mechty' from 2018, their second album 'Dazed' is entirely in English. Released by their second album 'Dazed' and Italians Do It Better, it is a cinematic Autumnal statement that sounds as if The Cold War never ended.
The songs deal with the fragile reality of life and 'Dazed' opens with the title track, its icy cascading mood, served with the resigned contralto delivery of Zinevitch, possessing a sparkling textural quality worthy of the Italians Do It Better house sound. 'I'm Not Allowed' sounds bouncy in comparison, the bright synth arpeggio sounding odd but effective within a musical backdrop resembling WHITE LIES, while 'Do It' features an infectious swirl of electronics as well as a simple chanty chorus.
DLINA VOLNY's reinterpretation of Madonna's 'Hollywood', which appeared on their label's recently issued tribute collection, alternates a detached deepness with an unexpected pop register that presents the song as a harsher warning to those seeing stardom.
Closer to home, the chilling darkwave of 'Whatever Happens Next' acts as protest song calling for solidarity and freedom. Exploring that haunting Eastern Bloc resilience further with a dance beat, 'Bipolar' is outstanding and asks "what is it like being on the border?".
Despite its sinister overtones, the partly spoken 'Redrum' embraces a deviant sexiness like a song for the soundtrack of 'Atomic Blonde' where "the end is just another beginning… goodbye!". The call for 'Freedom' sees stark bass guitar lines marked by harsh strums to shape a cavernous gothic grandeur.
Not a cover of their labelmate's CHROMATICS best known song, 'Shadow' embraces THE CURE like a funereal paced 'Fascination Street' and certainly there is that air of disintegration. 'Slowly' is cut from a similar black cloth while the grim perspective presented on 'Matte' is only offset by shiny synths. Recalling ACTORS, 'Tomorrow' ends with the Minsk threesome's own take on dysfunctional post-post-punk disco.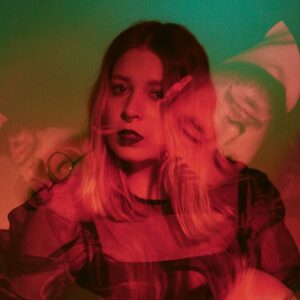 Mixed by David Lynch associate Dean Hurley, 'Dazed' is bleak and tense but most of the tracks have a cool appealing air of mystery.
The murky atmosphere does not forsake melody or hooks and the second language expression provides a seductive allure as the anxious suffocation of the system is countered by a profound breath of hope.
Despite the collected feelings and situations, DLINA VOLNY are less jarring than MOLCHAT DOMA so may have a broader crossover potential… yes, maybe these Belarusians do it better.
---
'Dazed' is released by Italians Do It Better on 5th November 2021, available from https://dlinavolny.bandcamp.com/ or pre-save at https://idib.ffm.to/dazed
https://italiansdoitbetter.com/dlina-volny/
https://www.facebook.com/dlinavolny
https://twitter.com/volny_dlina
https://www.instagram.com/dlina_volny/
---
Text by Chi Ming Lai
3rd November 2021