So! "Here we are again!" Sorry, that's actually a lyric from another band touring on the 40th Anniversary of a classic 1981 album.
Despite saying hello and waving goodbye with a spectacular final show at London's O2 Arena in 2018, SOFT CELL have not only got a new album '*Happiness Not Included' slated for release in February 2022, but they will also be performing their seminal debut album 'Non-Stop Erotic Cabaret' in its entirety for the first time on a UK tour. But as SOFT CELL celebrate the legacy of 'Non-Stop Erotic Cabaret' alongside their other hits, they will also be previewing tracks from '*Happiness Not Included'.
Although it has been four decades since the seedy personas of Marc Almond and Dave Ball, photographed by Peter Ashworth, adorned the front cover and hit the shelves of WH Smith, Boots, Littlewoods and Woolworths, the fact that 'Non-Stop Erotic Cabaret' was available where your parents and grandparents shopped can now be seen as being one of the most subversive acts in popular culture.
Art students who met at Leeds Polytechnic, the album title came from one of the neon signs outside The Raymond Revue Bar in London's Soho where Almond lived, an area that at the time was full of strip clubs, sex shops and entrances saying "model upstairs".
While JAPAN glamourised Chinese Communism on 'Tin Drum' and THE HUMAN LEAGUE presented working class aspiration like a synthpop ABBA on 'Dare', SOFT CELL told of the grit that could come with glitter in musical tales about dirty old men, prostitutes, grooming, sexual deviance, personal grievance, tabloid sensationalism, middle class entitlement and living in squalor. Only the pair of tunes by OMD about the brutal execution of a teenage girl on 'Architecture & Morality' were historically darker than SOFT CELL's gutter heart take on reality.
The recent Twitter listening party hosted by Tim Burgess highlighted the worldwide love and affection for 'Non-Stop Erotic Cabaret'. With Marc Almond and Dave Ball on hand to provide insights and memories on the making of the record, a number of interesting points of trivia were provided.
While the duo were in New York to record and mix the album with producer Mike Thorne, 'Tainted Love' became a hit in Germany. So with Ball otherwise engaged in working the state-of-the-art NED Synclavier and the much more basic Roland Synthe-Bass SB100 which provided SOFT CELL with a very distinct sound, Almond was despatched to perform the song on TV show 'Disco' with a Dave Ball lookalike who ZDF tried to keep in shadow and out of shot, but failed!
Of 'Entertain Me', Marc Almond said "This is about people who are just never satisfied. The pop star world we found ourselves in after the success of 'Tainted Love'"; but of this new world they were now part of, Dave Ball recalled "it was all a big adventure. Highlights were meeting Divine and Madonna in Danceteria then meeting Andy Warhol at The Factory"
'Secret Life' was revealed to be a preceding song to 'Say Hello Wave Goodbye' about a politician's affair with a prostitute whose other secret is that he is also a cross dresser… with sex scandals still rife in Parliament, the songs on 'Non-Stop Erotic Cabaret' are as relevant as ever.
'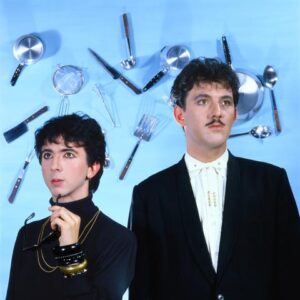 Bedsitter' is another case in point which despite its bittersweet ode to nightlife, on which the Roland TR808 Rhythm Composer was heard on a UK hit single for the first time, reflects on the poor quality accommodation offered by private landlords thanks to the selling off of affordable council housing in Britain; the effects of this Thatcherite policy are sadly still felt today.
The most sinister song when applied to the present is 'Frustration' which could be a narrative on incels or "involuntary celibates", the deeply unpleasant right wing faction of males who are unable to get a romantic or sexual partner despite desiring one, but whose misguided and ignorant anger spills into misogyny and racism.
The most important aspect about 'Non-Stop Erotic Cabaret' though is that it possessed catchy off-kilter tunes with great synth hooks and edgy lyrics over infectious machine beats. With its No1 single and a pair of Top 5s, SOFT CELL initially stole a march on DEPECHE MODE whose own debut 'Speak & Spell' paled in comparison. But while Almond and Ball first spilt in 1984, PET SHOP BOYS picked up their baton and although they smoothed the template out, proved that the technologically assisted pop duo format still had legs.
There is much to reasonably justify 'Non-Stop Erotic Cabaret' as the Best Album of 1981, but if it isn't, then it is certainly in the Top 5 alongside THE HUMAN LEAGUE, JAPAN, KRAFTWERK and OMD in what was a sensational year for electronic pop music.
---
SOFT CELL's 2021 'Non-Stop Erotic Cabaret' 40th Anniversary live dates:
Glasgow O2 Academy (10th November), Manchester O2 Apollo (12th November), Leeds O2 Academy (13th November), London Hammersmith Apollo (15th November), London Hammersmith Apollo (16th November) – tickets available from https://myticket.co.uk/artists/soft-cell
The new album '*Happiness Not Included'' is released on 25th February 2022 via BMG, the single 'Bruises On My Illusions' is available now on CD and 12″ vinyl formats from https://softcell.tmstor.es/
https://www.facebook.com/softcellband/
https://twitter.com/softcellhq
https://www.instagram.com/softcellhq/
---
Text by Chi Ming Lai
Photos by Peter Ashworth
2nd November 2021