Lost but found, before 2019, there were no FIAT LUX albums but there is now a third.
Reflecting the weightier matters of the world, 'Twisted Culture' is about "living life as best you can, no matter what is thrown at you" according to the nucleus of Steve Wright and David P Crickmore. Their only previously released body of work had been the six song 'Hired History' EP in 1984 on Polydor Records. The lack of a hit single saw their intended debut album 'Ark Of Embers' short-sightedly shelved by the label in 1985. However, Cherry Red came to the rescue and issued a double CD package containing both works in 2019.
This coincided with the release of 'Saved Symmetry', an album of completely new 21st Century material recorded after FIAT LUX reformed to celebrate the 35th anniversary of their formation. Despite the worldwide pandemic, FIAT LUX kept busy recording the follow-up, with Will Howard taking over as the third FIAT LUX member on sax and woodwinds from the sadly missed Ian Nelson who passed away in 2006.
The bittersweet '(How Will We Ever) Work This Way' opens 'Twisted Culture' with some catchy grown-up new wave disco although lyrically, it captures the zeitgeist. Building towards a burst of slinky sax from Will Howard, 'Cul De Sac' uses a sparse arrangement for its colourful backdrop.
Unusually for FIAT LUX, 'Basement City Living' is something of a frantic avant dance adventure which swirls, wobbles and even features a drop! There's unsettling pitch shifted voices lingering too but when Crickmore's bass signature kicks in, despite the unorthodox backing and Wright's spoken and screamed contribution, this can only be FIAT LUX.
As a possible relative of 'Basement City Living', 'Tighter' uses similar pacey electronic qualities although is more fully formed as a song, possessing both rock accents and trancey gothic moods. It's odd but enjoyable for those who "only came here for fun". At the other end of the spectrum with predominantly piano and clarinet, 'The Night We Should Have Met' is a classic Olde English FIAT LUX ballad with a wonderful Barber shop quartet round to finish.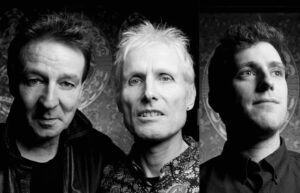 With its pulsing bass, synth sweeps and E-Bow in the vein of one-time FIAT LUX producer Bill Nelson, 'Hope' is a glorious set-piece over seven minutes.
Bubbling with vintage synth, 'It Wasn't Supposed To Be Now' is another number in the classic FIAT LUX vein, all uptempo with a chorus reminiscent of Marc Almond and Frippish guitar solos, although all that tension is offset by bursts of slinky sax.
Sax led and adopting a steadfast drum machine backbone, 'Breathe You In' offers a sensitive love ballad before continuing at a similar pace, 'This Is Your Lifetime' sees acoustic guitar and Bansitar combine for a muzakal song of hope. With a warm harmony of voices, it ends the album on an encouraging note despite the 'Twisted Culture' of the past few years.
Those who enjoyed 'Saved Symmetry' will appreciate 'Twisted Culture'. Meanwhile those who were less enticed by its emphasis on mood may find the more uptempo and experimental numbers that feature on its successor appealing enough to return to the distinctly different path of FIAT LUX. In many ways, 'Twisted Culture' is the stronger and more varied collection.
---
'Twisted Culture' is released by Splid Records through Proper Music Distribution on 5th November 2021 in CD and digital formats, pre-order from https://www.propermusic.com/
https://www.facebook.com/Fiatluxofficial
https://twitter.com/fiatluxofficial
---
Text by Chi Ming Lai
Photo by Andy Hollingworth
1st November 2021