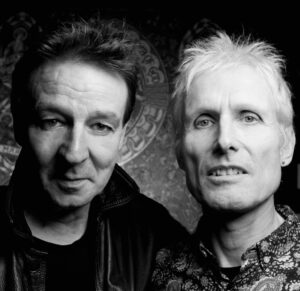 2019 was something of a treat for long standing FIAT LUX fans.
Having reformed to celebrate the 35th anniversary of their formation with the release of 'Secrets 2017', things went well enough to record an album 'Saved Symmetry' which was to be their debut in the long playing format.
But interest in the band whose only previously released body of work had been the 'Hired History' EP in 1984 on Polydor saw Cherry Red license a long awaited reissue in a double CD package with the shelved but intended debut album 'Ark Of Embers' from 1985.
Sadly, Ian Nelson who passed away in 2006 did not get to see his co-creation see the light of day, but vocalist Steve Wright and instrumentalist David P Crickmore took FIAT LUX back into the live arena with Will Howard taking over from their departed friend, beginning with a triumphant show at St Clements C of E Church in Bradford.
Despite their momentum being stalled by the worldwide pandemic, FIAT LUX have kept busy and are about to unleash their next album entitled 'Twisted Culture'. Steve Wright and David P Crickmore spoke to ELECTRICITYCLUB.CO.UK about its creation…
2019 was a year in which FIAT LUX re-established itself with two albums and live shows after an absence 35 years, how do you look back on it?
David: It was a bit like a rebirth, all coming as it did in that one year. First our decision to get a new record off the ground, closely followed by the long awaited reissuing of all our back-catalogue by Universal and Cherry Red.
Steve: If all that wasn't a good reason to attempt some live dates I don't know what was!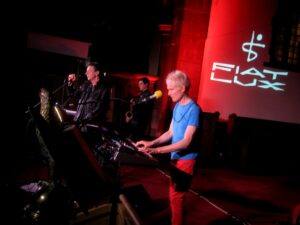 Your kids were watching you in Bradford at St Clements C of E Church, what was it like for them? Did they give you feedback?
Steve: I don't think they knew what to expect but at the end they were extremely proud of everything apart from their Dad dancing. They weren't alive when FIAT LUX was first active and I don't think they expected the huge support from the audience that we got and the number of people who came from all over the country and abroad to watch.
David: My children, being slightly younger at the time, were more keen to work on the merch stand!
Did you have a particular moment at St Clements C of E Church where you thought "It's good to be back, I want to do more of this"?
David: Definitely. When I flunked the opening of 'Secrets' on the keyboard. I thought "we need another gig or two to get this right". Ha ha!
It must have been quite deflating that the momentum was halted by world events in 2020?
Steve: Indeed. Thwarted by circumstances – just like in 1984 when the miners' strike killed off our video for 'Blue Emotion' because of the political repercussions of representing the workers' rights at the time!
From the new album, the song 'It Wasn't Supposed To Be Now' perhaps sums things up?
David: Yes, that's all about how in different times of your life something can come along that knocks you sideways when you least expect it.
Steve: Certainly Covid has done that to everybody, many to a much greater extent than us humble musicians.
'(How Will We Ever) Work This Way' is another song capturing the zeitgeist although this was more or less finished before the lockdown?
David: It was pretty much done, but we adapted it slightly to make more of the dilemma everyone faced at the time making more of the prevailing sentiment: "what do we do now?"
How far had 'Twisted Culture' progressed with writing and production before lockdown happened, how did you approach the album's completion?
Steve: The album was half done, we knew the direction but, as it says in the sleeve, it had to be completed in "various boltholes" rather than in the studio.
David: Will suffered this most as he hadn't done any sax parts before the lockdown. I had to leave a suitable microphone and recording device on his doorstep and retreat a safe distance whilst he picked it up. All his parts were done at home, based on my keyboard guide parts.
They are some more directly electronic and even dance-inspired tracks than there were on 'Saved Symmetry' like 'Basement City Living' and 'Tighter', had this been a conscious move?
David: Part of the FIAT LUX soup has always been a dance / funkelectronic element. It's there from our earliest times.
Steve: Although 'Saved Symmetry' might not have been full of them, one of its most successful tracks from it as a single was 'It's You'.
David: Also I heard somewhere that, during the pandemic, the BPM of all the popular songs increased a lot – maybe we were subconsciously affected?
Had you used any new synths or tech that you hadn't incorporated before?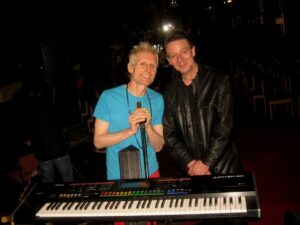 David: We are always trying out new things and throwing them in the mix. We always have – Jupiter 8 and Memorymoog were new back when we worked with Hugh Jones, but conversely we always have bedrock legacy instruments to hand too like Mellotron, Minimoog and marimba. It's harder now to find a new synth or box that does something original and different but we have incorporated newer things like the Korg Volca series and the Mini Nova and there's always new tech to be had at the mixing stage.
Steve plays a bit of guitar and keyboards on 'Cul De Sac' and 'Hope' respectively, how did it go? 😉
Steve: I have done it before! Even back on the first B-side 'This Illness' there's me chugging away in the background on a plucky six string.
There are references to FIAT LUX's early days produced by Bill Nelson with the burst of E-Bowed guitar on 'Hope', did you have lessons from the master himself and for the uninitiated, how is the technique different from soloing in the traditional way?
David: It was definitely Bill that showed me how to do it. I'd never encountered anybody before with one and I can't think of anyone since for that matter. The wisdom was bestowed in the confines of the cramped setting of Ric Rac studios in Leeds where Bill recorded our first sessions.
Steve: Basically, it's a small version of a steam iron which produces magnetic pulses that make the string vibrate indefinitely.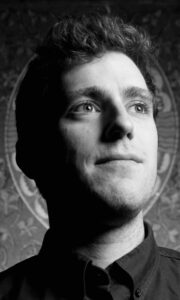 Will Howard joins FIAT LUX on sax and woodwinds, contributing to more than half the album on songs like 'Cul De Sac' and 'The Night We Should Have Met', how has his presence helped with the 21st Century dynamic of FIAT LUX?
Steve: We've always had a sax player since the Polydor years and it's continuing that sound and mood. The real reed vibrating seems to blend in perfectly with the electronics.
David: We were mighty lucky to bump into Will when we did as I doubt we could have found anyone else who could have made such an easy fit into Ian's role. He seemed to have all the sensibilities to understand what had passed while mixing it with his own musical personality in the new stuff.
'The Night We Should Have Met' features this wonderful Barber shop quartet round to finish, how did the idea for that come about?
Steve: We didn't realise, otherwise we would have bought straw hats! It's just part of the FIAT LUX palate – since the Hugh Jones production days we've always thrown the harmonies about rather than just blocking them in: Try the final minute of 'In The Heat Of The Night' on 'Ark Of Embers'.
David: …Or even the middle bit of 'Blue Emotion'.
Which are your own favourite songs on 'Twisted Culture' and why?
Steve: Hope – Because my keyboard line and David's E-Bow blend so well together. I'm really happy with it.
David: I love the soring sax Will provides in 'Cul De Sac' which creates a plateau of bliss which we probably only last achieved in that same way with Ian's part in 'Photography'.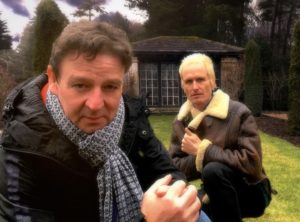 What are your hopes and fears for FIAT LUX and in general as we all re-engage with a rather changed world?
Steve: That people will continue to like our music, while I can continue to walk down the street wearing a FIAT LUX T-shirt without anyone knowing what is.
David: That's the measure of true cult status!
---
ELECTRICITYCLUB.CO.UK gives its warmest thanks to FIAT LUX
'Twisted Culture' is released by Splid Records through Proper Music Distribution on 5th November 2021 in CD and digital formats, pre-order from https://www.propermusic.com/
The album launch concert takes place at Halifax Workshop Theatre on 30th October 2021
https://www.facebook.com/Fiatluxofficial
https://twitter.com/fiatluxofficial
https://open.spotify.com/artist/2GGpvPlY3LVxXSvYuOUUqL
---
Text and Interview by Chi Ming Lai
Photos by Andy Hollingworth, Chi Ming Lai and Helen Robinson
7th October 2021