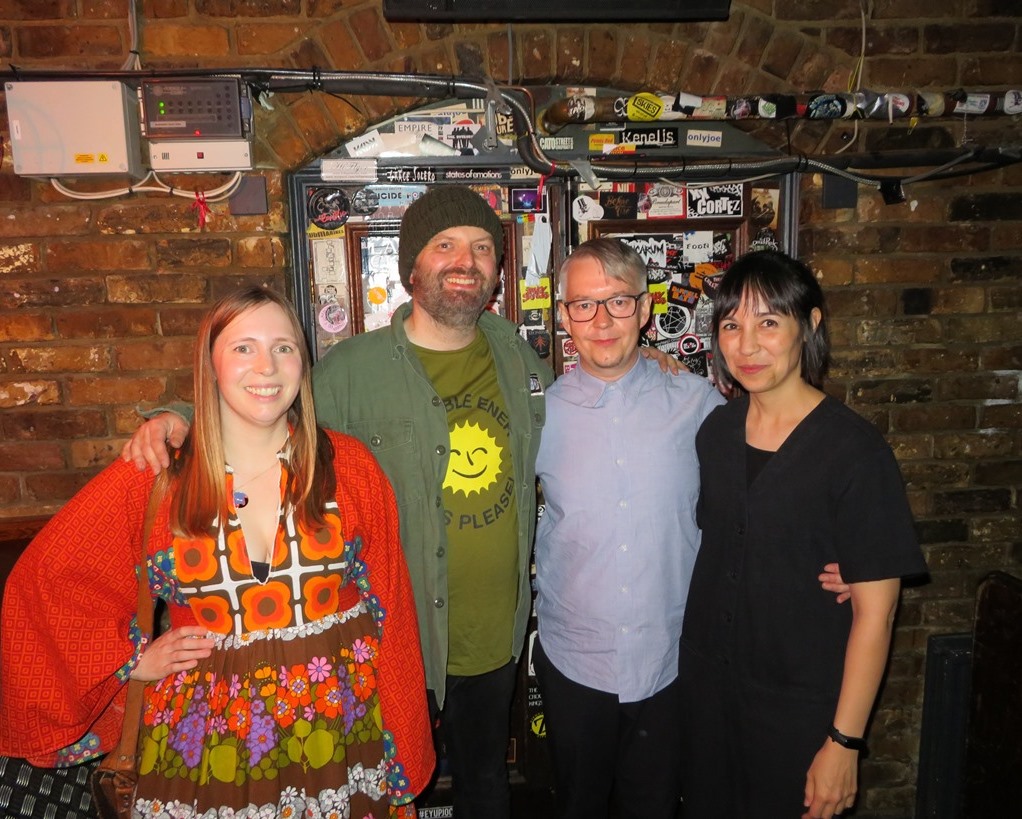 With Alice Hubble on DJ duties, the Hope & Anchor in Islington was the location for a Happy Robots Records family gathering that hosted the live return of label CEO Adam Cresswell in his Theatername of Rodney Cromwell and the debut gig of MOOD TAEG.
With his second Rodney Cromwell entitled 'Memory Box' now in the can and set to be unleased in Spring 2022, Cresswell and his band were keen to road test its contents in front of a receptive audience.
But for MOOD TAEG, it was a step into the unknown. The project comprising the enigmatic Düsseldorf pair of TDK and K'ko plus the absent Shanghai-based Lowell Freeman had never been conceived for live performance, but acclaim for the debut long player 'Exophora' and interest in its newly released follow-up 'Anaphora' has sparked demand.
However, nerves were undoubtedly kicking in, but after a few technical glitches were resolved, MOOD TAEG finally got the motorik on the move with 'Deictics' from 'Exophora' recalling the cosmic adventures of yore with a mind bending effect.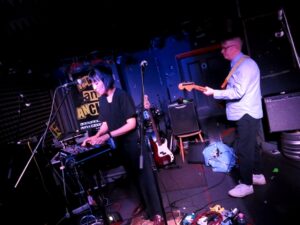 From 'Anaphora', 'Happiness Fragment' developed on its rhythmic groove with a pentatonic synthbass mantra although there were a few iffy moments on TDK's borrowed guitar as it pierced the speakers on occasion. But for the HARMONIA inspired 'Ohrwurm', there was a move away from Apache beats with K'ko augmenting on violin.
Ending with an appropriate musical homage to Michael Rother, '2MR' offered 10 minutes of Motorik Durch Technik as they say in Düsseldorf in the vein of NEU!
Understandably since last performing 2 years ago, Rodney Cromwell was a bit stage rusty with a few leads left unplugged, but tonight was about embracing the fear and exorcising the 'Age Of Anxiety'. Cresswell took some joy in reminding the almost full venue that when JOY DIVISION played the Hope & Anchor in December 1978, only three people turned up!
Recalling 'Tanzmusik' from 'KRAFTWERK's 'Ralf & Florian' album, 'Cloud Catalogue' from 'Memory Box' opened the set. While this delightful instrumental was quite cheery, the new album looks at the social and political tribulations of the past few years. Intended as a soundtrack to a sadly post truth world, it is very different to the melancholic but upbeat synthpop sensibility of 'Age Of Anxiety'.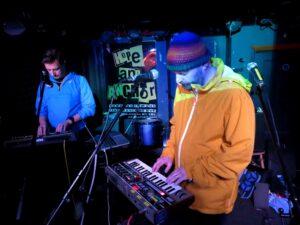 In a month that has ironically seen some of those who have been moaning about fake news on mainstream media also celebrating the 40th Anniversary of DEPECHE MODE's 'Speak & Spell' album on the incorrect date of 5th October, the 'Memory Box' title song's release as a single has been timely.
The hazy but appealing metronomic number reflects in Cresswell's own words on "how do we believe anything in a world where truth and honesty are of so little worth?".
There was a comparatively lighter moment with the pulsating fan favourite 'Black Dog' given the harmonics treatment by guitarist Richard Salt, but the grim moods of 'Fluctuations' were made more haunting by the spacey keyboard swirls of Martin J Langthorne.
But Cresswell brought his Stylophone, along with his best Bernard Sumner impression for the premiere of 'Opus Three', Rodney Cromwell's very own 'Bizarre Love Triangle' if ever there was one, although the tribute perhaps isn't quite as blatant as NATION OF LANGUAGE's 'On Division Street'! To finish the main part of the set, Rodney Cromwell and his band of not-so-merry men formed a melodica orchestra for the sombre wordless newbie 'Calculations'.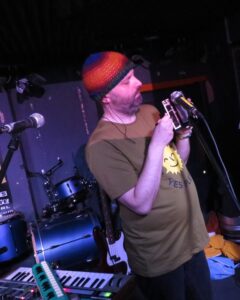 Remaining on stage, Cresswell shouted "Do you want an encore?" to acknowledge the pretence of that accepted walk off practice. As he got into this spirit of showmanship with some Citizen Smith cosplay, appropriately it was 'Barry Was An Arms Dealer' that was the oldie that got dusted off while the more recent vocodered 'Comrades' concluded the evening. While at times, both acts appeared a bit shaky and lost with long pauses between songs like on NEW ORDER's 'Taras Shevchenko' live video, everyone including the audience just appeared to be happy be out mingling again.
Music was what got many through the last 18 months and as times are still uncertain, music in its live variant will help to get everyone through the next year and a half.
---
The new Rodney Cromwell album 'Memory Box' is released by Happy Robots Records on 18th March 2022, the single of the same name is available now as a download from https://happyrobotsrecords.bandcamp.com/
https://www.happyrobots.co.uk/rodney-cromwell
https://www.facebook.com/rodneycromwellartist/
https://twitter.com/robot_rocker
https://www.instagram.com/rodney_cromwell/
MOOD TAEG's 'Anaphora' is released by Happy Robots Records in vinyl LP and digital formats, available now direct from https://www.happyrobots.co.uk/product-page/mood-taeg-anaphora-12-coloured-lp-bot24
https://www.happyrobots.co.uk/mood-taeg
https://www.facebook.com/MoodTag/
https://www.instagram.com/moodtaeg/
---
Text and Photos by Chi Ming Lai
30th October 2021