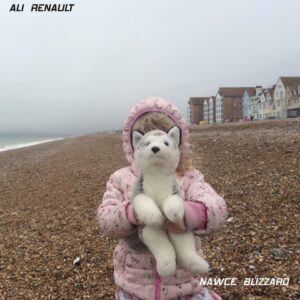 Margate-based producer and DJ Ali Renault has been releasing music since 2003, but he is perhaps best known as being a member of the Italo-flavoured electronic pop duo HEARTBREAK with Sebastian Muravchik.
After HEARTBREAK went into hiatus in 2011, Ali Renault released his debut self-titled album and has since followed up with a variety of dance 12" singles and EPs including on his own Cyber Dance Records and Vivod imprint. With HEARTBREAK having reformed and set to release a second album in 2022, he releases 'Nawce Blizzard' in memory of the late Chester DJ Pete Mangalore with whom he co-founded the Human Shield Record Company.
On the opener 'Northdown Acid', a sinister bass pattern penetrates in sync with dirty phat beats within a grey-stoked backdrop. While faster paced, 'Imminent Salad' is less intense and exhibits more of a club groove with spacey strings providing atmosphere and texture. But with an elegiac ambience, 'Peter Summoning' is Ali Renault's musical tribute to his late friend.
Deeper in mood, the lengthy 'Forbidden Mind' moves in slower motion but having played this 33RPM release at 45RPM by accident, it actually kicks quite well at the faster tempo like Lil' Louis!!! Reverberating with a pulsing hypnotism, 'Nawce Blizzard' presents an electronic chill as the title suggests over stuttering rhythms, but the infinite motorbike engine in the run-off groove will catch listeners out… only it's not a motorbike but a pitch shifted cat purr!!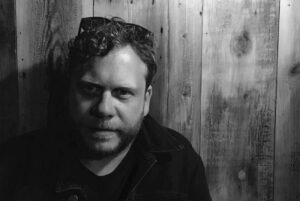 Ali Renault said "It's been an emotional ride getting this together and feels right to be drawing a line under it finally…"
An absorbing mini-album of IDM, 'Nawce Blizzard' is adorned with charming foggy windswept imagery that illustrates its contents, a respectful beat-driven reflection and remembrance of a departed friend.
---
'Nawce Blizzard' is released by Vivod as a 12" vinyl EP and download, available from https://www.phonicarecords.com/product/ali-renault-nawce-blizzard-ep-vivod/176708
Digital variant available at https://alirenault.bandcamp.com/album/nawce-blizzard
https://www.facebook.com/Ali-Renault-134906283231577
https://www.instagram.com/ali_renault/
---
Text by Chi Ming Lai
29th October 2021