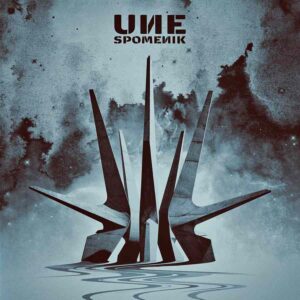 Mark Radcliffe and Paul Langley are the North West English electronic duo UNE.
While producer and Haçienda veteran Langley was signed to Rob's Records, Radcliffe is best known as a respected BBC broadcaster who currently presents 'The Folk Show' on Radio2; but despite this, the Lancastrian has always championed the likes of NEW ORDER, PET SHOP BOYS, THE CHEMICAL BROTHERS, UNDERWORLD and ORBITAL on his more mainstream radio stints with Stuart Maconie and Marc Riley over the past 30 years, so was looking for a new musical challenge after years of writing on acoustic guitar.
Radcliffe and Langley met in a pub in Knutsford and began walking their dogs together, bonding over Manchester City and Factory Records. Langley became Radcliffe's DJ tour manager and in their downtime, Langley played Radcliffe his electronic sketches and imagining a different film for each song, he came up with lyrics.
Their debut album 'Lost' was released in 2019 and following on as a natural musical progression, their second album 'Deux' was issued only a few months ago; its opening track 'Devilled' featured bluesy guitars, funky drum loops and legendary punk-poet John Cooper-Clarke while there was also pumping club numbers such as 'Gemini', 'Folie' and 'Grandmaster'.
But their third album 'Spomenik' is quite different, described as "a solid stark electronic album, still maintaining melody amongst the machines". Using the Serbo-Croat word for "Monument" as its title, but referring to monoliths specifically commissioned by Marshal Tito in the former Yugoslavia, the icy album is inspired by these mysterious brutalist structures built under the spectre of the Cold War, one of which adorns the front cover artwork.
In a departure for UNE, 'Spomenik' is issued by Spun Out Of Control, a boutique music label specialising in actual and imagined synth-based soundtracks from new composers such as Hattie Cooke who released her instrumental suite 'The Sleepers' through them.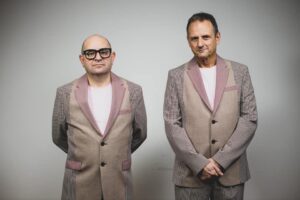 Primarily instrumental in concept, the 11 tracks comprising 'Spomenik' are presented as a seamless listening experience.
Following an intimidating 'Opening Fanfare' from an Cold War era Eastern Bloc broadcaster, with a melody straight out of the OMD hook book, 'Podgarić' could be outtake from 'Dazzle Ships' although Radcliffe's boxed vocal identifies that it isn't.
'Kozara' perhaps points to the more dreamlike instrumental tones of 808 STATE crossed with KRAFTWERK. But the Cold War tension of the album comes to the fore with 'Kadinjača', something that the starkly treated vocals with references to The Doomsday Clock and the chilling melodic presence particularly hammer and sickle home.
Meanwhile, the spacey moods of 'Ostra' act as an extended interlude in the manner of Klaus Schulze while 'Niš' offers more of a dramatic Vangelis presence before 'Barutana' enters more midtempo territory with "abstract expressions". But in an about turn, 'Kosmaj' is much sparser with a gentle cacophony of electronics progressing into a beautiful run of arpeggios and understated rhythms reminiscent of METROLAND or KOMPUTER.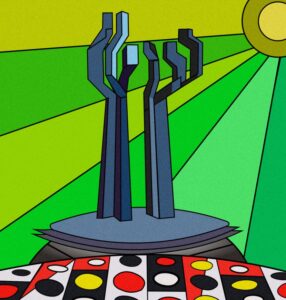 With "futures misunderstood" and what "the machine dictates", 'Tjentište' is inherently gloomy with a sombre melody and resigned vocals. A more minimal and short reprise of 'Podgarič' comes before it all concludes with a 'Closing Fanfare'.
'Spomenik' is an intriguing autumnal blend of OMD, KRAFTWERK and Haçienda-era club music that reflects the anxieties and moralities from a time not that long ago, but which are making their presence felt again in the world's political landscape. Abstractly expressionistic like the monuments the album celebrates, while Radcliffe's vocal expression might not be to everyone's taste, the emotive synthetic backdrop cannot be faulted.
---
'Spomenik' is released by Spun Out Of Control as a silver or permafrost splatter vinyl LP and download, available from https://spunoutofcontrol.bandcamp.com/album/spomenik
https://www.facebook.com/wereUNE
https://www.instagram.com/weareune/
---
Text by Chi Ming Lai
27th October 2021