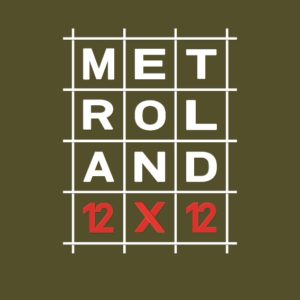 '12×12' sees Belgium's favourite passengers reach the five year mark in their musical journey…
It's the story of METROLAND so far, celebrated in a lavish 4CD boxed set with 14 beautifully informative art cards and the carefully crafted conceptual presentation that came with their second album 'Triadic Ballet'
. It is a beautiful art piece on its own, but the music contained is of a high quality as well. The journey began when their mechanised synthpop impressed audiences via the debut long player 'Mind The Gap'
, so much so that unscrupulous Russians bootleggers pirated several of the tracks and attempted to pass them off as new KRAFTWERK demos on eBay!
This undoubtedly was a back-handed compliment, especially as fans of METROLAND included Ralf, Florian, Karl and Wolfgang aficionados like Andy McCluskey and Rusty Egan. Certainly with KRAFTWERK today seemingly residing in 3D electro-cabaret, Passenger A and Passenger S have certainly filled a gap in the market. But without doubt, METROLAND have proved themselves more than just KRAFTWERK imitators over the last 60 months.
With each of the 4CDs following a distinct curative path, the '12≠12' volume compiles the radio edits and short versions for an easily digestible introduction to the Mechelen duo. One thing METROLAND have especially managed better than KRAFTWERK, even in full length album form, is an understanding that tracks do NOT necessarily have to go on for ages.
'12≠12' is ideal for a cautious introduction with a listen over a cup of hot chocolate with friends. Beginning with the brilliance of 'The Passenger', a robotic number inspired by the tune which the former James Newell Osterberg wrote and recorded with a certain David Bowie, this has to be heard to be believed.
The 'small' version of the most recent single 'Cube' proves that METROLAND have moved on with the spectre of ORBITAL looming, while 'Re-design' acts as a fine bite-size sampler of the epic three part 11 minute adventure of 'Design' from 'Triadic Ballet'.
But the touching 'soul mix' of 'Brother' is where METROLAND reveal an unexpected emotiveness in a fine tribute to their departed engineer and friend Louis Zachert aka Passenger L, thanks partly to a manipulated voice sample with echoes of angels and ghosts…
The '12×12' disc collects the longer versions and assorted extended remixes. Particularly enjoyable is the 12inch 'Subway version' of METROLAND's tribute to Harry Beck, the London Underground's map designer, and the previously unavailable 'Troisieme Etape' take on 'Thalys'. Meanwhile, the toughened up 'Headphone' mix of 'Under The Roof' provides a powerful accompaniment on any peak time commute.
Best of all, as far as the concept curation on '12×12' goes, is the '12+12' disc featuring various B-sides and non-album songs. Here, some of METROLAND's bolder experiments outside of the long playing format come into play.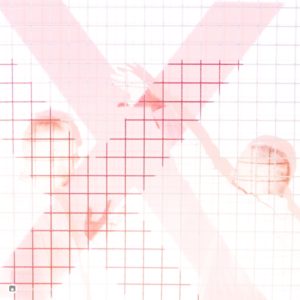 The haunting trauma of 'The Hindenburg Landing' contains the harrowing report by journalist Herbert Morrison recorded at the time of that fiery airship disaster in New Jersey.
Meanwhile the brilliant uptempo attack of '(We Need) Machines Without Romance' imagines a fantasy collaboration between GARY NUMAN and KRAFTWERK.
Despite these darker offerings, METROLAND can do sunny side up too as on 'Vers La Cote D'Azure', while the brilliant non-album single '2013' is embroiled in the bright and cheery optimism of a new annum.
'See You' is Passenger A and Passenger S having fun with electronic improvisations based around a vocal sample from a MARSHEAUX cover of the early DEPECHE MODE tune and while not strictly a B-side as such, the tightly packaged 7 inch version of 'Inner City Transport' is sheer synthetic joy.
The fourth disc bears the title 'x+≠' and features assorted rarities such as demo versions, unissued songs and unreleased remixes, all of which are only available in this physical format. The amusing 'Smoking Is Not Permitted' and the sparkling technopop of 'The Elephant' are among some of the great melodies previously discarded, while the more austere 'Space Age' offers a hazier approach that differs from what became 'The Manifesto'.
Passenger S said: "We wanted to do something more than just a best of, we wanted to tell a story… and I hope we achieved what our fans expect from us, and that the compilation gets picked up by many others as well…"
Definitely more than just a best of,  '12×12′ presents an anthology with side anecdotes and "what if" scenarios. There is something for everyone who is a fan of European electronic music, especially those blessed with an appreciation for something more tangibly visionary.
---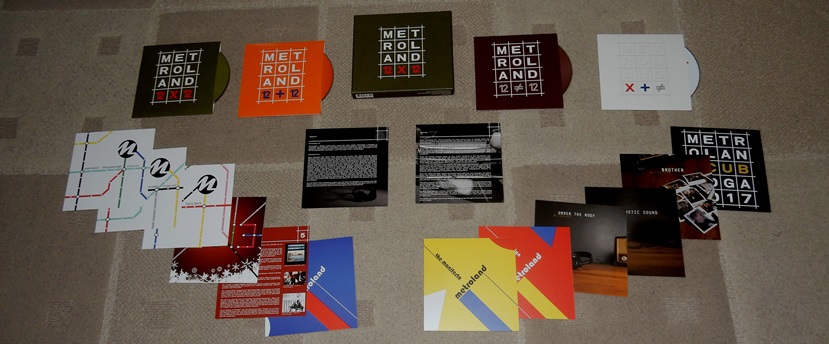 The '12×12′
4CD boxed set is released by Alfa Matrix on 26th May 2017, pre-order from http://alfa-matrix-store.com/metroland-12×12-4CD-box
An abridged digital format will also be available from https://alfamatrix.bandcamp.com/album/12×12
http://www.metrolandmusic.com/
https://www.facebook.com/metrolandmusic
---
Text by Chi Ming Lai
17th May 2017