METROLAND are the Belgian conceptual duo with synthetic sounds from the 'underground'.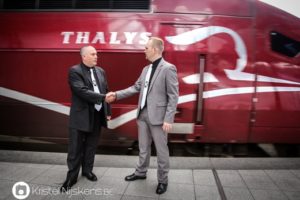 Highly influenced by KOMPUTER and KRAFTWERK, although the capital letter 'K' is highly resonant in their sound, METROLAND are perhaps more textural.
They are like a ride through an electronic landscape, layered with authentic warm sequences, robotic vocals and uniquely vintage drum machines, all designed for the commuter world.
Their version of IGGY POP's 'The Passenger' has to be heard to be believed and such has been the quality of tracks like 'It's More Fun to Commute', 'Enjoying The View', 'Harry Beck' and '2013', several unscrupulous eBay dealers in Russia were passing off CD-Rs of three tracks from the debut long player 'Mind The Gap' as KRAFTWERK demos in 2013! Meanwhile, METROLAND were invited to work their technological magic on well received remixes for OMD, MARSHEAUX and RUSTY EGAN.
METROLAND have now returned with their Kling Klang flavoured Technopop courtesy of the multi-formatted single 'Thalys', a tie-in with the European high speed train operator. Passengers S and A kindly spoke to ELECTRICITYCLUB.CO.UK about their upcoming railway journey…
You supported OMD on the Benelux leg of their 'English Electric' tour, how was that for you?
Imagine that a local priest gets an invitation from the Pope to do a service in Vatican City. Well, it mostly felt like this. Everything fitted so well.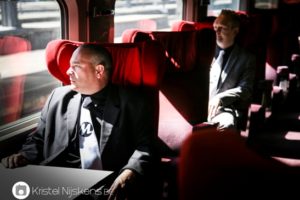 Andy McCluskey was browsing for information on 'Metroland' one evening whilst travelling homewards on the train and he stumbled across our material and instantly liked it due to the KRAFTWERK touch. He got in touch via e-mail and the funniest part was that in his correspondence, he mentioned his band ORCHESTRAL MANOEUVRES IN THE DARK, as if we never heard from them.
How modest can you be? Here we have gotten an e-mail from a man, who wrote himself into history several times, and that is precisely who Andy is: an amazing person to whom we looked up during our childhood (and we still do), who gave us hours and hours of listening pleasure and then, one day, you get to meet him in person and support that 'band' we never heard of 🙂
A highlight in our career, no doubt… proud we had that opportunity!
Last time we spoke, you had just completed your rework of OMD's 'Metroland'. They must have liked what you did because they asked you to do another of 'Night Café' which many consider to be even better?
When we played together in Brussels, we talked about loads of things, amongst which we talked about the new single to come… by that time 'Dresden' was the presented single and the outside world was not aware yet that 'Night Café' would become number three.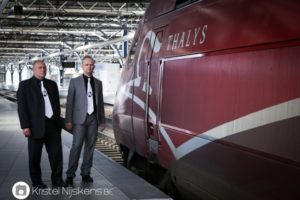 Of course we also discussed the 'Metroland' remix, how we got to do it and especially that it took over 50 hours in total to do the final mix down. But Andy was most happy about the fact we did not butcher the song to death, making it something that was unrecognizable. He stated that it was an OMD song with a different approach, and it was precisely that what made him give us a second opportunity.
The very next day, we were already in touch with the friendly people at 100% Records, who also were happy with the results. We noticed that the 'Night Café' remix was doing well on Soundcloud and in particular on Youtube. Passenger H boosted the remix into a much higher region by creating two ex-tre-me-ly nice videos.
Your remix for RUSTY EGAN of 'Dreamer' has had a very positive response as well
So far we did indeed only read nice reviews, so we hope that when it gets released, more people will find their way to METROLAND. The funny thing about this remix is that RUSTY EGAN himself is truly fond of our remixes…even so, we stumbled across tweets and messages in which he asked if there is a METROLAND mix available. So kind and warm of him 🙂
But 2013 was killing us on the remix part, we actually did nothing else but creating 'versions' for other people. You should know that we quite often integrate new sequences, sounds, melodies, bass sequences into our remixes and we repeatedly felt that we were only making music to give away. So we decided to stop doing remixes until we finished our own material, 'Thalys' included, as this was a monstrous project in every sense of the word.
Talking of dreaming, who would be your dream artists be to remix?
There is only one which we both have high in our lists, and that is ORBITAL. Next to that, we have ERASURE, CHVRCHES… quite some 🙂
We would also love to do MARSHEAUX again, as we feel we did not do so well with 'Can You Stop Me?'.
That remix was our first one we made as METROLAND, and we did not want to go too far and next to that, f*cking up songs from such a top-top-top-top and even over-the-top good band… we were too modest and too shy at the time… regarding making a remix that is, we're always modest and shy 😉
2013 was an interesting year for METROLAND as your songs were being bootlegged and passed off as new KRAFTWERK demos…what were your feelings about that?
We still don't know if we should take this as a compliment or not. On one side, it is a true shame this has happened for sure, especially when our songs where regarded as only demos.
"Are our songs nothing more than demos?" we kept asking ourselves. Looking at it differently, it is amazing that people would then think that our songs could have been from the godfathers of electronic music.
Now, there was some buzz about it, but not that much….we only got an invitation from Ralf H to come over for tea, as he liked our music a lot and he wanted some tips… but we kept that as a secret 😉
What did you think of KARL BARTOS' new album 'Off The Record'?
Passenger S loves it, typical Kraftwerkian material with these lovely melodies… wow! Passenger A is a bit more critical and only found it so-so. It is just a matter of taste, and that cannot be discussed. We saw him live in Brussels, and that was a stunning good show. It is good to see that someone continues the real KRAFTWERK spirit. Not a lot of material since 2003 from the godfathers…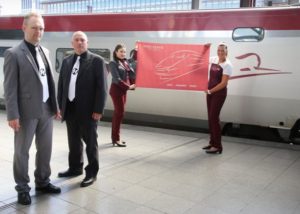 So what is the concept behind the new single 'Thalys'?
A train, that's the simplest answer we can come up with 🙂
The story behind it is something else. When we had 'Mind The Gap' out into the open, we got a lot of reactions like "nice concept, but how long can a band continue with that?"...
True, but do we need to continue with underground and transportation themes? No, we don't… but still, there were some things that we felt were not completed, and it was one day that we texted a message to each other saying "a song about a train"… ok, eh… crazy lads…
And so we had an arrangement about 'The Elephant' (due to the fact it is linked to Belgium), but it stayed an arrangement. Some weeks later, we had a new 6-second melody… and months later it ended up being a song lasting more than 11 minutes. We felt fascinated by the Thalys trains immediately. OK, they are normal high speed trains, but the typical colour makes them so unique.
Whilst we had the idea growing slowly in between all the remixes and the OMD support, we picked it up several times and continued working on the song at a very, very, very, slow, slow pace… at a certain moment, we decided to involve the Thalys company as we saw this 'concept' was growing bigger and bigger. This means that at this very moment, we are writing history, as no band ever before us has written a song about Thalys, and so we hope that our name will be linked to these burgundy red trains for as long as they exist 🙂
You have gone on a multi-format extravaganza with this release?
Seeing our ages and background, and our sources of inspiration, there is one name that should instantly pop-up and this would be Mute. We are so truly fond of their marketing approach that we always wanted to do something similar. This made us propose to our label Alfa Matrix and ask if they would allow us to release a 12 inch vinyl (and not an album). Strangely enough, they went all the way with this (again) crazy idea.
The management at Alfa Matrix have been close friends from us for over 20 years now and they know that when we have an attitude towards our ideas, that we go for the full 150% to make it happen. Yes, it was a crazy ride with quite some obstacles to be where we are, but we made it 🙂
On top of this, we decided to go vintage all the way and created a cassette tape (how 80s can you get, right?) to accompany the vinyl. Of course, the label had their say and marketing-wise, they wanted to add a CD to the vinyl for the fans. So they have not yet turned totally grey or bald and have their 'modern' (but nearly outdated as well) digital medium 😉
Next to this we went one step further and thought, with a blink to the past, "why not create several versions in a different language?". Thus we created a radio edit of the 11 minute-song in English, called the 'London edit' (which can be downloaded in regions where they don't speak French or German) and a 'Düsseldorf edit' for the German speaking countries and a Paris edit…you can guess the rest.
Let's not forget that we also have three totally blasting remixes so you will have loads of ear candy to enjoy! Did we also mention that every medium has exclusive versions ? Yep… again the Mute way of thinking. But it has been quite stressy getting this together, so 'Thalys' will just be a unique fact and happening 🙂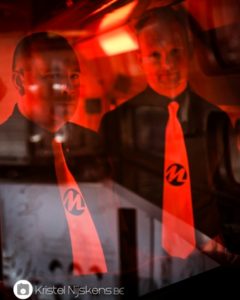 Where do you think METROLAND will be heading for the next album?
We do have at the moment of taking this interview, 16 tracks ready for musical review. In other words, the arrangements have turned into demo songs, and these demos turned into unbalanced songs and we need to put the dots on the i's.
After this focussed time consuming (not to mention good beer too) job, it is time to do the production mixdown, making sure everything is in balance and off it goes to the mastering. Then all files will head over to the pressing plant where the complete concept will take shape too.
For the central theme and concept for this next album, we will be musically travelling to Germany, but it will be something that no-one will expect, truly not 🙂
The style of music is a little darker and harsher than on 'Mind The Gap' which was at times mellow while still having a sort of tristesse drenched in electronics. The new album has a different tone of darkness and synthetic sounds. We never experiment, we always go for the up tempo sequences and bass lines… so no need to worry yet 😉
What would be the perfect location for one of your live presentations?
The Transport Museum in London, the one place we would love to go and present our audio-visual experience (we prefer not to call it a live performance). And of course the Hammersmith Odeon in London. Can someone make this happen? 🙂
---
ELECTRICITYCLUB.CO.UK gives its warmest thanks to METROLAND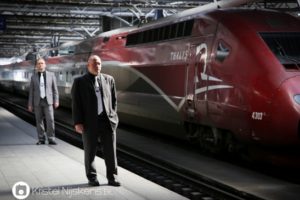 'Thalys' is released by Alfa Matrix in a 12" vinyl / CD / cassette bundle package and three territorial download EP formats, further information at http://www.alfa-matrix.com/bio-metroland.php
http://www.metrolandmusic.com/
https://www.facebook.com/metrolandmusic
http://soundcloud.com/metroland
---
Text and Interview by Chi Ming Lai
Photos by Kristel Nijskens BE
30th August 2014