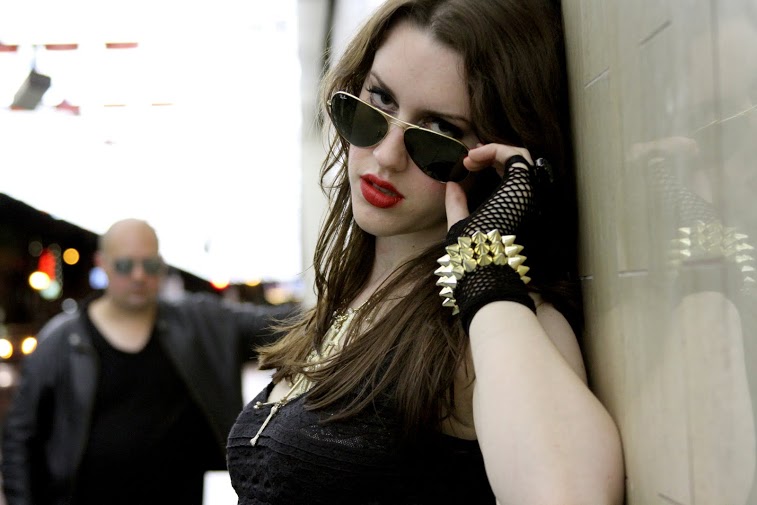 Dark synthpop duo NIGHTCLUB are back with their third EP 'Black Leather Heart'
and they are as frisky and sleazy as ever.
Forming in 2011, vocalist Emily Kavanaugh and producer Mark Brooks began writing songs that combined the pure pop of PINK and BRITNEY SPEARS with the heavier spectre of SLAYER, into a danceable, electronic underworld.
Their respective life experiences led their music into this darker territory as Kavanaugh dealt with her father's untimely death while Brooks faced his own personal demons. Their sexy, minor key framework resulted in the promising EPs 'Night Club' and 'Love Casualty'.
Highlights included 'Give Yourself Up' which was THE WHITE STRIPES' 'Seven Nation Army' driven by bass synthesizers while the duo's calling card 'Poisonous' was a marvellous example of what Britney would have sounded like had she dated Andrew Eldritch and walked into EURYTHMICS recording sessions for 'Sweet Dreams (Are Made Of This)' while on amphetamines!
Kavanaugh however has been more blunt in describing their musical DNA: "If Depeche Mode f*cked Britney Spears and had a baby who hung out in dark corners of seedy clubs, then that baby would be us". With so many familiar reference points in NIGHT CLUB's music, the 'Black Leather Heart' EP just cuts to the chase with an enjoyable electronic cover of INXS' 'Need You Tonight'.
Here, the familiar guitar riff is amusingly transposed into a series of synth stabs before mutating into a mutant Morse code. Sure, it ain't rock 'n' roll but we like it! Purists will be horrified but the best cover versions always do a spot of genre and instrumentation hopping.
Even better though is 'She Wants to Play With Fire' which is supreme melodic synthpop with a sinister edge. Following a similar disco tempo to 'Need You Tonight', the chorus and middle eight rouse with Kavanaugh's feline demure toying with a fight against her bitter love rival.
'Camouflage' features a fatter Linn styled beat but maintains the synth disco template with an infectious squidgy bass line. 'Not In Love' takes the pace down to come over like a YAZOO ballad reimagined for 'The Breakfast Club' with Kavanaugh exposing an honest resigned vulnerability to accompany the rich electronic tones.
The concluding funky 'Cruel Devotion' grooves but Brooks keeps the melody very European despite the Trans-Atlantic backbone for a wonderful pulsating bop that could easily be of Electroclash vintage. A great vocodered refrain adds to all the futuristic fun.
'Black Leather Heart' is without doubt, NIGHT CLUB's most consistent body of work yet; they have catchy tunes and Emily Kavanaugh's kitten-like delivery oozes a lusty appeal. Along with fellow Americans ELEVEN: ELEVEN, they are danceable modern synthpop at its best.
---
The 'Black Leather Heart' EP is released by Gato Blanco on 2nd September 2014 and available as a download via Amazon and iTunes
It can also be downloaded direct from Bandcamp at http://nightclubband.com/album/black-leather-heart where a limited edition CD is also available
https://www.facebook.com/nightclubband
https://soundcloud.com/nightclubband
---
Text by Chi Ming Lai
2nd September 2014