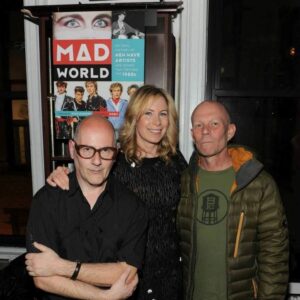 The book 'Mad World: An Oral History of New Wave Artists and Songs That Defined the 1980s' is to be formally made available in the UK.

In the book's foreword by DURAN DURAN's Nick Rhodes, the flamboyant synth player says: "It was a culture where the predilection was standing out from the crowd rather than fitting in. Artists were musically adventurous, less driven by commerce… While those in their teens and early 20s have a limited musical vocabulary, they remain the key source for change in music". Concluding in the afterword, MOBY states: "New Wave was its own world. With its own influences, its own codes, its own bailiwick(s), its own aesthetics, its own sonic landscape…"
Launched in North America to great acclaim last April, it discusses many of the artists who formed the British Invasion of the US with the advent of MTV; the Americans referred to these types of acts as New Wave.
While not definitive, 'Mad World: An Oral History of New Wave Artists and Songs That Defined the 1980s'
delves into the spirit, the politics and the heartache behind some of the best songs ever recorded, regardless of genre. The book does bias towards a Stateside viewpoint courtesy of self-confessed Anglophile and Duranie Lori Majewski, but the content is balanced by the critical input of LA based Glaswegian Jonathan Bernstein.
The two met at Spin Magazine during the height of Grunge and found themselves to be kindred spirits as they quietly bonded over Synth Britannia and New Romantics, much to the chagrin of their scruffy, plaid shirted colleagues.
The dynamic between the "sour by nature" and "staunch supporter of the sheer oddball" Scotsman and the "obsessed past the point of sanity" American ensures that 'Mad World' celebrates the triumph and innovation of the era while simultaneously pulling no punches.
For example, while accepting their places in the book, Bernstein lobs a few hand grenades in the direction of KAJAGOOGOO and THOMPSON TWINS! The pair's differing viewpoints on the two phases of OMD are another enjoyable discussion point.
'Mad World' is ELECTRICITYCLUB.CO.UK's kind of book… it is affectionate and respectful, but also objective and discerning; this more than makes up for previously feeble attempts by other writers to capture the era by combining acts as disparate as SIMPLE MINDS and JASON DONOVAN into a single volume!
While the Adam 'n' Moz laden front cover might indicate otherwise, many of the artists who impacted on the Post-Punk synthesizer boom figure prominently in 'Mad World'. As well as GARY NUMAN, OMD, DEPECHE MODE, SOFT CELL, ULTRAVOX, NEW ORDER, JOY DIVISION, YAZOO, HEAVEN 17, HOWARD JONES, TEARS FOR FEARS, DURAN DURAN, A-HA, A FLOCK OF SEAGULLS, SIMPLE MINDS and THOMAS DOLBY, there's also THE NORMAL and the early HUMAN LEAGUE to represent the trailblazers from 1978 who helped define the era.
Daniel Miller describes electronic music like 'Warm Leatherette'
as "pure punk music" as opposed to "punk rock", due to it adopting that true punk ideal of do-it-yourself. Meanwhile, Martyn Ware waxes lyrical about the realisation of 'Being Boiled'
… the chapter was to have been about 'Don't You Want Me?'
but with Phil Oakey's continued refusal to give interviews about the past has ensured its omission. At the end of the day, Oakey misses an opportunity to reflect and give his story of the era.
However, Oakey's contemporaries don't disappoint; as usual, Andy McCluskey gives great copy and his interview nicely sums up the rise and fall and rise and fall and rise of OMD to highlight the pressures of achieving and maintaining success. And while 'If You Leave'
from the film 'Pretty In Pink'
may not be the greatest song he and Paul Humphreys have ever written, it is certainly not their worst and its success in America is a handy pension pot for the duo.
The joy of this book is that even if an act is of no interest musically, the back stories are fascinating and a number have not been widely known. Like did you know that the true origin of the name SPANDAU BALLET is even more unpleasant than JOY DIVISION? Or that 'True' was inspired by Gary Kemp's unrequited relationship with ALTERED IMAGES' Clare Grogan? Or that DEXY'S MIDNIGHT RUNNERS' Kevin Rowland is a right miserable sod, but he always has been and always will be!
Meanwhile, the entertaining KAJAGOOGOO chapter proves that like in much of today's music scene, ego can often exceed inherent talent and actual artistic success. The diva-ish spats between Limahl and Nick Beggs in 'Mad World' are almost worth the purchase price alone.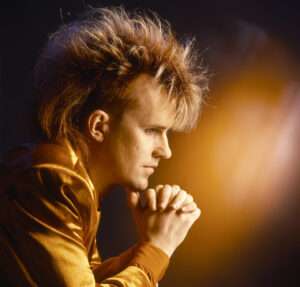 While 'Mad World' is full of tales of excess and hedonism, one very interesting chapter is about the clean living and philosophical Howard Jones. While quietly making his fortune in the US, the happily married vegetarian readily admitted to having a wandering eye that inspired his biggest American hit 'No-One Is To Blame': "It's about being attracted to other people and admitting that. You are attracted to maybe half the people you meet, and that isn't a bad thing. You shouldn't blame yourself for that… but if you want to consummate that attraction to other people, then you have to be prepared to take what comes with it".
'Mad World: An Oral History of New Wave Artists and Songs That Defined the 1980s' is a terrific read, but there are the odd date errors and what some might consider irritating translations of distinctly British terms for the primarily American audience.
And while the book covers most bases, one important song that is missing is VISAGE's 'Fade To Grey'. A complex story in itself, that probably would have made up a book on its own! But overall, these minor aberrations do not spoil what 'Mad World' is… the best book so far capturing that MTV era which many like to refer to as 'The 8*s' 😉
Following her highly informative interview earlier in the year, co-author Lori Majewski reflected on the Americanisation of New Wave and why certain UK acts came to become more highly regarded in the US than back home…
Why did it seem the only US acts that seemed to ride on that UK synth wave were BERLIN and ANIMOTION?
LA had a very big New Wave scene with MISSING PERSONS, THE GO GOS, THE MOTELS, BERLIN and ANIMOTION but what you have to remember is that it kinda got watered down by the time it got to America. As we say in the book, you had Brits trying to be Germans wanting to be robots, and then Americans who wanted to be British!
So the Americans were already two steps removed from the conception of New Wave. You look at something like BERLIN, so they're named after the city that inspired New Wave and 6,000 miles away singing about 'The Metro' in Paris where they had never even been!
But I think what LA New Wave brought was glamour. First of all, there weren't a lot of women in New Wave full stop although in the UK, you had Annie Lennox, Alison Moyet and BANANARAMA. So in LA, we had BERLIN's Terri Nunn who was a model and tried out to be Princess Leia in 'Star Wars', there was THE MOTELS' Martha Davis who was very old school Hollywood glam and THE GO GOS; plus you had MISSING PERSONS' Dale Bozzio, who was the first woman I ever saw and thought "oh, that's what a breast implant is" *laughs*
I think in general, Americans put their own spin on New Wave but as Jonathan likes to point out in the book several times, it wasn't something we exported back to Britain; it was something that we kept here that Brits didn't really go for.
What did you think about bands like TEARS FOR FEARS, SIMPLE MINDS and THE PSYCHEDLIC FURS tailoring their sound for the American market when their initial charm was sounding British in the first place?
It's something we talk about in the TEARS FOR FEARS chapter. We forget that TEARS FOR FEARS had the biggest album of the era in 'Songs From The Big Chair'. Curt Smith talks in the book about how they did consciously move to appeal to a wider audience but also to make a different record to 'The Hurting'.
They were listening to more American things like FRANK ZAPPA. So they didn't make a conscious decision to be American, they made a conscious decision NOT to make the first record again… and as you point out, that record was very British. I don't know if 'Songs From The Big Chair' is American sounding, it just not as New Wave sounding.
The Americans really loved THOMPSON TWINS and HOWARD JONES? What was it about them that appealed Stateside?
HOWARD JONES did well here but I think he would have made it no matter what decade it was because he wrote classic songs… but he happened to use synthesizers and he had the haircut! When you look at a song like 'No-One Is To Blame', it's a good pop song, period!
As for THOMPSON TWINS, Jonathan knew of their previous incarnation while I did not, so he was suspicious of how they were this art conglomerate that suddenly wanted to be pop stars and on the cover of Smash Hits!
I have to say, they were visually arresting and those songs are built to last. You hear 'Hold Me Now' today and what an incredible song!
And I always remember that was the first time I thought about couples fighting because the idea that a man will placate a woman and say "you ask if I love you, well what can I say? You know that I do and if this is just one of those games that we play", and I thought "Oh my God, that's right… that's what women do!" *laughs*
So I felt Tom Bailey was a pop star with a romantic side that really appealed to me, especially with the song 'If You Were Here' at the end of the John Hughes film 'Sixteen Candles', that's one of my favourite songs from the entire era.
Why do you think acts like A FLOCK OF SEAGULLS, THOMAS DOLBY, WANG CHUNG and NAKED EYES were perhaps more popular in America than Britain?
I think this IS the advent of MTV, you guys in the UK didn't have it and we did. 'I Ran'
by A FLOCK OF SEAGULLS was a huge MTV hit, but it only started going up the US charts and being played on radio after people were requesting it because they saw the video on MTV. So they rode a wave that was not available in their own country.
It was the same with NAKED EYES and I love their version of 'Always Something There To Remind Me'. MTV helped a lot of bands that were using the medium of video to get to an audience.
---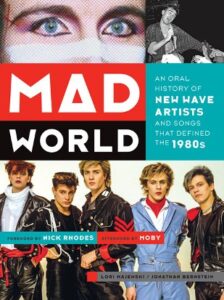 ELECTRICITYCLUB.CO.UK gives its warmest thanks to Lori Majewski
'Mad World: An Oral History of New Wave Artists and Songs That Defined the 1980s'
is available in the UK from all good bookshops and online retailers
Meanwhile in Brooklyn at Rough Trade NYC on Saturday 14th September 2014, 'A Mad World Conversation with MIDGE URE' takes place at 5.00pm – details can be found at the Mad World website
https://www.facebook.com/madworldthebook
---
Text and Interview by Chi Ming Lai
2nd September 2014