So… Here We Are Again!
Fact: OMD's 'Architecture & Morality' is a benchmark of electronic pop, not just within the Synth Britannia era but the genre itself.
Founder member Paul Humphreys said back in 2010: "I think 'Architecture & Morality' was a complete album, it was just so whole. The sound of it was unique, every song… it wasn't a 'bitty' album. A few of our albums are 'bitty' but that was where we finally found a sound that was OMD. I think the first two albums were leading to 'Architecture & Morality'. We were refining our sound and then we found it."
The classic OMD line-up of Andy McCluskey, Paul Humphreys, Malcolm Holmes and Martin Cooper split in 1989 but when it was announced in 2007 that they would be reuniting to play 'Architecture & Morality' and more at a series of shows in Europe, they sold out within a few hours. Fans from around the globe gathered in anticipation and OMD knew they had to do their legacy justice.
But there was the technical issue of capturing the distinct textures of their meisterwerk: "It was a real challenge on that tour because we really wanted to do that album justice but we didn't have any of the synths or anything we used to make those records. But we wanted to be true to the album. So we had to buy synths off eBay to get those sounds back, and we then just re-sampled them. We even went back to the multi-track tapes. Anything that was a monophonic sound, I could slice up into notes, loop them and put them on each key so I could play the sound exactly how it was. It was great, great fun; I loved doing that and it was a really lovely moment."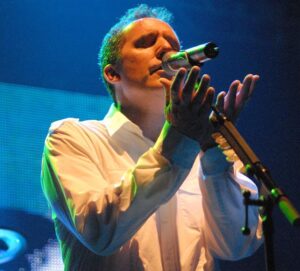 One of these concerts was captured for posterity as both a live album and DVD. Titled 'OMD Live: Architecture & Morality & More', it was recorded at Hammersmith Apollo on Saturday 19th May 2007.
ELECTRICITYCLUB.CO.UK were present so more than qualified to pass judgement on this pair of artefacts which are now reissued as a combined package, although the DVD bonus features from the original Eagle Rock release are now omitted. First things first, the concert itself was a glorious celebration of a great band and their inventive catalogue of work.
Andy McCluskey's voice was better than it was back in 1981 when the 'Live At The Theatre Royal – Drury Lane' concert was recorded, save a few really high notes. His geography teacher at the sixth form disco dancing was still intact too after 14 years away from the stage, if slightly more restrained and assisted with the odd strobe effect.
Likewise, Paul Humphreys had become a more accomplished musician and on his two vocal party pieces 'Souvenir' and '(Forever) Live & Die', his voice had particularly strengthened. On the drum stool, Mal Holmes lost none of his energy or power despite a heart attack a few years previously although keyboardist Martin Cooper was now seated behind his Roland Fantom X8 for health reasons. As the band's trained instrumentalist, he picked up like he had never been away, and handled the solos of tunes he wasn't actually involved in like 'Sailing On The Seven Seas' with vigour.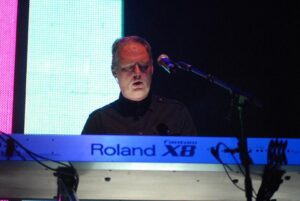 The band certainly enjoyed the experience as Paul Humphreys recalled: "The tour where we played 'Architecture & Morality' in full was particularly great for us. We just loved playing those songs and we played a few songs that we'd never played live before so it was really fantastic". 
Visually, the show was stunning with bespoke projections by Hambi Haralambous while the crisp sound was top notch too.
However, despite the presentation of 'Architecture & Morality' alongside iconic singles such as 'Messages', 'Enola Gay' and 'Electricity', the inclusion of 'So In Love', 'Talking Loud & Clear' and 'If You Leave' in the set slightly numbed the artistic momentum established by the first part of the show, while 'Pandora's Box' lacked drive in its live rendition.
Now considering how good the concert actually was, the DVD is comparatively disappointing. The editing in particular is poor with McCluskey's windmill moves on 'Maid Of Orleans' slow-moed to the point of making no sense with the emotional tension in the music. The widescreen visuals lose their impact too… it really was a show you had to have been at to fully appreciate. Also, with so many enthusiastic fans in the audience who could have been captured for prosperity, the cameras choose to focus on three rather bored looking, ungrateful individuals in the front row who stand motionless with their arms folded through most of the performance!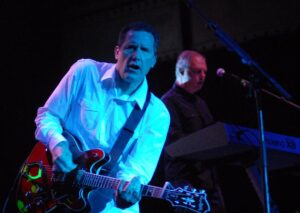 But while this DVD is not up there with the best live music films such as DURAN DURAN's 'Live From London', RAMMSTEIN's 'Völkerball' or ERASURE's 'The Tank, The Swan & The Balloon', it is still a worthy memento that documents the return of one of the UK's most under appreciated bands. Don't forget 'Maid Of Orleans was actually the biggest selling single of 1982 in Germany at a time when Der Bundesrepublik was the biggest music market after the USA and Japan… maybe they should have filmed this tour in Cologne?
ELECTRICITYCLUB.CO.UK were there too and that gig was even better than this one! The crowd chant of "ZU-GA-BE, ZU-GA-BE" to the closing Compurhythm beats of 'Enola Gay' remains unforgettable…
---
With thanks to Stuart Kirkham
'OMD Live: Architecture & Morality & More'
CD+DVD is released via Salvo Sound & Vision on 22nd April 2013
OMD's 2013 UK tour with special guests JOHN FOXX & THE MATHS includes: Margate Winter Gardens (28th April), Birmingham Symphony Hall (29th April), Nottingham Royal Centre (1st May), Ipswich Regent Theatre (2nd May), London Roundhouse (3rd May), Bristol Colston Hall (5th May), Oxford New Theatre (6th May), Sheffield City Hall (8th May), Leeds Academy (9th May), Manchester Academy (10th May), Glasgow Royal Concert Hall (12th May), Gateshead Sage (13th May), Liverpool Empire (14th May)
The Benelux shows featuring special guests METROLAND include: Utrecht Tivoli (17th May) and Brussels Ancienne Belgique (20th May)
The German tour with special guests VILE ELECTRODES includes: Hamburg Docks (21st May), Bielefeld Ringlokschuppen (22nd May), Berlin Tempodrom (24th May), Leipzig Haus Auensee (25th May), Köln E-Werk (27th May)
The new OMD album 'English Electric' is released on 8th April 2013 by BMG
https://www.facebook.com/omdofficial/
---
Text by Chi Ming Lai
Photos by Achim Peter
2nd April 2013