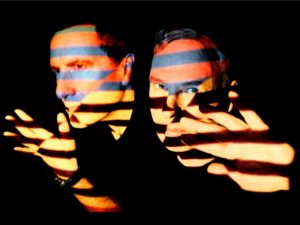 With 'English Electric' in 2013, OMD produced their finest album in thirty years.
After the false restart of 'History Of Modern' in 2010, OMD founder members Andy McCluskey and Paul Humphreys successfully played to their strengths. There was also the return to the more experimental approaches that were pioneered on their first four landmark albums, as well as references to inanimate objects and points of history as metaphors for other, sometimes more personal topics.
Fast forward four years and OMD launch their thirteenth long player 'The Punishment Of Luxury' and a European tour with a striking film for a new track 'La Mitrailleuse', inspired by British futurist artist Christopher RW Nevinson's 1915 painting of the same name.
Directed by Henning Lederer, the animation highlights the futility of war with some solemn battlefield imagery. The mitrailleuse was a type of late 19th Century volley gun with multiple barrels that could fire either multiple rounds at once or several rounds in rapid succession like a machine gun.
Using the 'English Electric' bonus track 'Frontline' as a blue print, 'La Mitrailleuse' is a "grapeshot" collage with gun sounds forming the militaristic rhythm lattice. The initial unsettling mantra of "bend your body to the will of the machine!" is counterpointed by a falsettoed cry from McCluskey.
The fact that this weapon was difficult to manage as well as being highly inaccurate made it a loose cannon, so is this piece a pointed commentary on the current political and sociological climate both here and abroad?
Who knows? But the release of 'La Mitrailleuse' is timely…
'The Punishment Of Luxury' Album Tracklisting:
01 The Punishment of Luxury
02 Isotype
03 One More Time
04 Precision & Decay
05 As We Open, So We Close
06 What Have We Done
07 Robot Man
08 Art Eats Art
09 Kiss Kiss Kiss Bang Bang Bang
10 La Mitrailleuse
11 Ghost Star
12 The View From Here
---
'The Punishment Of Luxury' will be released by White Noise Ltd on 1st September 2017 in CD, CD+DVD, yellow vinyl LP,  standard vinyl LP, cassette, digital and signed deluxe book formats. Pre-order from http://found.ee/OMD_Store or http://www.pledgemusic.com/projects/omd-the-punishment-of-luxury
OMD's 'The Punishment Of Luxury' 2017 tour, Ireland + UK dates include:
Dublin Vicar Street (23rd October), Belfast Mandela Hall (24th October), Liverpool Empire (29th October), Bristol Colston Hall (30th October) , Southend Cliffs Pavillion (1st November), Ipswich Regent (2nd November), Cambridge Corn Exchange (3rd November), Leicester De Montfort Hall (5th November), Nottingham Royal Concert Hall (6th November), Sheffield City Hall (7th November), Reading Hexagon (9th November), Southampton Guild Hall (10th November), Guildford G Live (11th November), London Roundhouse (13th November), Bexhill Del La Warr Pavillion (15th November), Manchester Academy (17th November), York Barbican (18th November), Glasgow Royal Concert Hall (19th November), Birmingham Symphony Hall (21st November), Gateshead Sage (22nd November)
European dates include:
Erfut Traum Hits Festival (25th November), Hamburg Grosse Freiheit (26th November), Berlin Huxleys (28th November), Leipzig Haus Auenesse (29th November), Munich Tonhalle (30th November), Offenbach Stadthalle (2nd December), Düsseldorf Mitsubishi Electric Hall (3rd December), Tilburg 013 (5th December), Antwerp De Roma (6th December), Lausanne Les Docks (8th December)
Fan presale with VIP options will begin on 17th May, while the general ticket sale will be on 19th May
https://www.facebook.com/omdofficial/
https://twitter.com/OfficialOMD
Christopher RW Nevinson's 'La Mitrailleuse' can be viewed in the '1910' display room at Tate Britain, while another work by the artist 'Bursting Shell' referenced in the film is displayed at Tate Liverpool
http://www.tate.org.uk/art/artworks/nevinson-la-mitrailleuse-n03177
http://www.tate.org.uk/art/artworks/nevinson-bursting-shell-t03676
---
Text by Chi Ming Lai
15th May 2017