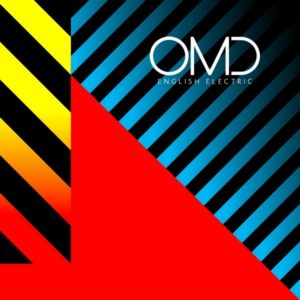 When a band has been established as long as OMD, there is often a creative dilemma faced when deciding how to approach new studio material.
For such occasions, Brian Eno produced a pack of cards called 'Oblique Strategies' designed to get producers and musicians out of sticky situations when lacking inspiration in the studio.
Helpful suggestions include: "What would your closest friend do?", "Try Faking It!" and my favourite "Be Dirty!"
So, with such a rich back catalogue of albums to reference and a sizeable amount of hits under their belt, what would OMD's strategy be on their 12th long player? "Be experimental!" and revisit the 'Dazzle Ships' era.
"Be melodic!" and follow a more tuneful path as evidenced by 'So In Love' and 'If You Leave'. "Wear your influences on your sleeve!" and reference elements of bands that have shaped your sound and finally the risky one: "Get down with the kids!" and try to incorporate more contemporary sonic elements to show you've moved with the times.
So with this, their follow-up to the successful 'History Of Modern' comeback album, what have OMD done? To be honest, rather than following a single path, they've gone down the eclectic route and tried incorporating bits of the above, cherry-picking sounds and styles from a few of their periods and in a move which is bound to please a lot of hardcore fans, even revisiting the 'Dazzle Ships' era which although proved a mid-period career-suicide move, spawned the epic 'Telegraph' and 'Genetic Engineering'.
With this album more than any previous OMD one, there is an elephant in the room and it's a big, KRAFTWERK-shaped one… lead-off single 'Metroland' re-imagines 'Europe Endless' but with a stomping kick drum, 'Kissing The Machine' has its roots in 'Neon Lights' (more about this track and its Germanic links later) and throughout the album, there are riffs and sounds which remain in debt to the German meisters. In interviews, it has become apparent that Paul Humphreys has taken the reins with much of 'English Electric' and gone for a classic, monophonic sequencer-driven approach, yet still retaining enough elements to brand each of the tracks as OMD.
The album opens with 'Please Remain Seated', one of the three shorter speech synthesized tracks. In the context of the album, both 'Decimal' and 'Atomic Ranch' now reveal themselves as musical red herrings, as when the snippets of the album first started to appear, gave the false impression that the band were about to return wholesale to the days of 'Dazzle Ships'. Instead, they simply provide short links between the more conventional songs.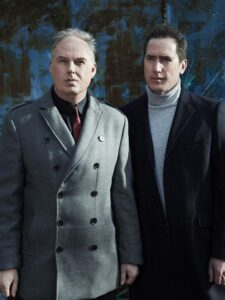 First impressions of third track 'Night Café' is that of a saccharine-sounding electro ballad with a vocal melody strangely reminiscent of John Denver's 'Leaving on a Jet Plane'.
But by dissecting the lyrics it becomes clear that the major-scale melodies are counterpointing a song about a jilted lover drowning their sorrows at the song-title's location…
One of the more surprising tracks is 'The Future Will Be Silent' which welds contemporary, enveloped dubstep bass and chordal sounds to the more familiar Mellotron-style choir textures that seem to be an OMD staple now, the track climaxing with a rising 'Numbers' style synth riff which takes the track to it's conclusion.
The song itself could be seen as being a thinly-veiled critique on what modern electronic music has now become, with the wub wub synth bass sounds becoming accompanied by a female vocal intoning "the future was not supposed to be like this!" …the song's inspiration is cited by Andy McCluskey as "audio pollution", whether that is musical or otherwise is left up to the listener to decide!
'Kissing The Machine' will be familiar to those that followed the career path of former Kraftwerker Karl Bartos – the song originally featured with McCluskey's vocals on the ELEKTRIC MUSIC album 'Esperanto'. Although similar in sound to that version, the Humphreys' update / re-work's synth programming is even more reminiscent of 'The Man Machine'-era than its predecessor with an added vocoder-led intro and middle eight being spoken in German by Claudia Brücken.
With further nods to their past, the trademark McCluskey live bass makes a welcome re-appearance on 'Dresden' and on the aforementioned 'Night Café', as do Paul Humphreys' vocals on 'Stay With Me'. 'Our System' sonically revisits the 'Architecture & Morality'-era with a live drum-led climax and thematically 'Helen Of Troy' also harks back to 'Joan Of Arc', albeit with a far more synthetic backbone.
Probably the most out there and experimental track is the closing and fittingly titled 'Final Song' which combines a CR78-style drum pattern, upright bass, female semi-gospel vocal sample and almost Steve Reich-esque serial music vocal loops. This track shows that the band is still not afraid to take risks and will probably be the standout track for many on this album.
Criticisms? The synth lead sound that Ralf Hütter wheeled out on the 'Minimum – Maximum' tour is maybe over-used on a couple of songs and the overall sonic palette is a little limited in places, but these quibbles aside, 'English Electric' is a fine album and one which will undoubtedly delight their hardcore fans, put the band back on the radar for casual listeners and might even pick up a few new ones along the way.
'English Electric' uses the following instrumentation…

Paul Humphreys: Synth-Werk, ARP 2600, M Tron Pro, Trillion, Omnisphere, Oberheim SEM V, Morphoder, Jupiter 8V2, Minimoog V, Prophet Pro 53, Massive, Vacuum, Boom
Andy McCluskey: Vacuum, Indigo Virus, M Tron Pro, Jupiter 8, Vox Machina
---
'English Electric'
is released by BMG on 8th April 2013 in CD, deluxe CD+DVD, download, vinyl and tin boxset formats. The tin boxset includes a bonus 7 inch vinyl single of 'Our System' featuring an exclusive track 'Frontline' on the B-side.
OMD's 2013 UK tour with special guests JOHN FOXX & THE MATHS includes:
Margate Winter Gardens (28th April), Birmingham Symphony Hall (29th April), Nottingham Royal Centre (1st May), Ipswich Regent Theatre (2nd May), London Roundhouse (3rd May), Bristol Colston Hall (5th May), Oxford New Theatre (6th May), Sheffield City Hall (8th May), Leeds Academy (9th May), Manchester Academy (10th May), Glasgow Royal Concert Hall (12th May), Gateshead Sage (13th May), Liverpool Empire (14th May)
The Benelux shows featuring special guests METROLAND include:
Utrecht Tivoli (17th May) and Brussels Ancienne Belgique (20th May)
The German tour with special guests VILE ELECTRODES includes:
Hamburg Docks (21st May), Bielefeld Ringlokschuppen (22nd May), Berlin Tempodrom (24th May), Leipzig Haus Auensee (25th May), Köln E-Werk (27th May)
https://www.facebook.com/omdofficial/
---
Text by Paul Boddy
Photo by Tom Oxley
4th April 2013