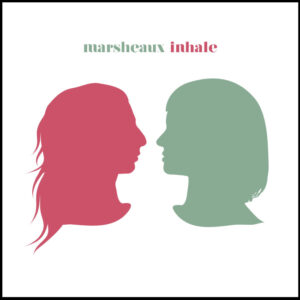 Athens based synth maidens MARSHEAUX's 2004 debut album 'E-Bay Queen' showed flashes of promise but it wasn't until 2009 that the potential was fully realised; that year's 'Lumineux Noir' was a wondrous body of work where Marianthi Melitsi and Sophie Sarigiannidou's wispy synthpop went up several notches.
Haloed by their many admirers from the music scene including Tom Robinson, Stuart Maconie, Andy McCluskey, Rusty Egan, David Beevers and even LA rocker Jared Leto from 30 Seconds To Mars, magnificent songs like 'Exit', 'So Far'and 'Sorrow' led some observers to cite MARSHEAUX as the female DEPECHE MODE.
This was hardly surprising as Marianthi and Sophie met at a DM fan event. Indeed, released at the same time as the Basildon Boys' lame 'Sounds Of The Universe', 'Lumineux Noir' was far superior too. Meanwhile the album's other key moments 'Breakthrough' and 'Radial Emotion' put them up there with LADYTRON and LITTLE BOOTS respectively.
With only the inevitable rarities collection amusingly titled 'E-Bay Queen Is Dead' in 2012 to fill in the void, new album 'Inhale' has been a long time coming. And it would appear that the Greek financial crisis has loomed heavy over its making with moodier, midtempo numbers taking centre stage.
If 2007's 'Peek-A-Boo' saw the 'E-Bay Queen' reach adulthood and 'Lumineux Noir' was the carefree but intense period studying for a BA, then 'Inhale' is the reality of having to pay off the university loan! 'Over & Over' starts 'Inhale' in a bubbly champagne manner, if slightly apprehensive at facing the future after graduation. But 'Alone' exposes the gloomier shades, punctuated by heavily oscillating bass with the lead theme Numan-esque in its Polymoog flourishes.
Also on the deeply melancholy side is the steadfast 'To The End'; "I lost my way" sings Marianthi, seemingly unsure which way to turn as a vocodered presence takes hold. 'August Day' though is a dreamy grower, developing on the maturer outlook now apparent as the album's heart while the closer 'Can You Stop Me?' takes on FEVER RAY's dour, atonal ideas but puts them to a tune; its ambient extension is a delight and provides some relaxing optimism to the journey's conclusion.
And that's the thing… despite the air of pessimism within 'Inhale', there are inviting electropop numbers. This can only be expected when living on the sunny South Balkan Peninsula surrounded by beaches with Ouzo on tap, no matter how difficult the times are.
So 'Self Control' is enjoyably snarling and 'A Secret Place' strangely exuberant while 'Come On Now' is a fully realised cousin of BLONDIE's 'Call Me'… GIORGIO MORODER would be proud! And to shed more light into the valley, 'End Is A New Start' is filled with the synthetic zuckerzeit that makes listeners either love or hate MARSHEAUX.
The 'Inhale' title track does slightly retread over some rocky ground and is reminiscent of 'Breakthrough' but 'Never Stop' points to an exciting new direction, rhythmically feisty with the girls showing a turn of chanted aggression. Credit must be give to MARSHEAUX's production team FOTONOVELA who cannot be faulted with their sonic contribution to 'Inhale'. Fresh from working with OMD on 'Helen of Troy' on 'English Electric' and soon to unveil the stupendous 'Sorrow' (not a cover of the MARSHEAUX song) recorded with MIRRORS' singer James New, they are well on the ascendancy.
All in all, 'Inhale' is a good album but perhaps isn't the great bleep forward that 'Lumineux Noir' was and lacks its epic quality. Less immediate due to the inherent downbeat spectre forced on it by concerns closer to home, 'Inhale' is still a worthwhile listen that captures a challenging moment in time. But it requires investment… a bit like the Greek economy itself!
---
'Inhale' is released by Undo Records on 22nd April 2013 as a CD. It can also be downloaded via Amazon and iTunes
http://www.facebook.com/marsheaux
http://marsheaux.wordpress.com/
---
Text by Chi Ming Lai
6th April 2013