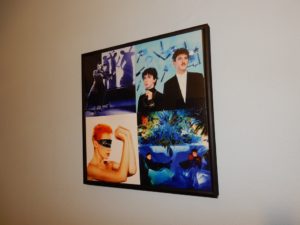 A graduate of the London College Of Printing, photographer Peter Ashworth created some of the most iconic images from New Romantic and beyond.
His photographs adorned albums covers such as the debut long player by VISAGE, SOFT CELL 'Non-Stop Erotic Cabaret', ASSOCIATES 'Sulk', EURYTHMICS 'In The Garden', DEAD OR ALIVE 'Sophisticated Boom-Boom', ADAM & THE ANTS 'Kings Of The Wild Frontier', TINA TURNER 'Private Dancer' and many more.
Meanwhile, his memorable portraits have included artists as varied as FRANKIE GOES TO HOLLYWOOD, ERASURE, ULTRAVOX, THE THE, THE CLASH, THE CULT, THE ART OF NOISE, SWING OUT SISTER, PUBLIC IMAGE LIMITED, THE LIGHTNING SEEDS and SPACE while his photos of BLANCMANGE, DAVID SYLVIAN, EVERYTHING BUT THE GIRL and THE CULT appeared in 'Smash Hits'.
But it was his image of Annie Lennox in a mask and an ironic strong arm pose for 'The Face' that was to become his best remembered shot; the visually powerful statement was then used on the cover of 'Touch', the third album by EURYTHMICS.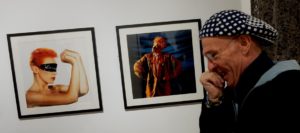 At a time when image was critical to how an act and their music were perceived, record covers were the first port of call for any potential fan. Thus Ashworth's eye was ideal as he worked mostly with large square format Hassalblad cameras, so there was never that dilemma of what might be cropped out in a landscape format shot.
Having already debuted the 'Mavericks' exhibition in Liverpool, the London variant was specifically adapted for the Lever Gallery in Islington. In Ashworth's own words: "the prints have deep colours, strong graphics, and are beautifully printed".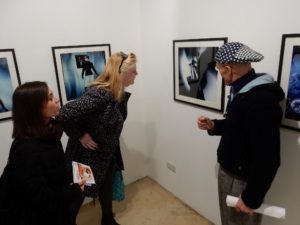 Ashworth loved to create extravagant sets for his backgrounds like The Jungle Of Desire for various formats of FRANKIE GOES TO HOLLYWOOD's 'Welcome To The Pleasure Dome' or the kaleidoscopic horticultural menagerie for ASSOCIATES to inhabit on the cover image of 'Sulk'.
What Ashworth helped to reinforce was the element of artifice in music of this period, which ultimately allowed the listener to embark on a truly escapist adventure.
So it was a total honour and privilege for ELECTRICITYCLUB.CO.UK to have Peter Ashworth personally guide around his wonderful 'Mavericks' exhibition and to hear the stories behind his iconic photographs. Many are now time capsules of fashion and popular culture like his dressing room photo of TRANSVISION VAMP which adorned their 'Velveteen' long player, capturing a time before mobile photos when bands would pass the hours away before showtime reading books about THE VELVET UNDERGROUND and sex movies!
Interestingly, Ashworth confessed to rarely listening to the artists he was photographing so that he could focus on the best visual presentation possible. Meanwhile, he also admitted he wasn't really a fan of anybody except perhaps the late German producer Conny Plank and that his favourite type of music was deep house.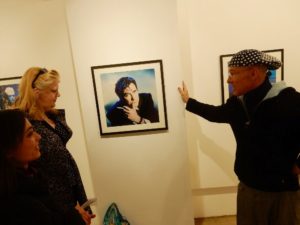 Though his cool portrait of BRYAN FERRY dragging on a Marlboro has been popular with many casual observers, Ashworth's own favourites are actually of two lesser known New Romantic personalities RONNY and PETER GODWIN.
The former was a French protégée of Rusty Egan who cut a striking figure androgynously suited in Anthony Price, while the latter released two singles 'Torch Song For The Heroine' and 'Images of Heaven' which featured members of ULTRAVOX.
Although never having a hit in his own right, Godwin hit paydirt when DAVID BOWIE covered 'Criminal World' by his previous band METRO on the ten million selling 'Let's Dance' album.
A regular visitor to The Blitz Club, Ashworth was a natural choice for the eponymous debut VISAGE album cover image in 1980. Shot in the actual club itself, he had titled the photo 'The Swing' thanks to the dancing pose captured of Steve Strange and model Vivienne Tribbeck in front of three silhouetted jazz musicians, one of whom was the soon-to-be famous milliner Stephen Jones. The eventual artwork was actually hand tinted by Iain Gilles, so it was fabulous to see the original photo which to be honest looks better!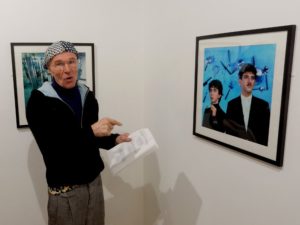 One of the acts most closely associated with Peter Ashworth has been SOFT CELL and he took many photographs of Marc Almond and Dave Ball during their career, as well as being an occasional drummer in Almond's MARC & THE MAMBAS venture.
The 'Bedsitter' image highlighted Ashworth's use of props which in this case were a number of kitchen utensils. But the duo's tense facial expressions can be explained by the fact that the props kept falling off the wall behind them!
'Mavericks' is a must see exhibition for anyone remotely interested in pop music and its visual presentation. There is also the opportunity to purchase a quality greeting card set of six iconic Peter Ashworth images which because they measure 6″ x 6″, four can fit perfectly into one of those album artwork frames available in HMV or Fopp… so guess what ELECTRICITYCLUB.CO.UK did???
---
ELECTRICITYCLUB.CO.UK gives its sincerest thank to Peter Ashworth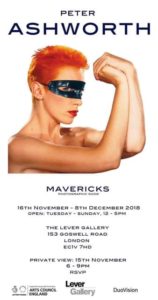 'Mavericks', a photographic show by Peter Ashworth runs at the Lever Gallery, 153 -157 Goswell Road, London EC1V 7HD until 20th December 2018 – entry is free and open Tuesday to Sunday or by appointment
http://www.ashworth-photos.com/
https://www.facebook.com/peter.ashworth.photography
https://twitter.com/peterashworth
https://www.instagram.com/p_ashworth/
https://www.facebook.com/levergallery/
https://twitter.com/levergallery
https://www.instagram.com/levergallery/
---
Text and Photos by Chi Ming Lai
20th November 2018, updated 11th December 2018