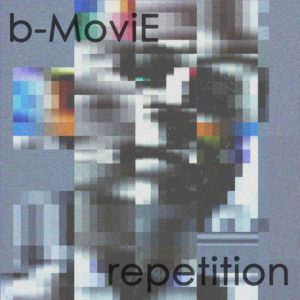 It's been a productive year for some of the best acts that emerged from 1981's 'Some Bizzare Album' like SOFT CELL, BLANCMANGE and THE THE.
Also joining in the party are Mansfield's B-MOVIE with the 'Repetition' EP, the quartet's first new body of work since the 'Climate Of Fear' album in 2016.
Steve Hovington (vocals + bass), Paul Statham (guitar + additional keyboards), Rick Holliday (keyboards) and Graham Boffey (drums) open the EP with the title song, a haunting new wave number recalling NEW ORDER but which is also classic B-MOVIE.
Paul Statham told ELECTRICITYCLUB.CO.UK: "I was thinking of how NEW ORDER in the early days would have approached it with the sequencers and post-punk guitars"
In what could be described as a lyrical follow-up to 'Remembrance Day', one of B-MOVIE's best known songs which has become all the more poignant again with Remembrance 100, Hovington sombrely reflects on how "we make the same mistakes again… it's so strange, our history repeats itself… over and again… and again"
The 'Repetition' video utilises a stark performance by the band cut into archive Second World War footage from the Eastern Front. Continuing the theme of that period, the chilling aesthetics of 'Stalingrad' sees B-MOVIE present one of the most electronic pop offerings of their career.
Complete with an infectious synth melody, an eerie mezzo-soprano and using the crucial Second World War battle as a metaphor for a doomed relationship, it is one of their best songs since their 21st Century reformation. Appropriately, the final song on the EP is 'Something Cold', a brooding building piece with gothic grandeur, a looming bassline and even some bottleneck guitar!
"'Stalingrad' has been played live and goes down really well" confirmed Statham, "There is a new cohesive sound with the three new tracks. 'Somewhere Cold' also has a real post-punk power to it."
B-MOVIE are without doubt back in their stride and Statham is very pleased how they are recording some of the best work of their career: "I really enjoyed producing these three tracks although it's a lot of hard work as we tend to record all over the place, then I have to gather everything together in bits and pieces and collage it into the sound. Steve's sounding better than ever as is Rick and Graham"
---
The 'Repetition' EP is released by Loki Records, available as a CD and download direct from https://b-movie1.bandcamp.com/releases
https://www.facebook.com/B.MovieMusic/
https://www.instagram.com/b_movieband/
---
Text by Chi Ming Lai
19th November 2018, updated 30th April 2019