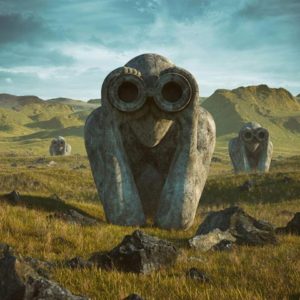 When JEAN-MICHEL JARRE's 'Equinoxe' was released on 16th November 1978 as the follow-up to the massive selling 'Oxygène', there was no hit single but the album cemented the French Maestro's position as one of the world's leading electronic music pioneers.
To celebrate 40 years since the original release, 'Equinoxe Infinity'
has been issued as the conceptual sequel to its parent album. Themed around 'The Watchers' from the iconic artwork of 'Equinoxe'
, Jarre himself has described the album as "Equinoxe on steroids".
With too much expectation, when the 40th Anniversary release 'Oxygène 3'
appeared at the end of 2016, it was the weakest of the trilogy, sounding slightly underwhelming and even unfinished. But with 'Equinoxe Infinity', the longer gestation period has allowed Jarre to be more focussed, highly appropriate with the binocular presence of 'The Watchers'.
Musically representing the struggle between human and artificial intelligence, the septuagenarian synthesist said of the dual visual presentations for 'Equinoxe Infinity': "One cover shows mankind at peace with nature and technology, and the other depicts a picture of fear and distortion with machines taking over the world."
He added: With these two, I want to bring attention to two scenarios we are facing today with our love for and our dependence on innovation and technology. The music of Equinoxe Infinity is the soundtrack to those two different worlds."
Comprising of ten individually titled movements, with the dramatic filmic beginning reminiscent of 'Rendez-Vous'
, 'The Watchers (Movement 1)' shapes a brooding mood with an ivory shaped motif before leading into the glorious arpeggiator driven 'Flying Totems (Movement 2)', its sweeps and textures rich with melody and recalling Vangelis.
Putting the Minipops and Eminent into action, 'Robots Don't Cry (Movement 3)' is vintage flavoured JEAN-MICHEL JARRE as most people love and remember him, the hypnotic 6/8 swing offset by a wonderfully grainy Mellotron ensemble although this piece with its white noise waves has more in common with the template of 'Oxygène'
than 'Equinoxe'.
With 'All That You Leave Behind (Movement 4)', some younger listeners would probably call it Synthwave, but as 70-somethings Jarre, Moroder and Vangelis were inadvertently godfathers of the currently fashionable sub-genre, this would be highly inappropriate. There's actually the haunting deserted air of Ennio Morricone's 'Man With The Harmonica' from 'Once Upon A Time In The West' here, before it enters an underwater world reminiscent of 'Waiting For Cousteau'
to drift into a bubbly cascade of manipulated voices on 'If The Wind Could Speak (Movement 5)'.
Into 'Infinity (Movement 6)' and beyond, a brighter tone is adopted with chipmunk voice samples à la 'Zoolook'
and a Europop-styled rhythmic mood like ACE OF BASS with traces of melody derived from the bridge of 'Equinoxe V'. But the overall result is disappointing despite Jarre's vision of "trying to survive in a hectic VR game with no real beginning and no real end, trapped in a world of "infinity"'.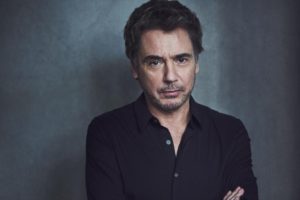 Continuing the virtual reality theme and touching on artificial intelligence, 'Machines Are Learning (Movement 7)' sees stark arpeggios, glissando synth stylings and staccato voice samples rubbing shoulders as an intro to the pensive mood of 'The Opening (Movement 8)'; a revamp of the track premiered at Coachella Festival 2018 and featuring on 'Planet Jarre', it is mechanically rhythmic and melodic despite the melancholy.
'Don't Look Back (Movement 9)' drifts and bleeps away in a spacey pizzicato with a lineage from 'Oxygène' while the closing 'Equinoxe Infinity (Movement 10)' is a wash of ambience and dub wobbles before a sequence descends into an eerie synthetic cacophony; inspired by the late Professor Stephen Hawking's assertion that for the human race to survive, it would need to depart Planet Earth and certainly with the effects of climate change first hinted at by Jarre with 'Oxygène'
, that could now be sooner rather than later…
As with most of Jarre's synthonies, this album needs to be listened to as a whole, although the first third is the most satisfying. Considering some of the instrumentation aesthetics used on 'Equinoxe Infinity', parts might have contributed to make a better 'Oxygène 3' if they had been included, although this album is like an amalgam of Jarre's various analogue and digital styles of the years.
JEAN-MICHEL JARRE said a few years ago "Electronic music has a family, a legacy and a future…" and he can claim one of the biggest mainstream legacies. 'Equinoxe Infinity' has its moments, but should not be seen as a completely direct descendent of 'Equinoxe' in the way 1997's 'Oxygène 7-13'
was to Oxygène.
'Equinoxe Infinity' uses the following hardware and software: Yamaha CS80, EMS VCS3, ARP2600, Eminent 310, EMS Synthi AKS, Keio Minipops, Mellotron D4000, Roland Paraphonic RS-505, Korg PA600, Korg Polyphonic Ensemble, Korg MS20, Tasty Chips GR1, Erica Synths Modular System, Teenage Engineering OP1, Roland System 500 modules 1 + 8, Nord Lead 2, Nord Modular, Electro-Harmonix Small Stone, Electro-Harmonix Electric Mistress, Moog Sub37, Moog Taurus 1, Animoog, Omnisphere, Native Instruments Kontakt, Native Instruments Reaktor, Synapse Audio Dune 2, Spitfire, Replica ST, Boom, Valhalla, u-he Satin, DigiSequencer
---
'Equinoxe Infinity'
is released by Columbia / Sony Music on CD, vinyl LP and download formats
There is also a vinyl LP + CD box set entitled 'Equinoxe Project'
which also includes the original 'Equinoxe' album, 'Equinoxe Infinity', four posters and download card

https://www.facebook.com/jeanmicheljarre
https://twitter.com/jeanmicheljarre
https://www.instagram.com/jeanmicheljarre/
---
Text by Chi Ming Lai
18th November 2018