'Blitzed' is the forthcoming Sky Arts documentary about The Blitz Club in London.
Directed by Bruce Ashley, it will feature contributions from Boy George, Steve Dagger, Rusty Egan, Gary Kemp and Midge Ure.
That flamboyant scene has been deserving of a credible retrospective for quite some time, having more or less given the world the Midge Ure-fronted ULTRAVOX, VISAGE, SPANDAU BALLET and CULTURE CLUB. So it is quite fitting that the programme premiers around the 40th Anniversary of The Blitz Club's closure
Rusty Egan was the DJ who provided the backdrop for the colourful clientele to pose and dance to between 1978-1981 and the 'BLITZED' soundtrack comprises of new and reworked music produced by him, as well as a selection of rare period pieces. A four track sampler of the forthcoming soundtrack album curated by Egan is released ahead of broadcast and gives a good idea of what's in store.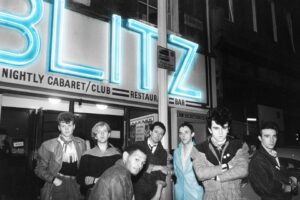 Previously issued in 2019, 'When We Were Young' pays homage to GINA X PERFROMANCE's 'No GDM' and reimagines it being reworked by Giorgio Moroder.
With a catchy vocodered topline going "It's 1979-it's 1980-it's 1981-it's 1982… it's Tuesday night and I'm ready for some fun, oh yeah!", it delightfully sets the scene for the now well documented story of how the Blitz Kids danced to Bowie, Ferry and the synthesizer!
Boy George guests with Egan on 'Turn To Dust', a slice of electro-reggae in the vein of LEFTFIELD with the expected dub screening, although listeners may need time to get used to the cut-up treatments on George O'Dowd's processed voice; this track certainly has more bite than the "Radio 2 Lovers Rock" of CULTURE CLUB as Phil Oakey of THE HUMAN LEAGUE once put it…
Meanwhile, a new Blitzed Extended Mix of 'Fade To Grey' featuring Chris Payne sees a classical rework with piano and violin over approximations of the iconic string synths and drum machine pattern of the 1981 West German No1 single. There are authentic French language voices featuring on this makeover, although the timings of those and Egan's own baritone could have been much tighter in the mix. While Payne's exquisite ivory runs cannot be faulted, the extended mix labours and does not have the punch or intrigue of the original 12 inch version that appeared on the first VISAGE singles collection.
Egan's former protégée Ronny makes an appearance with 'Blue Cabaret' as the sampler's period piece. It's the 1930 meets the future as recently adapted by Katja von Kassel in her electro Weimer style, but it was the androgynous contralto voiced Parisian who did it first back in the day with songs like 'To Have & To Have Not' and 'Compare Me With The Rest', the latter produced by Vangelis.
Co-produced by Georg Kajanus of SAILOR and Peter Godwin, 'Blue Cabaret' originally surfaced in 1981 on the flip of 'To Have & Have Not' and despite being 40 years old, it has aged well as many of the songs that Rusty Egan played at The Blitz Club have.
As has been indicated by the huge 40th Anniversary tours pencilled in by the likes of THE HUMAN LEAGUE, OMD and SIMPLE MINDS (all acts which who were spun regularly at The Blitz Club), these songs that emerged from this European influenced music movement have been proven to possess a timeless quality that has lasted for generations. The comparatively recent Midge Ure '1980' live shows of ULTRAVOX and VISAGE material are indicators of its longevity and box office draw.
It is now time for 'Blitzed' to tell the story of how that era was not actually about leg warmers, deely boppers, fluffy dice, yuppies and bloody Pat Sharp but aspirational young people driven to escape, express and create. They may not have realised it at the time but they shaped not just the eighth decade of the 20th Century but popular culture itself.
---
The 'Blitzed OST Sampler' is available now via digital outlets, the soundtrack album is released by Future Music on 19th March 2021
'Blitzed' will be broadcast by Sky Arts at 2100 GMT on 13th March 2021
https://www.facebook.com/rustyegan/
https://twitter.com/DJRustyEgan
https://www.instagram.com/rustyegan/
https://www.mixcloud.com/rustyegan/
https://open.spotify.com/album/14pzh246840xPQ9mgbHo79
---
Text by Chi Ming Lai
24th February 2021