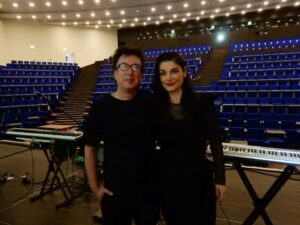 The highlight of German songstress KATJA VON KASSEL's 'Walking In West Berlin' EP, the song 'Someday' was a timeless slice of sophisticated magnificence.
The song was the start of a new writing partnership with former Numan keyboardist Chris Payne. It captures Fraulein von Kassel sorrowfully pondering over the phone and questioning after her moment of haste if "it is foolish to dream".
Capturing the beautiful melancholy of Billy Mackenzie, the doomed romantic tragedy of 'Someday' is echoed by the chanteuse's deep forlorn delivery, accompanied by Payne's hypnotic bassline and haunting vox humana treatment over a simple but hypnotic rhythmic loop.
Fresh from their successful and well-received performance at Electrowerkz in London, where they performed the 'Walking In West Berlin' EP and their joint cover of 'Fade To Grey', Katja and Chris chatted about the genesis of 'Someday'.
How did 'Someday' come about?
Chris: This was one of the first songs I wrote for Katja, I became interested in working with her because of her voice. I get to hear some really good singers but there are very few that have got that extra something, that dynamic, that individuality, that emotion, whatever you want to call it.
When I listened to her earlier stuff, I realised the connection with that Dita von Teese / Marlene Dietrich / Liza Minnelli / Weimar Cabaret vibe but it was too obvious, so I wanted to take it into another dimension and create this atmosphere of Katja a dynamic declamatory singer on stage. When I sent her the backing track, she loved it and found the words straight away which led to us doing other pieces.
What was going on in your mind with the lyrics?
Katja: When Chris sent the backing track, straight away I had the melody which was just calling out for the lyrics. The music was so amazing that the melody felt like it already existed in my head.
'Someday' has a very timeless melody and recalls Billy Mackenzie in particular…
Chris: It wasn't until you mentioned it that I remembered ASSOCIATES and I thought "Wow"!
It wasn't a conscious direction, but maybe in my sub-conscious the song does have that atmospheric analogue sound of that period, mixed with some FM modular pads.
It does encapsulate something of a forlorn tragedy…
Katja: What's strange is when you hear something as an artist when you hear the music, you just feel it and it comes out of you without any logic behind it, the phrase 'Someday' just opened it all up and everything else just fell into place. It feels like it HAS to be this way with the melody and lyrics…
Chris: What I didn't realise when I sent you the backing track, was that it unlocked something, that's amazing! That's always a good sign! Another interesting thing about 'Someday' is after Katja had done her vocals, for a bit of fun I took all the percussive elements out and it created another track where the entire emotion had changed, I thought that was amazing so that's why this Cinematic version is also on the EP.
Is there going to be more work from you two?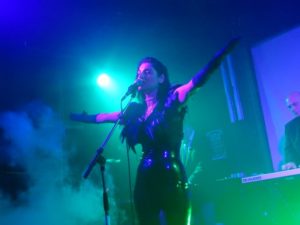 Chris: OH YEAH!
Katja: Yes!
Chris: Obviously, we're trying to get a whole album together which will take time…
Katja: So we need everyone who likes our music to let others know we are existing, because that's the difficult thing as an artist these days.
---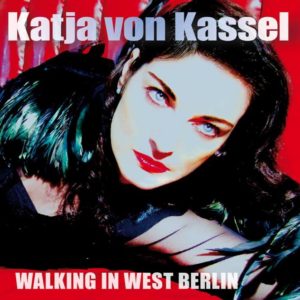 'Someday' and its Cinematic version are on the 'Walking In West Berlin' EP, available as a download or CD from https://katjavonkassel.bandcamp.com/
https://www.facebook.com/KatjavKassel/
https://twitter.com/katjavonkassel
http://www.chrispaynemusic.com/
http://www.electroniccircus.co.uk
https://www.facebook.com/Chris-Paynes-Electronic-Circus-1871328086461350/
---
Text and Interview by Chi Ming Lai
22nd April 2018