With the release of her first EP, KATJA VON KASSEL has been deservedly gaining traction with radio stations and plaudits from personalities within the music industry.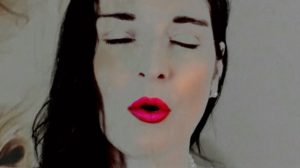 One such figure has been RUSTY EGAN; The Blitz Club's legendary DJ no doubt spotted in her stylised electro Weimar Cabaret, a Eurocentric connection with his own Parisian protégé RONNY. With her charismatic presence and an alluring Marlene Dietrich tone, KATJA VON KASSEL exudes an enticing technostalgic quality with her timeless, escapist songs.
KATJA VON KASSEL kindly took time out for a quick chat with ELECTRICITYCLUB.CO.UK and her hopes for the future…
You were gigging frequently in London between 2008-2010 and featured in line-ups that included VILE ELETRODES who are quite well known today. How do you remember that period?
It's great to perform live but if you have too many gigs in the same city, even somewhere as big as London, you over expose yourself and who wants to hear the same songs every night?
You were showcasing a set of songs co-written with Alex Gray who also co-wrote 'My Delirium' with LADYHAWKE. How did your '1930s Meets the Future' sound develop?
Finding Alex and our sound was destiny. One lucky day I walked into Alex´s studio. I said to Alex that I really needed a cool beat to a melody I had written. It didn't even take him long! After that day 'Dancing on Airwaves' was the first '1930s meets the Future' track that came to life.
The turning point appeared to be when you supported ERASURE in Germany during the Autumn of 2011?
Some unknown artists are lucky and get a support slot with a famous name. But if you don't have more lucky breaks like this, nothing else will come out of it.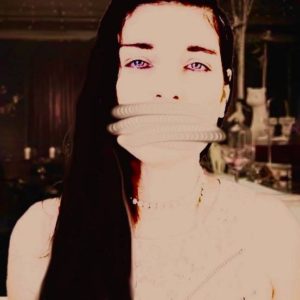 You were signed by Warners which was a fine recognition of your artistic potential. But then it appeared there was confusion about how to market you? What actually happened?
I was signed and after six months Warners got rid of all new artists and I was one of them.
I didn't even get a chance to start working with them.
A re-recorded version of 'Lili Marlene' appeared but your sound was drastically altered?
My management at this time decided to create a more polished version of it for a broader market. So a producer from Hamburg worked on the track. It is available on iTunes.
Things must have been demoralising when contractual issues stopped you working?
I just can't stop working on the music, with or without support from record companies. The only thing that really keeps me going is the support from the wonderful people I connect with every day. It's all about helping each other without saying "me, me, me" all day. This is what my life is about. Connecting and being creative.
In hindsight, was the imposed creative break necessary to recharge your artistic muse?
I never had a break. I keep thinking about music 24/7. The industry changed completely. I needed to get my head around the online marketing and social networks. This is a learning curve which never stops. I started to film and cut my videos. I was listening to tips for artists in the industry on podcasts in the morning before going to my little office job and I was trying to find a quiet time to write, create and record.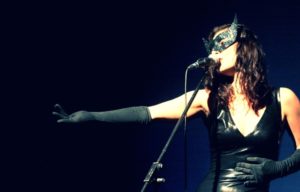 It is great that these songs that you produced with Alex Gray have finally seen the light of day publicly. What prompted you to self-release?
I just couldn't wait for another label to pick me up. Times have now completely changed and you will not get anywhere without doing everything on your own and helping each other!
The music business has changed considerably since 2011; as an artist, what do you see as the positives and negatives of this?
There is a lot of positive things for artists to get heard on YouTube, on Facebook… but honestly today you need to be incredibly good at absolutely everything and only a few artists will break through, have fans and earn enough money to make a living out of it.
Video have been an important aspect of your artistic presentation. Why have you taken this approach?
I like watching videos from other creative people. Music, Art, Fashion etc. I can better connect this way with their art, thoughts and feelings. So I thought it would be great to put something myself on YouTube.
Your debut 'Katja von Kassel' EP appears to have drawn some very positive responses and reignited interest in your music?
Chi! I am so happy about this. Thank you for featuring me on your amazing website and a big thank you to all the online radio stations who played the EP and of course thank you to all my friends on the social network sites who like the music and shared it! I am trying to connect to people every day. A lot of them I know personally. I do care about people and can't wait to meet them all again!
What's next for you, as there are still a number of great songs that you recorded with Alex Gray that are still yet to be released?
Yes. We do have some more to come…
Are there any plans to return to the live arena?
I am working on it. I perform secret gigs just to stay in shape. I need to get myself some bookings going in London and Germany. I love to perform live and see everyone for one or two drinks after the show.
But beforehand, I need to distribute all the lyrics of the songs so you can all sing along with me! I know you've got a good voice in there Chi 🙂
---
ELECTRICITYCLUB.CO.UK gives its warmest thanks to KATJA VON KASSEL
The 'Katja von Kassel' EP is available from
https://katjavonkassel.bandcamp.com/album/katja-von-kassel-ep
https://www.facebook.com/KatjavKassel/
https://www.facebook.com/katja.vonkassel
https://www.youtube.com/user/vonKassel
https://twitter.com/katjavonkassel
---
Text and Interview by Chi Ming Lai
21st February 2017