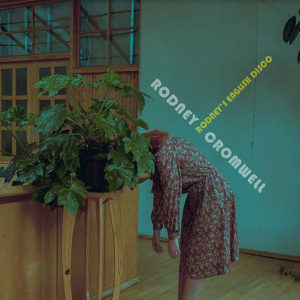 'Rodney's English Disco' is RODNEY CROMWELL's first new body of work since his critically acclaimed debut album 'Age Of Anxiety' in 2015.
Although its themes were heavy, the album was perfect those who like their synthpop lo-fi but with tunes.
With four new songs plus some accompanying remixes, a sombre mood continues to loom in his discothèque, perfect fodder for his battered armoury of Moog, Korg, Roland and ARP synths accompanied by a Boss DR-55 rhythm box.
Driven by a meaty electronic bassline and metronomic backbone, the marvellous vocoder-laden 'Comrades' has a really chilling Cold War atmosphere, bathed in an ensemble of sweeping synth oboes and cosmic string machines. Rich with melody and a panoramic resonance, RODNEY CROMWELL surreally captures the sound of Giorgio Moroder played through a Soviet Foxtrot submarine intercom system.
Continuing the solemn Cold War metaphors, 'Barbed Wire' adds live bass and guitar to the crisp template in a take on JOY DIVISION if Stephen Morris had actually been a drum machine, as supposed to trying be one, the end result coming over like one-time Factory Records signings THE WAKE. Meanwhile, the neo-instrumental 'Technocrats' throws in some piercingly creepy organ chords and a stuttering vox machina sample robotically repeating the title.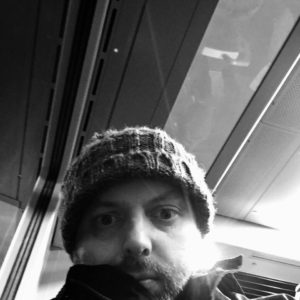 There's a bit of an early OMD feel on 'Dreamland', a bitter reflection on domesticity and failed relationships with a life of Chinese remedies, herbal teas, taking Diazepam and going to Homebase now over.
"Why did you have to leave? We had such a charmed life!" mourns Rodders amongst the catchy burst of synthetic rimshot and haunting strings.
The winter of discontent backing is made even more malcontent by some Hooky bass, although a surprise is sprung with a warm cascading synth line to close…
'Rodney's English Disco' happily and robotically wallows in its misery. Oddly, one can be quite happy dancing to something quite miserable.
---
'Rodney's English Disco' EP is released by Happy Robots Records in a 7"+CD combo, available from https://www.happyrobots.co.uk/product-page/rodney-cromwell-7-cd-rodney-s-english-disco-bot12
Pre-order the download version which is released on 25th May 2018 from https://rodneycromwell.bandcamp.com/album/rodneys-english-disco
RODNEY CROMWELL continues the 'Ohm From Ohm' tour with THE FRIXION, NATURE OF WIRES and VIEON, dates include: London The Islington (10th May), Coventry In Music & Arts (11th May), Southend Railway Hotel (12th May) – tickets available from http://www.ohmfromohm.co.uk
https://www.happyrobots.co.uk/rodney-cromwell
https://www.facebook.com/rodneycromwellartist/
https://twitter.com/robot_rocker
https://www.instagram.com/robot_rocker/
https://www.facebook.com/happyrobotsrecords
https://twitter.com/Happyrobotsrecs
https://www.instagram.com/happyrobotsrecords/
---
Text by Chi Ming Lai
24th April 2018