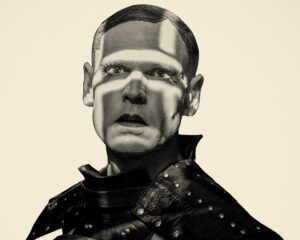 Gothenburg-born Tobias Bernstrup is a performance and visual artist with five officially released albums to his name, as well as numerous video installations, collaborative exhibitions, interactive works and gaming projects.
Following up 2018's 'Technophobic' long player, his sixth album 'Petrichor' refines his Italo Noir template with intelligent political and historical observations like "a Film Noir in cold blue and pink light that you can dance to".
With his striking stage persona, Bernstrup is an intriguing androgynous figure who speaks for the outsider, raising questions about society's representation of identity in his gender-crossing live performances and visual presentation.
With the imminent release of 'Petrichor', Tobias Bernstrup spoke to ELECTRICITYCLUB.CO.UK about the making of the new album, collaborations, his artistic ethos and continuing motivations.
What was the genesis of your Italo Noir sound?
I grew up listening to Punk, Metal and Postpunk but always loved Italo Disco. When I started making electronic music after years of being a drummer, I knew that I wanted to make Italo inspired music with a darker more melancholic sound. I also wanted to create a darker image to this sound when designing performance costumes and sleeve art.
How would you describe the concept of your new album 'Petrichor' which means "a pleasant smell that frequently accompanies the first rain after a long period of warm, dry weather"?
The initial idea for the sleeve photo was to include raindrops or rain atmosphere. During the research, I came across reading about the Petrichor phenomenon.
I had several cinematic images in my head; the end scene of 'Bladerunner' or an episode of 'Miami Vice' when Sonny Crockett walks alone on a rainy street. I love how the rain enhances scents, colors and creates reflections.
The first single 'Private Eye' appears to be about the surveillance society?
The inspiration to the lyrics came from a Bitcoin Scam email that circulated. The emails say they hacked into your computer and recorded you visiting adult websites. They threaten to distribute the video to your friends and family within hours, unless you pay into their Bitcoin account.
Sweden has been at the forefront of cashless payment, but how do you feel that you can't even buy bread or fruit without someone watching you? Does that make you 'Technophobic'?
No, but I am aware. It is a new world order, if you don't own a smartphone or have internet connection, you will be excluded from the society. It is so obvious when you see beggars asking for money and everyone replies I don't have cash…
How do you look back on the 'Technophobic' album, the title song was particularly good?
The album had a quite coherent synthpop vibe throughout but a more cold, synthetic, metallic and modern sound than previous productions. On 'Petrichor', I wanted a warmer sound so I decided to mainly use old-school drum sounds like the Oberheim DMX, LinnDrum and typical 80s synthesizers.
Do you have any preferences for your electronic template, do you like hardware synths and drum machines or have you entered the world of software?
I work in between analog and digital tools. When it comes to playing and recording the physical touch of a hardware synth is superior. I often use Korg PolySix for basslines and Roland JX-8P for pads. When it comes to software instruments, mixing and plugins I always go for analog circuit emulation.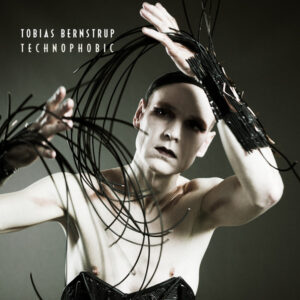 The music industry has changed a lot even since 'Technophobic', have you reconsidered your strategies as an artist about making albums and promotion?
I had a more open process when putting together the album. It started releasing a bunch of singles during the process to see where they landed.
That helped me writing and finalizing the remaining tracks.
In your opinion, is the album as a format still relevant in music consumption?
Yes I believe so, even though many people rather listen to single tracks and playlists. Listening to an album is like reading a book. If you have the patience to do this, it can be very rewarding. There has been a revival in making shorter albums again with 8-10 tracks. This is a good thing. it fits better with the pleasant vinyl LP format. And it's difficult to make long albums with 14-18 and keep up the quality and interest. There are some exceptions. THE CURE's double LP 'Kiss Me, Kiss Me, Kiss Me' is still such a great album without a dull moment. It has variety without being eclectic.
Looking back, aspects of 2015's 'Romanticism' album explored some different directions compared to your earlier albums and more recent singles, particularly with the ballad 'Dorian Gray', the Latin moods of 'Laterna Magica' and the classic Eurodance of 'Revolution'?
The song writing and recording process was very different during 'Romanticism'. I worked during a focused period of 2 months in a studio with a very open and experimental mind set. At that time, it was important for my development to try something new.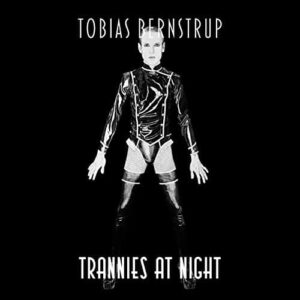 The recent compilation 'Trannies At Night' gathered your earlier work before 2012, how do you see your development as an artist and do you have any favourite songs or memories from that period?
In the beginning there was more simplicity, but less production. Sometimes there was a more powerful and directness to it.
As I got more production skills, I have to make more effort in order to find that simplicity which makes a great song. Limiting your toolbox and arsenal of instruments is a good way of doing this.
What was the inspiration behind your most recent single 'Only One'?
It a typical Bernstrup track, It started with that Jan Hammer-like bassline and the lead sound melody and those marimba sounds that I just love. It reminds me of Ken Laszlo's 'Tonight' – one of my all-time favourite songs. Lyrics came naturally when just playing with words and vocal melody.
You sing of a "stranger on the screen", "disposable love" and a "devil in disguise" on 'Stranger', it's strange that in this modern world, some people care more about influencers online who they've never met rather than those near them like family and friends?
Interesting thought. Well, the lyrics could describe someone being disconnected from reality. The initial idea was to write from the perspective of someone having an addiction to online dating in a dangerous self-destructive and abusive way.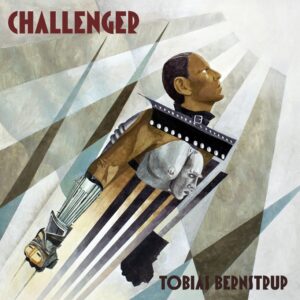 Is 'Challenger' referring to the 1986 space shuttle tragedy?
Yes, I remembered that day as a teenager. During the production of the new album, I watched a couple of rocket launches. Technology and space exploration has always interested me. The Challenger disaster was a very tragic one as there had been warnings from engineers about the dangers of launching posed by the low temperatures of that January morning.
There is a more instrumental template on 'Loderunner' rather than using full lyrics?
The original idea for this track dates back to 2002 or 2004. I wrote an instrumental track for one of my art exhibitions that was an interactive video game piece. The musical theme itself was inspired by the musical score for the 1998 video game 'Unreal' composed by Alexander Brandon & Michiel van den Bos. The title refers to a C64 computer game.
You have quoted J Robert Oppenheimer on 'I Am Become'?
Yes, the words are slightly rearranged but from a TV interview were Oppenheimer recalls the reactions after watching the Trinity nuclear bomb test. The dangers and dark sides of technological inventions is a theme that I often return to. With every new invention a new catastrophe is invented.
Which songs are your own highlights from 'Petrichor'?
'Only One' has the perfect Bernstrup sound and has the perfect walking tempo when listing in headphones. 'Petrichor' delivers a very nice atmosphere and I love that Fairlight CMI flute sound. 'Loderunner' has that energetic drive and mood you can find in a great video game.
It's interesting that as a performance artist, you haven't produced many videos recently to accompany your own songs, is there any particular reason?
At the moment music videos are not that important to me anymore. But that can change of course.
How do you balance between your art exhibits and your music?
They often go hand in hand. During the work with exhibitions I often stick to a theme that leaks into my music writing process as ideas for song lyrics or visuals.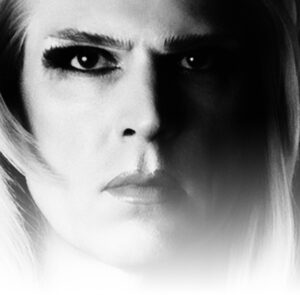 You have collaborated in the past with SARALUNDEN and TRANS-X while APOPTYGMA BERZERK, COVENANT and ITALOCONNECTION have done remixes, are there any more interesting partnerships happening?
I wrote lyrics and did vocals for a track on the new ITALOCONNECTION LP 'Midnight Confessions Vol1'.
It's a song called 'Rainbow Warrior' that brings up LGBT rights and environmental activism mentioning historical dates of events – the sinking of the Greenpeace ship Rainbow Warrior in 1985 and the Stonewall riots in 1969.
In 2017 on 'Utopia', you asked "where are you now?", so what are your hopes and fears for the future?
After the Covid outbreak, we have hopefully learned that nothing should be taken for granted, that "we are so fragile".
---
ELECTRICITYCLUB.CO.UK gives its sincerest thanks to Tobias Bernstrup
Special thanks to Marc Schaffer at Nadanna Records
'Petrichor' is released by Nadanna Records on 20th August 2021 in CD with 7 bonus tracks and 18 track digital editions, limited black or transparent magenta vinyl LP with lyric inner sleeve, A3 poster + numbered postcard available in October
The CD can be pre-ordered from https://www.poponaut.de/tobias-bernstrup-petrichor-limited-edition-p-20549.html
https://www.facebook.com/TOBIASBERNSTRUPOfficial/
https://twitter.com/tobiasbernstrup
https://www.instagram.com/tobiasbernstrup/
https://open.spotify.com/artist/7qMxLMZgfIeZloY2EjWiPt
---
Text and Interview by Chi Ming Lai
28th July 2021