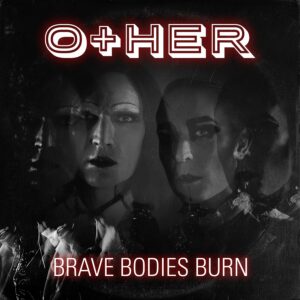 A pact which links two subjects together in one action, one body, one vision, O+HER is the new Swedish darkwave duo comprising of Tobias Bernstrup and Erica Li Lundqvist.
Tobias Bernstrup is best known for his brand of Italo Noir as exemplified by his most recent album 'Petrichor' while Erica Li Lundqvist is a member of enigmatic trio ABU NEIN whose single from last year 'Black Light' featured the talents of fellow Swede Henric de la Cour.
O+HER is much less Italo Noir, encaspulating a much more brooding and gothic presence.
Having shared a number of stages, "It started with humble request to collaborate" the pair said, "Rather than just using our typical sound, we decided to try create some completely new. A creative process with both our voices that led to several tracks instead of just one. O+HER (pronounced 'other') was born as a shared vision of a dark cinematic sound landscape, beat and sequencer driven songs with inspiration from the late 80s dark wave set in a contemporary context".
The first single is 'Brave Bodies Burn' which presents a tense baritone versus contralto dialectic over a foreboding electronic backdrop; "It a masterpiece!" O+HER confirmed and it comes with a striking music video filmed by photographer and visual artists Bengt Rahm. "The video is a homage to the opening scene of the 80s cult movie 'The Hunger' that features Bauhaus, David Bowie and Susan Sarandon among others. Apart from our own performance, we casted some profiles from the Stockholm post-punk / darkwave club scene. It's dark, it's sexy and it tells a story – but it's up to the beholder to analyse its content"
Describing their creative dynamic, they said "Being alone in your creative process or being a bunch of people in a band is quite different from being a duo. We complement each other in the best of ways and the process from thought to product is much faster. We share the same goal but we have different qualities to take us there. O+HER is truly a power duo."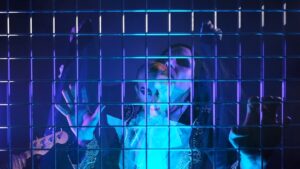 O+HER have confirmed they will release a series of singles during 2022 to be followed up by a full-length album on vinyl. But in the meantime, 'Brave Bodies Burn' is backed with a cover of 'Virus Meadow', a 1985 song by cult English post-punk band AND ALSO THE TREES whose first single 'Shantell' and self-titled debut album was produced by Lol Tolhurst, then of THE CURE.
O+HER have spoken.
---
'Brave Bodies Burn' is released by Tonight Records and available on the usual online platforms including https://otherhq.bandcamp.com/album/brave-bodies-burn-single
https://www.facebook.com/OHER-230374215599103
https://twitter.com/other_music_
https://www.instagram.com/other_music_/
https://open.spotify.com/artist/6U2ryZNJpPrxAQlCl2Nz3F
---
Text by Chi Ming Lai
14th January 2022