Following up 2018's 'Technophobic' album, Tobias Bernstrup presents his long awaited sixth long player 'Petrichor' on the German independent label Nadanna Records.
A collection of intelligent political and historical observations set to music, the striking Swedish performance artist refines his "Italo Noir" template across eleven tracks, blurring the lines between electronic disco, synthpop, goth and post-punk.
The opening track 'Maledicta' provides a moody but melodic instrumental overture to set the scene.
But the superb club-friendly 'Private Eye' takes a look at the surveillance society in the spirit of TRANS-X with a throbbing starkness to hammer home the sinister voyeur narrative. Interestingly, an equally danceable if less frantic cousin 'Stranger' talks of a "stranger on the screen", "disposable love" and a "devil in disguise". It outlines how in the modern world, people care more about internet influencers and conspiracy theorists than family and friends, but Bernstrup himself is actually referring to online dating.
Like OMD, Tobias Bernstrup has regularly highlighted the darker aspects of technological innovation and 'Challenger' is thematically reminiscent 'Enola Gay' in presenting a tragedy in the form of a pop song with a clever dual meaning; it even uses a processed recording of Ronald Reagan's "touch the face of God" address to the nation after the disaster for its ending. Meanwhile rather hauntingly and actually lyrically inspired by the very topic covered in 'Enola Gay', Bernstrup quotes J Robert Oppenheimer on 'I Am Become'.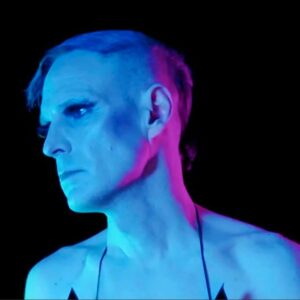 The start of the second half is crashingly punctuated by 'Loderunner', a strident instrumental statement with occasional vocoder phrasing.
The rhythmic dash of 'Heartbeat' is superb, chugging in triplets and orchestra stabs for a full Hi-NRG effect; a cover version of the Los Angeles rockers RED7 number from Michael Mann's cult movie 'Manhunter', Bernstrup's beautifully pulsating treatment offers a big improvement on the original. However, although 'Staring' does the full Italo with brassy synths stabbing away, it paradoxically captures the spectre of solitude to encapsulate the Noirish ethos of Bernstrup.
Continuing this theme, the steadfast 'Petrichor' title song utilises the pitched up choir samples as its tool of expression while 'Into Oblivion' is more swirly Eurodance while on the same lyrical gist. The Jan Hammer-inspired 'Only One' closes and reinforces Bernstrup's outsider status as a purveyor of "Italo Noir"; melodic yet vocally more in common with Goth and EBM, it makes the Swede quite unique.
A worthy and enjoyable follow-up to 'Technophobic' using the vintage digital rhythms of the Oberheim DMX and LinnDrum as its heart alongside Korg PolySix basslines and Roland JX-8P pads, 'Petrichor' is as Bernstrup himself puts it, "a Film Noir in cold blue and pink light that you can dance to".
---
'Petrichor' is released by Nadanna Records on 20th August 2021 in CD with 7 bonus tracks and 18 track digital editions, limited black or transparent magenta vinyl LP with lyric inner sleeve, A3 poster + numbered postcard available in October
The CD can be ordered from https://www.poponaut.de/tobias-bernstrup-petrichor-limited-edition-p-20549.html
https://www.facebook.com/TOBIASBERNSTRUPOfficial/
https://twitter.com/tobiasbernstrup
https://www.instagram.com/tobiasbernstrup/
---
Text by Chi Ming Lai
18th August 2021