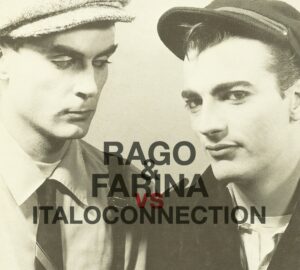 Francesco Rago and Gianluigi Farina are two Italo disco trailblazers who have been behind the projects such as ATELIER FOLIE, EXPANSIVES, DECADANCE and 'LECTRIC WORKERS.
Meanwhile, Fred Ventura is another pioneer of Italo who in 2012 looked to modernise that cult dance form with Paolo Gozzetti via their production duo ITALOCONNECTION.
RAGO & FARINA vs ITALOCONNECTION collects a number of reworked and revisited cult favourites plus more recent original material as four way joint venture for 2021.
First released as a nine track digital compendium to celebrate their years of friendship, collaboration and travels, Nadanna presents an expanded CD edition that adds four extra tracks. Beginning with the classic blippy 1983 vintage of ATELIER FOLIE's No Rhyme No Reason', the ITALOCONNECTION Rework toughens things up but the very spirited vocals of Francesco Rago are retained, along with the bells and NEW ORDER styled bass.
With more under the ATELIER FOLIE banner, the ITALOCONNECTION Rework of 'Walking In The Neon' provides a tighter and squelchier take with deeper gated vocal treatments, although crucially the key synth melodies are all present and correct. The slick 1983 original was by Peter Richard but actually co-written by Rago and Farina with Chuck Rolando, a member of Italian group PASSENGERS. Coming as an extra, the superb Tribute Rework of 'Walking In The Neon' from Danish DJ Flemming Dalum is busied up with an electro-funky lilt and some grainy vocodered tone poetry to enhance its spacey quality.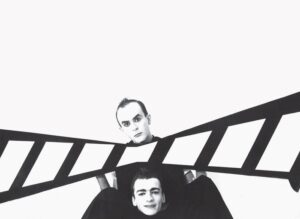 The ITALOCONNECTION Rework of EXPANSIVES' 'Life With You' originally released in 1982 makes the most out of the string machines that are now attached to a more powerful beat. Meanwhile the cavernous vocals and vocoder provide an out-of-this-world quality, the reverbed clap collage and electronic swoops also adding intrigue.
Repaying the compliment, Rago and Farina remix the Fred Ventura single 'The Years (Go By)' and while more rigid than the 1985 version, it still sounds glorious.
From 2013, ITALOCONNECTION's remix of ATELIER FOLIE's 'Leave Me Alone' has much less reverb than previously and resonates in that classic Italo style with bright keyboard melodies and orchestra stabs; a fraught vocal matches the percussive aggression while some minimal bass guitar acknowledges the influence of NEW ORDER. The bonus 'LECTRIC WORKERS Dub Rework makes more of that aspect for some Spaghetti Western disco.
Signalling the 2017 comeback of Francesco Rago and Gigi Farina as ATELIER FOLIE, 'Freedom Time' was a modern anthemic disco song produced Fred Ventura and Paolo Gozzetti as ITALOCONNECTION. Next to the bonus ITALOCONNECTION Remix, the original Club Mix sounds much cleaner.
Less frantic than the other tracks, DECADANCE's 1983 single 'On An On (Fears Keep On)' does not lose its classic electronic presence with a new solid bassline provided by ITALOCONNECTION. At nine minutes, it is something of a marathon but while a charming female vocal by Vik provides another layer over the instrumentally strong backing. The bonus Slo-fi Mix does as it suggests.
A new ITALOCONNECTION recording with Francesco Rago, 'Unbelievable' sees less of a snarl from Rago as he duets with Ventura, but it's a superb coming together of Italo legends bursting with catchy hooks and evolving melodies.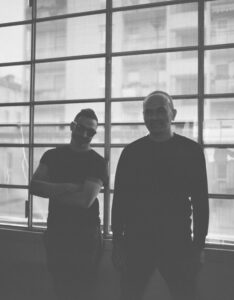 Closing the main act is the previously unreleased 'LECTRIC WORKERS instrumental 'Borealis' which stomps at 6/8, this archive recording acting as a glorious homage to Jean-Michel Jarre, complete with swimmy Eminent strings and snakey Minipops approximations.
Reworked, produced and mixed with love by four Italian disco legends, if you like Italo or the dancier side of NEW ORDER or PET SHOP BOYS, you will like RAGO & FARINA vs ITALOCONNECTION.
Modernised for the 21st Century without losing the original melodic spirit, this is just the sun-kissed tonic for the summer after a tricky year and a bit for all.
---
'Rago & Farina vs Italoconnection' is released by Nadanna as a CD, available from https://www.juno.co.uk/products/rago-farina-vs-rago-farina-vs-italoconnection/839607-01/ or http://www.poponaut.de/rago-farina-italoconnection-rago-farina-italoconnection-p-20550.html
9 track digital edition available from https://italoconnection.bandcamp.com/album/rago-farina-vs-italoconnection
https://www.facebook.com/italoconnection
https://www.instagram.com/italoconnection/
---
Text by Chi Ming Lai
19th August 2021