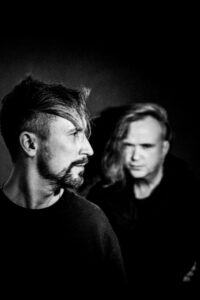 Juho Paalosmaa and Jori Hulkkonen are back as SIN COS TAN after a six year hiatus.
The Finnish synth duo opened their account in 2012 with a nocturnal self-titled 'Sin Cos Tan' album which included the magnificent "disco you can cry to" of 'Trust'. The second album 'Afterlife' in 2013 added more colours and a collaboration with Casey Spooner of FISCHERSPOONER on the electro-new wave of 'Avant Garde'.
Released in 2014, the third SIN COS TAN long player 'Blown Away' was a concept album about the fictional middle aged banker Michael Burana who following his divorce, becomes a drug courier and gets involved in a life of crime before his story comes to its inevitable conclusion when he is 'Blown Away' in the 'Heart Of America'.
The last SIN COS TAN release was the three-track dance focussed EP 'Smile Tomorrow Will Be Worse' and although the pair worked together on 'Ultima', the 2016 second album from Paalosmaa's other project VILLA NAH, the upcoming 'Drifted' EP will be their first new material as SIN COS TAN since 2015, inspired by the experiences of separation and resignation during the worldwide pandemic.
Juho Paalosmaa and Jori Hulkkonen chatted to ELECTRICITY CLUB.CO.UK about becoming 'Drifted' and returning from the wilderness as SIN COS TAN.
SIN COS TAN had been extremely prolific with three albums in three years, how do you look back on that catalogue of work produced in such a short time?
Juho: Looking back on it now, I'm honestly kind of surprised at how much of it still holds up. We were on a creative roll, but still managed to stay quite focused. It's strange to listen to something you've done years ago and genuinely feel like you're discovering it in the process.
Jori: Very proud of those albums. And, even though they were done in a relatively short period of time, they each really stand on their own and have a specific sound to them. I don't really listen to my own music, but earlier this year I went through the full SCT catalogue as we were preparing our first live show in six years, and was really surprised how well the material has aged. But I guess that's the advantage when you make retro sounding – or as I like to say, timeless – music.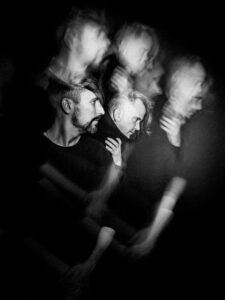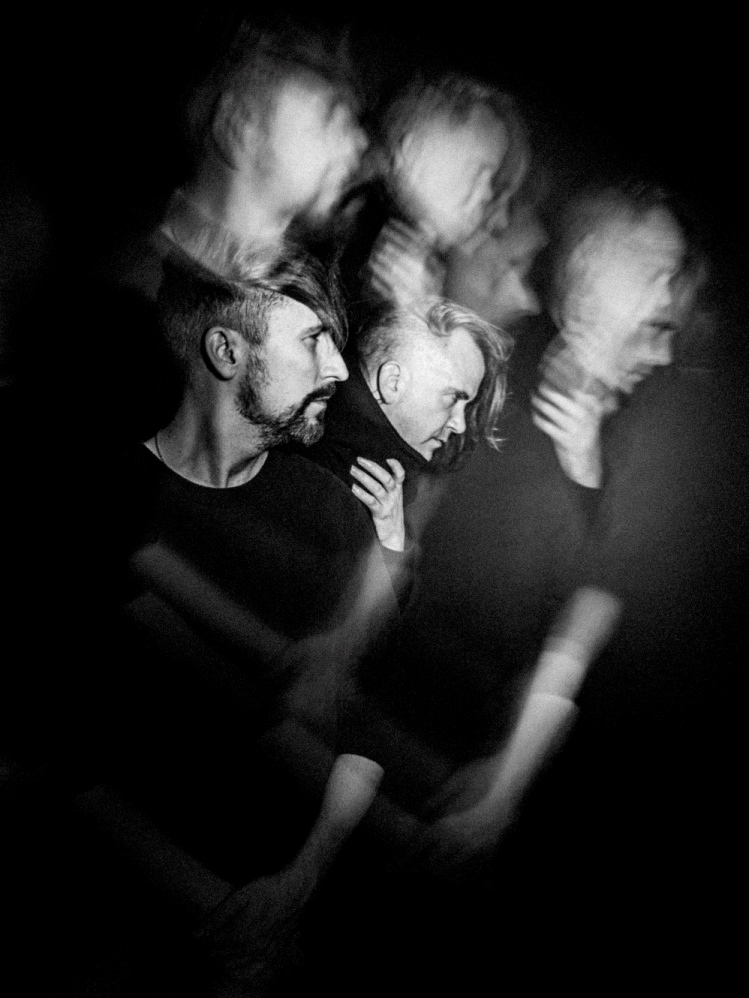 Had there been any particular reason that after the concept album 'Blown Away', you opted for a more dance-oriented EP 'Smile Tomorrow Will Be Worse' as its follow-up in 2015?
Juho: We felt like we really went out on a high (no pun intended) with 'Blown Away'. The downside is we really had a hard time thinking of how to pick up after it. 'Smile…' was the result of that conundrum: we just wanted to do something very different after our last album.
Jori: Exactly. I personally felt we had peaked creatively on 'Blown Away' on so many levels, that doing another album felt a bit overwhelming at the time. However, we still had the drive and ideas for songs, so we decided to take a slightly different approach.
Although you both worked together on the second VILLA NAH album 'Ultima' in 2016, what was the impetus for producing new SIN COS TAN material?
Jori: We've had some get-togethers at my studio all through the years, with the intention of starting something, and there's a bunch of demos that never quite made the cut, or got us excited enough to finalise a release. So there never really was a real break creatively, just a slight exhaustion from the three albums and an EP run, and personally I felt the bar was pretty high after 'Blown Away' especially. I guess it took some time for us to find the same loose vibe for writing songs together again.
Juho: We had numerous discussions about doing something again with SCT over the years, but they never came to fruition. I think the whole COVID thing, in all its trouble, gave us the pause we needed in our lives for SIN COS TAN to make sense again.
How have you both been handling the enforced isolation of the lockdown, have your perspectives changed?
Juho: As much as anyone's, I suppose. This kind of experience is bound to highlight the importance of certain elements in life, and the absolute superficiality and uselessness of others. But Finns, as people, are quite well adapted to handle isolation. We've been doing that voluntarily for centuries already. Nevertheless, it's still been a challenge at times.
Jori: I've handled this very poorly, but it's still been better than normal life.
Did some of your experiences during lockdown affect your creative dynamic as SIN COS TAN? Was there more remote working than in the past with consultations on Zoom etc?
Jori: Not really, we still write some stuff separately, but the main magic happens always when we're in the studio together just bouncing ideas.
Juho: Not really with the recording part, we were able to do all the recordings of 'Drifted' in a few days at Jori's studio. But any rehearsing for live stuff has been completely different. We basically don't meet at all, Jori lives in Turku and I live in Helsinki. We're about 150km apart. So, we rehearse on our own and meet on-stage for the live show! It's a bit mad. We've done it just once so far at a Finnish festival, but it went down surprisingly well…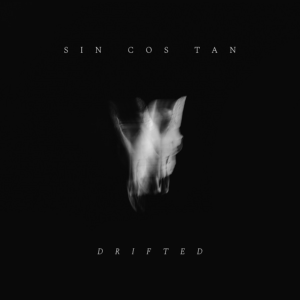 The opening song 'Disconnect' from 'Drifted' recalls the nocturnal moods of your self-titled debut but piano makes a surprise appearance in the track's final third, what was the idea or inspiration behind this?
Jori: The song came about when we were just jamming on top of this groove I had nicked from a Finnish new wave 12" from the 80s; basically I just sampled a drumbreak from it while playing the maxi single at 33rpm, and programmed the rhythm part around that. Then we just started layering things on top of it. Towards the end, we felt it needs to build up for a proper pay-off, and I can't remember which first hit upon those pianos, but it seemed to do the trick.
Juho: No particular inspiration, it just felt like the right thing to do at the moment. You come up with ideas that flow with the track and match the tension or mood you're creating. Spontaneity is essential when creating music.
Another new texture comes on 'True To You' which is primarily instrumental and throws in some E-Bowed guitar, was this quite tricky to nail down during recording?
Jori: Oh that's all synth on the track. That lead sound was a bit of a placeholder for a vocal idea to emerge, but eventually it grew up on us, and realised it works better with this really sparse arrangement.
'If I Was Gone' is more typical of SIN COS TAN's uptempo material with its IDM vibes, do you find yourselves still inspired by the dancefloor despite getting older?
Jori: Age has nothing to do with dancefloor really. I think with SCT, we have a few key approaches to how we frame a song. This particular track is based on Juho's demo, and I immediately knew how it should sound.
Juho: 'If I Was Gone', as a song, could've also easily been a ballad. I originally wrote it on guitar as a slightly slower version. But it felt right to give it more tempo and pizzazz, and Jori had an Italo vision for it that worked out nicely with the lead melody.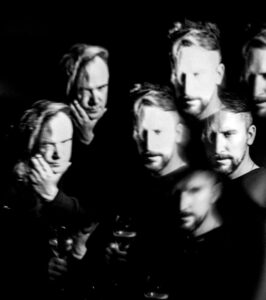 'Unconditional' has a particularly emotive vocal delivery, what is the song about and is it autobiographical?
Jori: This again was based on a demo I had made, that had some placeholder lyrics from me, which Juho changed completely but kept the feel of the delivery and melody. It's a really nice example of how we complete each other's ideas.
Juho: It's really about the poison of absoluteness, and how doing things strictly your way can erode a lot of good will around your life. I suppose all the tracks on 'Drifted' are autobiographical – lyrically, they're quite a direct response to things I've experienced over 2020 and before.
Equipment-wise, are you using any new toys or are you sticking to your trusted tools? Do you have any thoughts about these clone vintage instruments that Behringer are making or the way synthesizer technology is heading?
Juho: No new toys on 'Drifted', as far as I know… I'm not a gear head, but I've started to come around to plug-ins over the years. They're simply so high-quality nowadays that it's hard to argue for a massive collection of synths, either in economic terms, or simply in the space that they require. At the end of the day, I still feel that the songs themselves matter the most: it's easy to lose yourself in a sea of plugins, apps and synths, but none of those matter if the songwriting sucks.
Jori: This was actually the first SCT release to emerge from my current studio, after relocating in 2016. However, the main equipment – hardware and software – are the same. I don't think I've bought any new gear in years, I've completely gotten over GAS (gear acquisition syndrome), and really been just focusing on ideas and their execution with the stuff I have. It's all about efficiency. At the same time, I do follow all these amazing new and rebooted versions of classics that keep hitting the market. I mean, what's not to love?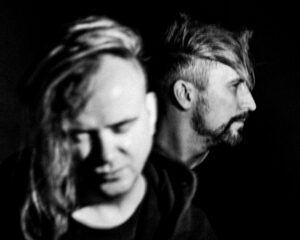 'Drifted' is an EP that captures a specific moment, but do you see yourselves working on a long playing record again in the future, does the album still have a place in modern music consumption?
Jori: For SCT in the future, yes, but for the moment we feel the EP as a format is something that works best for us. Generally speaking though, I do love albums; most music I'm into these days requires that extended timeframe to pass on the ideas and textures, something that the single or EP formats simply can't deliver.
Juho: I think albums still certainly matter and always will. My favourite records are often LPs. But it also feels quite liberating to do an EP as well. They allow for a more concise vision and give way for variety in the future as well. The idea of an entire LP can feel daunting at times. An EP, on the other hand, just sounds like fun. It's like a great miniseries on HBO that never outstays its welcome.
Jori appeared in '808 – The Movie', are there any music documentaries or other series you have both been enjoying that you would like to recommend?
Juho: I already told this to Jori, but I've really enjoyed some of Tiga's 'Last Party on Earth' podcasts recently – particularly the episode with Trevor Jackson, which goes beyond of just DJs talking about their craft. Tiga is a great host, he's funny as hell and has a pleasant voice for radio.
Jori: I did the intromusic and jingles for the Tiga podcasts, by the way. Anyways, I actually haven't seen it yet, but I'm really looking forward to the Edgar Wright's SPARKS documentary.
What are you hopes and fears as the world re-emerges from a difficult 20 months?
Jori: I don't think it will re-emerge for a long time, so I have no hopes really.
Juho: Hoping it re-emerges as a better version of itself. Fearing that it most likely won't.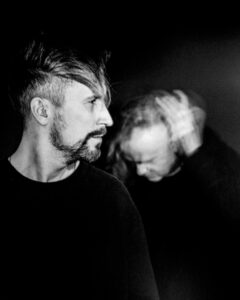 What's next for the two of you, both as SIN COS TAN and individually?
Juho: Hopefully more SCT in the future, but it all depends on how we're feeling about it. If it happens, it happens. If it doesn't, it doesn't. Music will always play a part in our individual lives, regardless.
Jori: Like Juho mentioned earlier, we played our first SCT live show for almost 6 years just a couple of weeks ago, and it was really fun, so that got us talking as to where to head next. Time will tell if any of those plans materialise at any point. As for me personally, there will be new Jori records popping out here and there. As always.
---
ELECTRICITYCLUB.CO.UK gives its warmest thanks to SIN COS TAN
Special thanks to Tom Riski at Solina Records
'Drifted' comes out on September 24th 2021 via Solina Records as a limited edition vinyl 12″ and digital release, pre-order from https://www.8raita.fi/shop/p96178-sin-cos-tan-drifted-12-en.html
http://solinarecords.com/sincostan/
https://www.facebook.com/homeofsincostan
https://open.spotify.com/artist/3maaZRO6VRwTf6oUik93ZJ
---
Text and Interview by Chi Ming Lai
Photos by Rainer Geselle
22nd August 2021