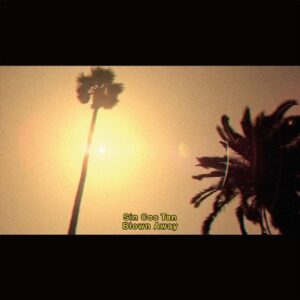 'Blown Away' is the third album in as many years from Finnish electronic duo SIN COS TAN.
Juho Paalosmaa and Jori Hulkkonen first worked together on 'Origin', the only album so far from VILLA NAH who Paalosmaa was one half of. Although they supported OMD in 2010, VILLA NAH lost momentum attempting a follow-up. But as the album's producer, Hulkkonen got on so well with Paalosmaa during those sessions, they came together as SIN COS TAN. The "disco you can cry to" magnificence of 2012's 'Trust' from their self-titled debut album was their calling card and cemented their reputation.
Meanwhile, their creative chemistry has continued with a prolific work rate that shows no sign of waning in quantity or, most importantly, quality.
The new album sees SIN COS TAN not only expand their sound palette even further as showcased on previous long player 'Afterlife' but also adopt a concept. It follows a quirky narrative, telling the fictional story of Michael Burana: a middle-aged American facing a dead-end job and a failed marriage. Having taken a trip to Mexico to convalesce, Burana soon discovers a new career opportunity – becoming a drug courier between the United States and South America. The album follows his journey of newfound excess, fast money and hedonism. In effect, 'Blown Away' is sort of like a synthpop version of 'Breaking Bad'…
Opening track 'Divorcee' sees Burana leaving his spouse and setting off on his adventure to an optimistically perky soundtrack of synths, marimbas, acoustic guitars and Banda horns. It's a strangely incongruous but enjoyable mix, setting the tone for a natural progression from songs like 'Limbo' and 'Ritual' off 'Afterlife'. The frantically paced but dreamy lead single 'Love Sees No Colour' is like a classic NEW ORDER song with beautifully intense and breathy vocals from Paalosmaa. It is a combination that is a perfect accompaniment for a Tex Mex sunset.
'A New World' though is where things get a bit more serious with a sombre house template along the darker lines of the 'Sin Cos Tan' debut. As the drugs start to work, 'Colombia' drifts into the atmospheric sub-PET SHOP BOYS territory that Hulkkonen always does so well; stabs of melody, and gorgeous string sweeps are held together over a gently percussive backbone.
'Lifestyle' moves towards NEW ORDER's Italo disco leanings supplemented by minimal guitar and a strong piano motif. The mix of sunshine and melancholy on this album easily could make it SIN COS TAN's answer to 'Technique'. Meanwhile, 'Traffic' is perhaps more like Bernard Sumner's side project ELECTRONIC; the instrumental dance leanings are more overt like one of his and Johnny Marr's B-sides. It acts as a fitting interlude before the narcotic induced breakdown begins…
'Addiction' takes the tempo down as our anti-hero slips into the downward spiral. The eerily danceable and nocturnal 'Cocaine' captures a corrupted panic embodied by Paalosmaa while an unexpected saxophone solo adds a suitably sleazy heat to proceedings.
As the album moves towards its inevitable grim conclusion, the 'Blown Away' title track adopts the template of OMD with a pulsing synthbass propelling the sinister mood with a strangely looming beauty.
It rather bizarrely sounds like Andy McCluskey and Paul Humphreys covering U2's 'With Or Without You'! As the closing 'Heart Of America' makes its presence felt with 'The Star Spangled Banner', the distinctive squelch of a TB303, clattering analogue drum machines and the building cascades of 'Trans Europe Express' cast doubt on the true value of The American Dream and its way of life.
'Blown Away' shows SIN COS TAN at their height of their powers with an adventurous musical streak that mixes synthetic and organic instrumentation with confidence, all while emotively held together by the voice of Juho Paalosmaa, Will these boys ever sit down? But when the music is as good as this, why should they?
---
Special thanks to Marietta Longley at Outpost Media
'Blown Away' is released in CD digipak, gatefold vinyl LP and download formats by Solina Records
https://www.facebook.com/homeofsincostan
---
Text by Chi Ming Lai
1st August 2014