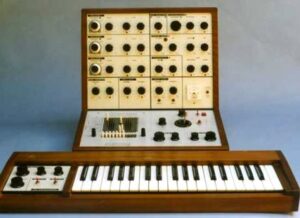 Synthesizers are ELECTRICITYCLUB.CO.UK's first love and their impact on modern popular music cannot be underestimated.
However, this was only made possible once the synthesizer became affordable and inspired an artistic revolution. From the moment these futuristic contraptions were spotted on 'Top Of The Pops' or 'Old Grey Whistle Test', regardless of whether they were used on the actual song.
They sparked fascination and passion from interested observers in the same way that Stingray, Thunderbird 2, Shado 2,  the Spectrum Pursuit Vehicle or Eagle Transporter from the Gerry Anderson TV shows did.
Inspired by Martyn Ware's talk 'A Journey In 20 Synths', here are the 25 synthesizers that ELECTRICITYCLUB.CO.UK has the most affection for. They are not necessarily the most technically accomplished, or even the most interesting sounding of machines, but each have their place in electronic music history. This list is purely for fun and not a product endorsement, presented chronologically by year of production origin and then alphabetically.
Note that the majority of these machines were developed between 1969-79… this alone should dispel the public and press notion, once and for all, that if a song features a synthesizer, then it must be "80s"… now here's the proof!
---
MINIMOOG (1970)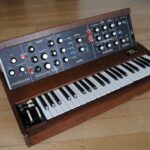 Costing over £1000 when first made available in the UK, this classic monosynth had three voltage controlled oscillators for that famous fat sound. Its distinctive solid bass pulse was made possible by the rapid attack times that its contour generators were capable of, plus the comfortable feel of its controls and keyboard. Used by KRAFTWERK, BRIAN ENO, KLAUS SCHULZE, VANGELIS, ULTRAVOX and GARY NUMAN, it is probably the one synth that most people actually know the name of!
Iconic example of use: KRAFTWERK 'Autobahn'
---
ARP 2600 (1971)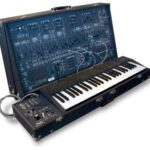 This semi-modular synth had hard wired and patch-cord routing capabilities while it could also be triggered using the ARP 1613 Sequencer. With three oscillators and a variety of waveforms, it was favoured by Daniel Miller and Martin Hannett to make synthetic percussive sounds for FAD GADGET, DEPECHE MODE, THE DURUTTI COLUMN and JOY DIVISION. Its circuitry later formed the basis of the Simmons SDSV. But the ARP 2600 could do gentle as well, as on DEPECHE MODE's 'Waiting For The Night'.
Iconic example of use: DEPECHE MODE 'Waiting For The Night'
---
ARP ODYSSEY (1972)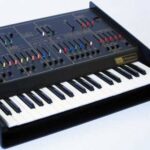 This two oscillator duophonic synth was effectively a scaled down version of the ARP 2600. All its parameters were editable via sliders and buttons on the front panel instead of knobs which made it very player friendly. It also had a sample-and-hold function and in a later version, three pressure sensitive pads to bend pitch or induce vibrato. This was the distinctive sound of ULTRAVOX's synth solos as played by Billy Currie. It has also been used by KRAFTWERK, TANGERINE DREAM, JOHN FOXX and GARY NUMAN.
Iconic example of use: ULTRAVOX 'Hymn'
---
EMS Synthi AKS (1972)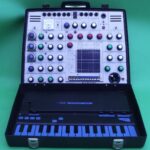 The Synthi AKS was essentially the electronic guts of the earlier VCS3 and suitcased with a touch sensitive keyboard and a 256 step on-board monophonic digital sequencer. Costing £450 on launch, it had three oscillators and a matrix-based patch system which made it very good for generating sci-fi type sounds. It featured heavily on 'Dark Side Of The Moon' by PINK FLOYD and was also used by KLAUS SCHULZE, BRIAN ENO, JEAN MICHEL JARRE and ULTRAVOX.
Iconic example of use: PINK FLOYD 'On The Run'
---
KORG 700s (1974)
Also known as the mini-Korg, this was purchased by Martyn Ware in 1977 to cheer himself up to splitting up with his then-girlfriend; it was subsequently used in his recordings as a founder member of THE HUMAN LEAGUE. It was an affordable £200 at that time when compared with the £1000 asking price for the Minimoog. The 700s differed from the earlier 700 model in that it had two oscillators. It was also Daniel Miller's first synth and he used it recording as THE NORMAL, simultaneously launching Mute Records.
Iconic example of use: THE NORMAL 'Warm Leatherette'
---
POLYMOOG (1975)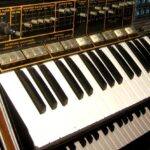 Released in 1975, this was Moog's first polyphonic instrument and unlike the Minimoog which was all made up of transistors, the Polymoog used silicon chips under each key. GARY NUMAN used the Vox Humana preset to such great success on 'Cars' that it effectively killed off this machine because no-one else wanted to buy it! JAPAN and BUGGLES also used it, but it was ultimately overshadowed by the release of the Yamaha CS80. A simpler Polymoog Keyboard variant with fewer features did little to help sway sales.
Iconic example of use: GARY NUMAN 'M.E.'
---
ROLAND SYSTEM 100 (1975)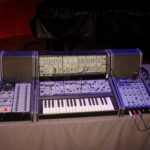 Not to be confused with the very different System 100M, this was a semi-modular monophonic standalone synth that could be expanded. Having all the component parts made it into a two-oscillator monosynth with sequencing, monitoring and effects capabilities. It had the most amazing bass sound and could get quite an interesting choral sound. Notable for its industrial sounding percussive capabilities, it was used extensively by Martyn Ware in THE HUMAN LEAGUE and HEAVEN 17.
Iconic example of use: THE HUMAN LEAGUE 'Being Boiled (Fast Version)'
---
ARP OMNI (1976)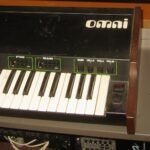 A more complex, but compact development of the classic but cumbersome ARP Solina string machine, this brilliant string synthesizer had polyphonic Violin and Viola waveforms as well as monophonic Bass and Cello waveforms. There were also Strings, Synthesizer, and Bass synth sections which were all simultaneously available. When passed through Martin Hannett's Marshall Time Modular, it produced the really claustrophobic Mellotron type sounds on JOY DIVISION's 'Closer' LP.
Iconic example of use: JOY DIVISION 'Heart & Soul'
---
KORG 770 (1976)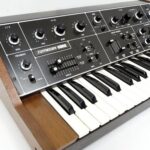 A monophonic with dual oscillators and unique features such as two ring modulator modes, pitched noise and a chorus waveform, this synth was also known as the MaxiKorg. This was the first synth of both SIMPLE MINDS' Mick McNeil and THE HUMAN LEAGUE's Phil Oakey. Subsequently, it was used on 'Dare' for its distinctive solid basslines as on 'The Sound Of The Crowd' and 'Love Action'. It also had a place in more guitar oriented bands such as THE ICICLE WORKS.
Iconic example of use: THE HUMAN LEAGUE 'The Sound Of The Crowd'
---
ROLAND SYSTEM 700 (1976)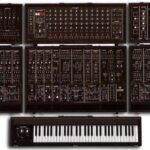 A beast of a modular synth, a complete system had 47 modules, options including sequencer, keyboard controller and additional soundbanks which could be controlled by the Roland's MC8 Micro-composer. The system was used to great effect by GIORGIO MORODER, YELLOW MAGIC ORCHESTRA, HANS ZIMMER and THE HUMAN LEAGUE. Later superceded by the System 100M, Flood used it to construct the bassline for DEPECHE MODE's 'Enjoy The Silence'.
Iconic example of use: DEPECHE MODE 'Enjoy The Silence'
---
YAMAHA CS80 (1976)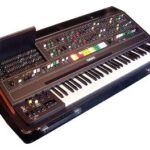 This almighty polysynth with symphonic prog rock associations had features such as a piano weighted keyboard and touch sensitivity. One popular function it had was a ribbon controller that allowed for polyphonic pitch-bends and glissandos. It had an incredible, complex richness to its sound that meant it was a favourite of many musicians such as EMERSON LAKE & PALMER, PETER GABRIEL, KATE BUSH, VANGELIS, KLAUS SCHULZE, BRIAN ENO and ULTRAVOX.
Iconic example of use: VANGELIS 'To The Unknown Man'
---
KORG M500 MICRO-PRESET (1977)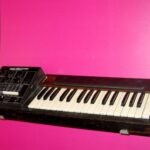 Actually the most basic of devices with only 30 different sounds and limited variant control, the Micro-Preset was the main synth on OMD's early work. The small pockets of both Andy McCluskey and Paul Humphreys meant the instrument had to be explored and pushed out of necessity… and without it, the repeating octave shifting blips on 'Messages' or the pulsing bass on 'Stanlow' couldn't have happened ! Thanks to its functional limitations, these experiments became distinctive components of inventive pop songs.
Iconic example of use: OMD 'Messages'
---
YAMAHA CS10 (1977)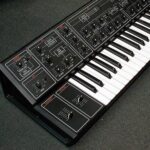 The CS10 sat between the single oscillator / envelope CS5 which was Martin Gore of DEPECHE MODE's first synth, and the two VCO CS15 favoured by THE HUMAN LEAGUE. This relatively inexpensive monophonic used by SPANDAU BALLET and CHINA CRISIS had one oscillator and VCF / VCO envelopes, as well as a one octave portamento and CV / Gate. Unlike Roland and Korg, Yamaha's synths were designed with players in mind rather than programmers, something that would haunt their later digital DX7.
Iconic example of use: SPANDAU BALLET 'To Cut A Long Story Short'
---
YAMAHA SS30 (1977)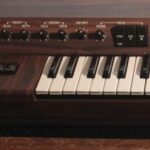 This wood encased, multiphonic string synthesizer employed a divide-down, electric organ type of architecture on its two master oscillators for tone generation. These could be detuned to create chorus and phasing effects. The SS30's distinctive sounds can be heard on ULTRAVOX's 'The Voice' and 'Vienna' as well as SIMPLE MINDS' Life In A Day'. It was also a keyboard of choice for Dave Formula from MAGAZINE and VISAGE.
Iconic example of use: ULTRAVOX's 'The Voice'
---
EDP WASP (1978)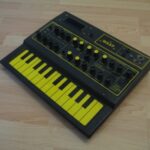 Cheap at just under £200 when launched, this had a 25 note electrostatic touch sensitive yellow / black keyboard, two digital oscillators supported by analogue filters and its own speaker. It was DURAN DURAN's Nick Rhodes first synth while OMD's Paul Humphreys owned one but didn't like it. The deluxe variant had a proper keyboard. Its companion Spider sequencer used EDP's pre-MIDI connection system and exploited by DEPECHE MODE for the bass sequence on the Aggro Mix of 'Never Let Me Down Again'.
Iconic example of use: DEPECHE MODE 'Never Let Me Down Again (Aggro Mix)'
---
KORG MS20 (1978)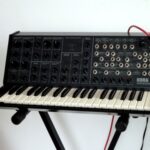 An analogue two oscillator monophonic with hard wired and patchable connections, the circuitry came from one of the original modules on the chunky PS3300; the hard-wiring could be overridden using patch-cords. The MS20 could be triggered by external inputs such as percussion or vocals for strange effects; one of its best uses was on GOLDFRAPP's 'Felt Mountain' album where it processed assorted screaming voice sounds. Also been used by FAD GADGET, BLANCMANGE, ADD N TO (X) and LADYTRON.
Iconic example of use: GOLDFRAPP 'Lovely Head'
---
ROLAND JUPITER 4 (1978)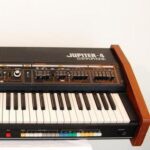 One of the first affordable polyphonic synths, its four individual polyphonic voices could be synced together for one monophonic lead. It also featured a useful arpeggiator as heard on 'Dreams Of Leaving' by THE HUMAN LEAGUE. This 49 key instrument however lacked a CV / Gate and was prone to tuning difficulties. But it became a workhorse polysynth for GARY NUMAN, DURAN DURAN, SIMPLE MINDS and HEAVEN 17. However, its dated styling has meant it is not as well remembered as the Jupiter 8.
Iconic example of use: SIMPLE MINDS 'Theme For Great Cities'
---
CRUMAR PERFORMER (1979)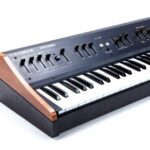 This versatile Italian string and brass machine was best known for its distinctive swimmy sound as used extensively by Nick Rhodes on the first two DURAN DURAN albums. A simple three band equalizer with high, mid and low sliders was used to give the strings shimmering sparkle or moody dark timbres. A fully polyphonic 49 note keyboard, its brass capability was apparently much less impressive.
Iconic example of use: DURAN DURAN 'Girls On Film (Night Version)'
---
OBERHEIM OBX (1979)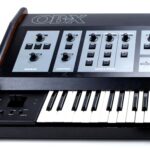 For years, QUEEN declared "No Synthesizers" on their albums before finally relenting in 1980 by using an OBX on their album 'The Game'. Also used by JAPAN's Richard Barbieri and ULTRAVOX's Billy Currie, this polyphonic was the first to use individual voice cards. Available in four or eight voice configurations, this was the start of the series that would later include the OBXa and OB8. This family of instruments eventually became known for a fat, raunchy brass sound that was ubiquitous in the era.
Iconic example of use: ULTRAVOX 'We Stand Alone'
---
SEQUENTIAL CIRCUITS PROPHET 5 (1979)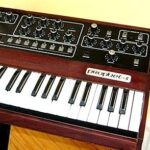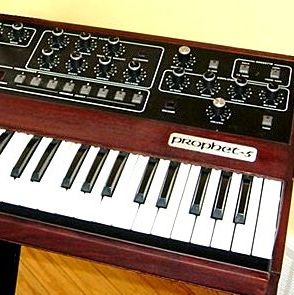 With five voice polyphony, two oscillators per voice and a white noise generator, this synth became very popular with acts such as OMD, SOFT CELL, NEW ORDER, GARY NUMAN and DURAN DURAN. But it suffered from notorious unreliability, due to frequent overheating issues. However, it was David Sylvian's favourite synth as heard on JAPAN's 'Tin Drum'  album while his brother Steve Jansen also used it for keyboard percussion sounds on songs like 'Visions Of China'.
Iconic example of use: JAPAN 'Ghosts'
---
CASIO VL-TONE (1981)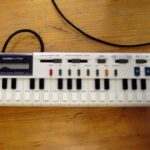 Who could forget this? The VL-Tone had 29 little calculator-type button keys, five presets, a built-in rhythm machine (with waltz, swing, rock, samba, etc) and a 100-note sequencer. There was an LFO with vibrato and tremolo effects plus an ADSR envelope. Used on 'Bandwagon Tango' by TESTCARD F and unforgettably 'Da Da Da!' by TRIO, Phil Oakey even dragged one out to perform 'Get Carter' during THE HUMAN LEAGUE's retrospective 'Dare' tour in 2007.
Iconic example of use: THE HUMAN LEAGUE 'Open Your Heart'
---
ROLAND JUPITER 8 (1981)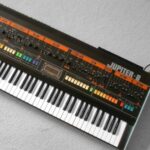 Released in Autumn 1981 at a price of £3395, this was an eight voice, sixteen oscillator programmable polysynth capable of deep bass, vibrant brass and sparkling string sounds. It could also be considered Roland's first truly high end professional instrument. Its versatile arpegiator was used by Nick Rhodes of DURAN DURAN throughout the 'Rio' album while it was also a favourite synth of HEAVEN 17, DEPECHE MODE, HOWARD JONES, THE HUMAN LEAGUE, OMD, CHINA CRISIS and BLANCMANGE.
Iconic example of use: DURAN DURAN 'Save A Prayer'
---
SEQUENTIAL CIRCUITS PRO-ONE (1981)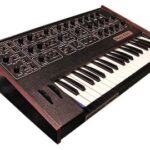 The Pro-One was basically a monophonic version of the Prophet 5. There was also a simple onboard sequencer for up to 40 notes and an arpeggiator, both of which were very handy for one man bands such as HOWARD JONES. Good value at £499, as well as appearing on a number of YAZOO recordings, particularly for the bassline of 'Don't Go', it also formed part of NEW ORDER's synth armoury. It was later used by moden synth acts such as LADYTRON.
Iconic example of use: YAZOO 'Don't Go'
---
ROLAND JUNO 60 (1982)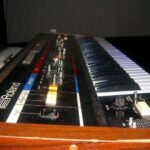 An analogue polyphonic with digital enhancements for clocking oscillators and 56 patches of memory storage, its success lay in being able to make grand Jupiter-like sounds for just under £1000 as FAD GADET showed on 'Under The Flag' while A-HA made good use of it on their debut long player 'Hunting High & Low'. And as with Roland's other noted polysynths, it featured a great arpeggiator. Built to last, it has been a very popular live keyboard with modern acts such as MIRRORS and AU REVOIR SIMONE.
Iconic example of use: A-HA 'Take On Me'
---
ROLAND SH101 (1982)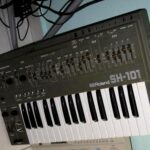 This ubiquitous single oscillator monosynth with its own digital sequencer was marketed as an entry level synth at £250. It was portable and its pitch bender could be played with via an optional handle in a keytar stylee. However, it tended to be seen as a prop in promo videos rather than actually used for real! Part of A FLOCK OF SEAGULLS' live keyboard set-up, the SH101's robust construction has enabled it to be carried into the modern era by XENO & OAKLANDER and VILE ELECTRODES.
Iconic example of use: OMD 'Locomotion'
---
Text by Chi Ming Lai
15th August 2014, updated 9th January 2019