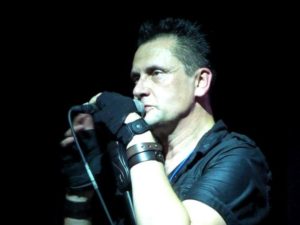 Whilst the whole Industrial genre of electronic music continues to struggle with its identity and overall sound (the cancellation of the recent Alt-Fest hardly helping the cause), there is always going to be a place for the innovators, those that lead and don't follow, and such was the case at a packed Garage in Highbury.
Just getting into the venue to see DIE KRUPPS was an event itself.
The early start of the gig meant that following an Emirates cup match against Benfica, waves of Arsenal fans swept down the Highbury Crescent towards the nearest tube. Meanwhile, a motley crew of EBM / Goth and Industrial fans gallantly fought against the red tide the other way towards The Garage, prompting a few stares of disbelief and sideways glances at some of the more exotically attired DIE KRUPPS devotees!
Fortunately black and red didn't mix in any confrontational manner and both parties wound their way to their destinations happily. DIE KRUPPS are rightly cited as a huge influence on the Industrial / EBM music scene, their 30 year career inspiring the likes of NITZER EBB, FRONT 242, DEPECHE MODE and most significantly the German masters of Industrial Metal, RAMMSTEIN.
The band now comprises of founder members Jürgen Engler on vocals and PROPAGANDA's Ralf Dörper on synths, alongside guitarist Marcel Zürcher and American drummer Bradley Bills.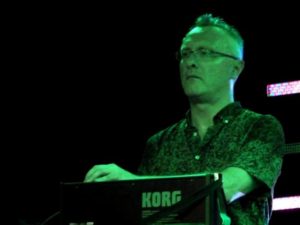 DIE KRUPPS have adopted LOU REED's 'Metal Machine Music' as a way to describe their sound and this is a pretty adept way of giving identity to their songs, each track centred around big, sequenced analogue basslines, crushing guitars, live / electronic drums and chanted lyrics. The set opened with 'Ein Blick Zurück Im Zorn'
from current album 'The Machinists of Joy' and this pretty much set the tone for the evening with its fast-paced 16 step sequenced bass intro and tough, but melodic / anthemic chorus.
The track that followed, 'The Dawning Of Doom', really showcased how indebted RAMMSTEIN are to the band for pioneering the combination of electronics and heavy guitar textures, to the point where Til Lindemann's group wrote 'Tier' as a tribute, incorporating the main riff of this DIE KRUPPS track into it.
Most of the night's set was divided between the current album and the previous one 'The Final Option', but there was an extra treat when five songs in, ex-CLIENT and DUBSTAR's Sarah Blackwood joined the band for their amped-up version of VISAGE's 'The Anvil' in German, 'Der Amboss'.
Although The Garage sound crew seemed a little unprepared for the appearance of Miss Blackwood, the band delivered a superb version which the crowd loved, especially as it gave frontman Engler a chance to use his custom-made 'steel-o-phone' on the anvil-bashing sections of the track.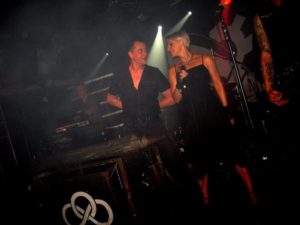 Highlights included 'Robo Sapien' with its Teutonic string line intro and chanted chorus and 'Part Of The Machine' which was driven by a KRAFTWERK-style hi-Q drum pattern and a catchy-as-hell high-register synth hook from Dörper. Following a thirteen song set, the band were brought back out for two encores, the first with 'Machineries of Joy' and 'Crossfire' before then for one final track 'Bloodsuckers', which saw Engler stood atop of his 'steel-o-phone' soaking up the adulation of the crowd.
It could be argued that after experiencing a DIE KRUPPS gig, they don't have that one killer stand-out track, yet conversely this fits in with the whole machine-led / factory production-line aesthetic where songs are rolled out one after the other, and when that particular song-mould is such a strong one, why mess with die formel.
What was refreshing about tonight's performance was that it avoided all the usual Industrial music clichés, there were no dubious synth / trance riffs or distorted 909 kicks, just a band that had stuck to its guns with a sound that eventually influenced many others to follow.
Ralf Dörper was impeccably cool throughout, whilst his fellow band members put on a crowd-pleasing and energetic show that belied their 30 years in the industry. The turn out at The Garage will have certainly reminded DIE KRUPPS how appreciated they are and if you get a chance to catch this legendary band live, it is certainly worth it if you appreciate a harder-edged electronic sound to your music and want to be Part Of The Machine.
Setlist: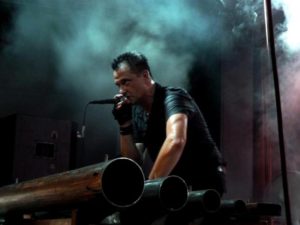 Ein Blick Zurück Im Zorn
The Dawning of Doom
Risikofaktor
Essenbeck
Der Amboss (with Sarah Blackwood)
The Machinist of Joy
Part Of The Machine
Schmutzfabrik
Robo Sapien
Metal Machine Music
To The Hilt
Nazis Auf Speed
Fatherland
—
Machineries of Joy
Crossfire
—
Bloodsuckers
---
'The Machinists of Joy' is released as a CD and download via Synthetic Symphony
https://www.facebook.com/diekruppsofficial
---
Text by Paul Boddy
Photos by Chi Ming Lai and 7und70
12th August 2014