Stand By For Action!
For many of a particular generation, the sad passing of Gerry Anderson was like the loss of a childhood friend.
Anderson's pioneering shows 'Fireball XL5' (1962-63), 'Stingray' (1964-65), 'Thunderbirds' (1965-66), 'Captain Scarlet' (1967-68) and 'Joe 90' (1968-69) all used a bespoke technique christened Supermarionation. These heroic Sci-Fi stories set in Century 21 all boasted high cinematic production values. This was unheard of at the time within children's television programme making, especially when compared to the charming if amateurish cardboard sets of the BBC's 'Dr Who' series.
The magnificent range of spaceships, aircraft, submarines and vehicles featured only added to the appeal while the subsequent Dinky Toys merchandising helped complete the emotional connection for those youngsters watching.
Made in association with Lew Grade's ITC organisation and the now defunct ITV regional channel ATV, 'Thunderbirds' in particular was a worldwide success that allowed Anderson to branch into live action with 'U.F.O.' (1970-71), 'The Protectors' (1972-73) and 'Space 1999' (1975-78) before a return to marionettes with 'Terrahawks' (1983-84).
These shows also acted as an apprenticeship for special effects designers like Brian Johnson who would go on to work on 'Alien', as well as influencing films such as 'Star Wars'. Anderson's legacy is present in today's popular culture, most notably with the hilarious puppet satire 'Team America : World Police'.
It was the era of The Cold War; the world was in state of turmoil following the Cuban Missile Crisis and the assassination of John F Kennedy. China was in a volatile period with The Cultural Revolution while the United States were entering Vietnam and the Soviet Union soon invaded Czechoslovakia.
But there was also The Space Race where the two super powers were vying with each other to get a man on the moon as a symbol of their technological AND ideological superiority.
This culminated on 20th July 1969 with America's Neil Armstrong becoming the first man to set foot on the lunar surface. It was within this backdrop that Gerry Anderson, together with his wife Sylvia, would create an array of escapist fantasy civilisations in space, under water and on earth.
But as well as iconic programmes, Gerry Anderson's creations also featured iconic theme music composed by the genius of Barry Gray. The best of these Supermarionation signature tunes were gathered on a 10 inch mini-album entitled 'No Strings Attached' in 1981.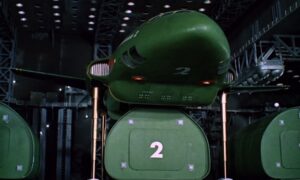 Subsequently reissued as a CD in 1999 by Castle Music, most of the material like the unforgettable 'Thunderbirds' theme, the conga madness of 'Stingray' and the lush crooner ballad 'Aqua Marina' (both sung by Gary Miller) was obviously orchestral based.
But several of the latter-era compositions featured assorted electronic experiments.
These futuristic embellishments trod a similar musical path to THE TORNADOS' 1962 international hit 'Telstar' with its memorable Selmer Clavioline organ line but were perhaps not as haunting as the BBC Radiophonic Workshop's 'Dr Who' theme. Incidentally, Gray did create the special audio effects for the 1965 Peter Cushing film 'Dr Who & The Daleks' which also starred Roy Castle!
A case in point is 'The Mysterons Theme', an eerie piece that now sounds like the sonic prototype for LADYTRON's 'Aces High' from 'Gravity The Seducer'. It was also quite obviously the inspiration for 'Mysterons', the opening track on PORTISHEAD's 'Dummy' album. The shimmering lead melody was achieved by Gray using an Ondes Martenot; this was an early electronic keyboard which featured a proximity sensor in a similar vein to the Theremin to implement the pitch bend qualities often associated with vintage horror movies.
He had been interested in using electronics since acquiring the Ondes Martenot for the earlier Anderson vehicle 'Supercar'. The same spacey tones can also be heard accessorising the main 'Captain Scarlet Theme' with the indestructable timpani motif being absorbed into a lively spy number that spelt action and intrigue like every good TV theme tune should.
The most synthesized track on 'No Strings Attached' however was 'Joe 90′ which began with pulses from an audio sweep oscillator.
Only just missing out on the advent of the VCS3, Britain's first commercially available synthesizer, this would have been one of the only ways at the time to produce such an effect other than a importing an expensive Moog or Buchla from the US. In 1968, only a millionaire musician like George Harrison could have afforded such a luxury.
Thus composers like Barry Gray had to be extremely innovative in order to find the sounds they had only imagined in their heads. Although the track's main thrust came from some melodic surf style guitar and a healthy percussive groove, it was complimented by a superb counterpoint via a reedy transistorised organ not unlike the Vox Continentals used by acts such as (rather appropriately) ? & THE MYSTERIANS on '96 Tears', and much later ELVIS COSTELLO and OMD.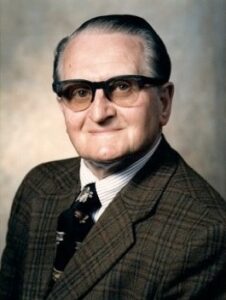 Barry Gray would go on to compose brilliantly memorable themes for other Gerry Anderson productions like 'U.F.O.' and Year One of 'Space 1999'.
But rather like a lot of great artistic output from the UK, Year Two of 'Space 1999' fell victim to an American market revamp in 1976 so Gray, along with several of the cast and scriptwriters became surplus to requirements.
His involvement in film scoring effectively ended there and he retired to further his hobby of drawing and calligraphy. He occasionally appeared at Anderson related fan events and continued to play his music for his own pleasure. There had been talk of him working with Anderson again but he passed away in 1984 leaving behind a fine catalogue of music.
Although operating in different artistic spheres, Gerry Anderson and Barry Gray both complemented each other to provide a spirit of adventure and enjoyment that still resonates in many childhood memories and is likely to continue to do so for many generations to come as more discover the joy of Supermarionation through today's modern media. As Commander Shore in 'Stingray' used to say: "Anything can happen in the next half hour!".
Dedicated to the memories of Gerry Anderson (1921-2012) and Barry Gray (1908-1984)
---
Selected Fanderson Trivia:
The Tracy bothers from 'Thunderbirds' were named after five of the Mercury 7 Astronauts; Scott Carpenter, Virgil Grissom, Alan Shepard, Gordon Cooper and John Glenn. In the Thunderbird 2 launch sequences from the show, there was never any footage of Pod 2 being carried although it did feature obliquely in an episode entitled 'Security Hazard' when a young boy was taken home from Tracy Island after stowing away aboard T2 following an International Rescue mission.
The Angel pilots in 'Captain Scarlet' were based on real media personalities; Destiny Angel was a likeness of sexy Swiss actress Ursula Andress, Melody Angel was Eartha Kitt, Rhapsody Angel was British model Jean Shrimpton while Harmony Angel had a resemblance to Chinese actress Tsai Chin who played Fu Manchu's daughter in the infamous film series. She also had a hit with 'The Ding Dong Song' in 1959 and played Helen Rubenstein in 'Grey's Anatomy'!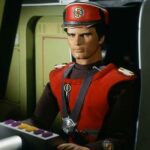 The vocal version of the 'Captain Scarlet Theme' used in later episodes was recorded by THE SPECTRUM. Their drummer was Keith Forsey who went on to work with Giorgio Moroder during his pioneering electronic phase. Forsey became a producer in his own right, working with BILLY IDOL, THE PSYCHEDELIC FURS and ICEHOUSE. However, he hit pay dirt by jointly penning 'Flashdance' and 'Never Ending Story' with Moroder plus also co-writing SIMPLE MINDS' US No1 'Don't You (Forget About Me)'!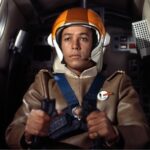 Captain Peter Carlin, the skipper of Skydiver 1 in 'U.F.O.' was played by the late Peter Gordeno. However, he left after only 7 episodes of the 26-part series when his agent warned him about being typecasted. He was better known as a dancer, cabaret singer and choreographer. Gordeno later hosted the 1978 'World Disco Dancing Championships' while his son, also named Peter, has been DEPECHE MODE's live keyboard player since 'The Singles' tour in 1998!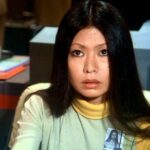 Minor Year Two 'Space 1999' character Yasko was played by Yasuko Nagazumi who is now a print advertising campaign manager in Hollywood, handling clients such as Guess Jeans, Donna Karan, Armani and Pirelli. Along with Tsai Chin, she also appeared in the James Bond film 'You Only Live Twice'. Her daughter is Mikki Berenyi, singer / songwriter from indie band LUSH who had hits such as 'Single Girl' and 'Ladykillers' during the Britpop era!
---
'No Strings Attached' was released on CD by Castle Music
'Stand By for Action! – The Music of Barry Gray'
 is available on CD via Silva Screen Records
'Fireball XL5', 'Stingray', 'Thunderbirds', 'Captain Scarlet', 'Joe 90', 'U.F.O.' and 'Space 1999' are available on DVD via Carlton Entertainment.
https://www.facebook.com/GerryAndersonOfficial/
---
Text by Chi Ming Lai
29th December 2012, updated 24th April 2017