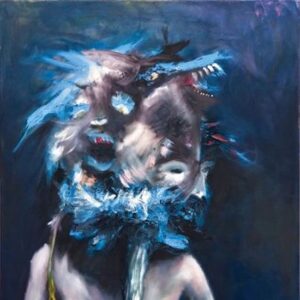 GAZELLE TWIN releases her first new material since her acclaimed album 'The Entire City' in the Autumn of 2011.
The moniker of Brighton based songstress Elizabeth Walling, that debut LP and its appendix of remixes have gained her a number of prominent admirers including JOHN FOXX and GARY NUMAN whose respective songs 'A Falling Star' and 'We Are The Lost' she has since been invited to remix. But her highest profile patron has been top film director Ridley Scott who used her track 'Bell Tower' in a promotional film for 'Prometheus'.
The 'Mammal' EP combines three new recordings inspired by Ennio Morricone's score for the John Carpenter horror flick 'The Thing' with a quartet of remixes. Subtle but dark dubstep experiments plus more use of her natural voice as an instrument are the significant aural developments.
Recurring metaphysical concerns are the inspiration behind 'Mammal' and lead track 'I Turn My Arm' examines the phenomenon of the phantom limb with some heavy bass drama. Its B-side 'This Is My Hand' recounts "the fear and awe" Walling felt when it occurred to her that she was "a physical object". As the lyrics highlight: "blood gushes within it…". Intensely enigmatic, it makes for an eerie sonic experience. Both are cinematically unsettling but provoke the ears with paranormal drones and mysterious choralistic stylings.
Having previously covered PRINCE and JOY DIVISION and in keeping with the 'Mammal' EP's thematic gist, GAZELLE TWIN applies her hauntronica treatment to 'Heartbeat', a track from WIRE's 1978 album 'Chairs Missing'.
Elizabeth Walling told ELECTRICITYCLUB.CO.UK last September: "I prefer covering songs written or sung by men. Perhaps because it instantly allows me to create a new perspective on it". Of WIRE she added: "…another legendary band, another iconic male vocalist…Colin Newman. This time I sought the permission and blessing from him directly. That made me feel better about it… he said nice things". The end result is, despite the darkness, a wonderfully accessible interpretation with echoing widescreen atmospherics.
Remixes are very much part and parcel of GAZELLE TWIN and they provide an eclectic variation of the theme. Renaissance Man provides an industrialised excursion for 'I Turn My Arm' that is almost Numan-esque. But the highlight is soundtrack composer Clint Mansell's  take on 'This Is My Hand' which manipulates Walling's vocal to a more melodic hook and adds primitive string machines in a cavernous cacophony of sound with percussive reverb brought to the fore. Kuedo's remix spirals and layers compared with the original minimal arrangement of 'I Turn My Arm' with an almost incongruous brightness. However, the housed up version of 'I Turn My Arm' by Alixander III is the least essential on the EP, a diversion from the core values of GAZELLE TWIN.
Art imitating life and vice versa has always played its part providing solace and psychological well-being within social history. With more to look forward to from GAZELLE TWIN, this is just a taster of the future; a future that may be bleak but probably reflects the fears of many in the world right now. Uneasy listening it might be, but potentially rewarding for those prepared to invest their spirit.
---
GAZELLE TWIN 'Mammal' EP is released as a 12″ vinyl and download by Sugarcane Records on 29th January 2013
Her first UK show of 2013 takes place at The Roundhouse Studio Theatre in London on 21st February as part of the Anti-Ghost Moon Ray audio-visual, label showcase.
http://iamshelliambone.wordpress.com/
https://soundcloud.com/sugarcane/gazelle-twin-mammal-ep-full
---
Text by Chi Ming Lai
12th January 2013